Sacramento is fortunate to have the professional soccer team Sacramento Republic FC on several fronts. Often in the playoffs and already with a championship to its name in just nine years since inception, this successful USL team gives area sports fans a team to root for and exciting matchday entertainment. Beyond that, Sacramento Republic FC is actively bettering our regional communities.
"A word we use in our club is 'indomitable' — it's that never-give-up attitude," says Vice President Scott Moak. "We use it with our players and in our community work. Helping people is very powerful — it lifts spirits, changes attitudes and helps create indomitable communities."
Moak and Kevin Burdick guide the club's philanthropy efforts and community work. One of their most visible actions has been naming the team's home stadium at Cal Expo. Partnered with Western Health Advantage and the American Heart Association, Sacramento Republic FC officially named the venue Heart Health Park in 2021.
"We're among the first to name a stadium for a social cause, hoping to raise awareness of heart healthiness," Moak explains. "We are a team of athletes and recognize the value of good heart health for everyone. Our intention is that fans attending our home matches will be more health conscious and pursue a more active lifestyle, and so will anyone attending a concert or any other event here."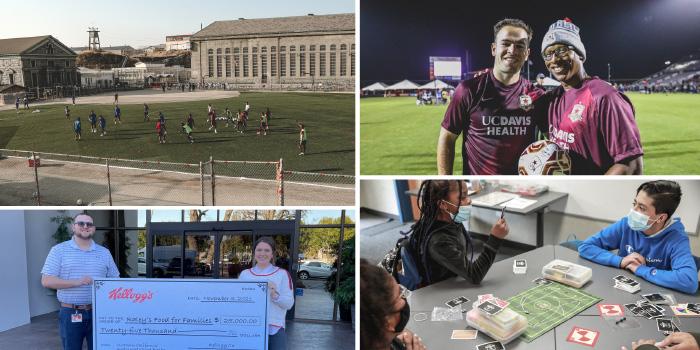 The club is also steadfastly committed to a program they initiated in 2018 that isn't as visible to most of the community. Sacramento Republic FC team members play monthly outreach matches against inmates at Folsom State Prison. "Todd Dunivant, our general manager and a former Major League Soccer player, had a chance years ago to do some rehabilitation work with people who had made bad life choices, and has inspired this program."
Edwin McMillan, who spent 21 years in Folsom Prison, immediately contacted the club upon his release to express the gratitude inmates feel. "We never thought that Sac Republic, or anybody, would come in and share the love of soccer, and that love of soccer blossomed, and it blossomed with friendship and showed us what humanity is and what compassion is. They're changing lives. When they came in, they changed my life," says McMillan, who's now working to earn his bachelor's degree.
With building community a high priority, Sacramento Republic FC is helping to revitalize neighborhoods with futsal courts. Moak says, "Soccer's popularity is growing every day in the U.S. and in Sacramento. We want to promote that while also improving communities in need."
Smaller than full soccer fields, futsal courts are ideal for many empty lots or as additions to larger parks. Sacramento Republic FC is dedicated to building at least one court per year and is already ahead of schedule with eight in place and four soon to be built. Those courts already in place are busy with matches and players of all ages all day long.
In 2019, Sacramento Republic FC, in partnership with La Familia and Bank of America, completed their first two futsal courts, Maple Park Courts, in South Sacramento. The club, again partnering with Bank of America, next added Carrillo Courts at Northgate Park in South Natomas. The courts, named after local soccer coach Art Carrillo, were the result of a community-driven survey asking for more public futsal courts.

The four futsal courts were created as the first part of a multimillion-dollar sports complex in Del Paso Heights. For these, Sacramento Republic FC partnered with many organizations, including the U.S. Soccer Foundation. "These are really top-of-the-line courts and will help reenergize that area," Moak says.
Looking to the future, Sacramento Republic FC will continue improving communities with safe places to play, sparking hope and humanity at Folsom Prison, and welcoming everyone to Heart Health Park.