The excitement is building as the progress at Sutter Park in East Sacramento by Tim Lewis communities is entering their fourth phase of construction even before model completion. This iconic community of 88 single family solar living detached homes is nestled within the historic community of East Sacramento. Sutter Park is being built on the former grounds of Sutter Hospital where over 350,000 babies were born during the 80 years it serviced this neighborhood prior to its relocation.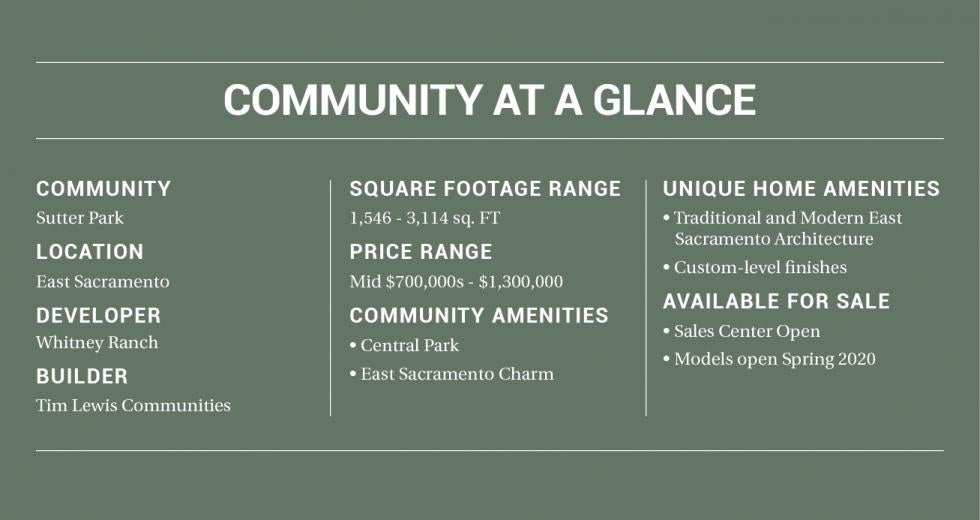 With this new construction underway, there is a rebirth in the form of a new home community, unprecedented for East Sacramento in terms of size and scale. Sutter Park is comprised of three distinct product lines surrounding a brand-new community park that embraces the history and heritage of East Sacramento and the Sutter Hospital Legacy. The Park, built by Stonebridge Properties, is centered in the community and designed with gathering spots, local artist's sculptures and rose gardens at both ends. Urban Elements will soon begin building their project to include some small local eateries to complement the neighborhoods walk-ability.
"We are thrilled to see our model homes come together and look forward to our Grand Opening this Spring," states Linda Schwartz, Director of Sales and Marketing for Tim Lewis Communities. "The thoughtfulness that went into the development and design process of our Garden, Classics and Traditionals' product lines have been unrivaled in the homebuilding community. Seeing that attention to detail designed into our Sutter Park architecture come to life, is very exciting," says Schwartz.