Saint John's Program for Real Change believes in women and their power as individuals, mothers, daughters and a community. Saint John's mission is to unleash the potential of women in crisis with a vision of breaking the cycle of poverty and dependence, one family at a time.
The face of homelessness is changing. Numbers of homeless women and children are growing at the fastest rate ever. According to the National Alliance to End Homelessness, since 2016, unsheltered women significantly outnumber unsheltered men, and nationwide, California has the largest increase. With this growth, limited professional staffing resources community-wide and increasing dependency and housing issues, the challenge is bigger than ever.
"Saint John's serves 500-plus clients annually," says Julie Hirota, CEO. "As winter approaches, we are reaching our capacity quickly between our interim housing community Saint John's Square and our residential Program for Real Change. We are committed, though, to ending women's homelessness and providing long-term sustainable results through employment, housing and parenting."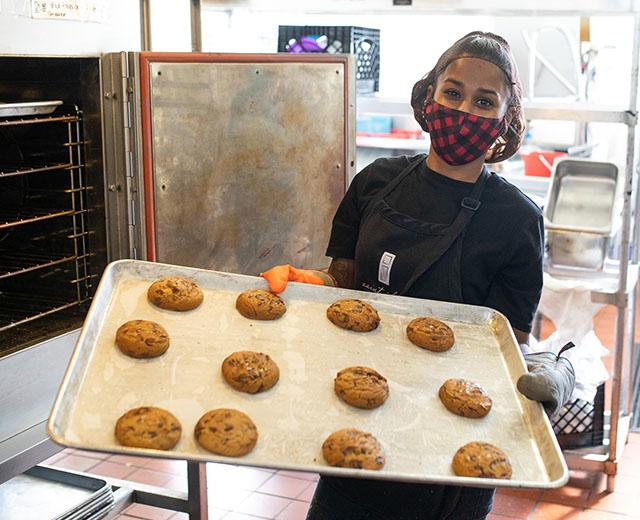 Saint John's began operating Red Door Desserts to provide employment training when the pandemic began. Red Door Desserts grew from the roots of Plates Cafe, a Saint John's restaurant and catering business. "Red Door Desserts has become the focus of our training and offers an amazing product — gourmet cookies — toward the incredible and worthy cause of ending women and children homelessness," Hirota says.
Saint John's welcomes everyone to sample Red Door Desserts at their monthly Guest Chef Dinners or to order online at sjpreddoordesserts.com.
Saint John's looks to 2022 as a year of investing in their team, growing Red Door Desserts, and supporting the community within their own walls. "We will reflect on our best work, invest in our team's strengths, deliver outstanding programming and focus on being a community, a neighbor and a great business to work for and support," Hirota says. "We are ONE SAINT JOHN'S and we're all in."