U.S. Cold Storage (USCS) is achieving remarkable growth at its Sacramento facility in McClellan Park, where the company recently successfully completed the second phase of its expansion plans. As the nation's third-largest temperature-controlled warehouse and distribution company, USCS purchased 41 acres at McClellan Park in recent years and has been steadily advancing its operations.
"The success of Phase 1 and the continued realignment of our California operations has supported Phase 2 development," says General Manager Steve Palefsky. "We began Phase 2 construction in late 2020 and had it operating by mid-2021 despite the significant challenges of building during the pandemic. Sound planning, strategic partnerships with contractors and great cooperation from the county, local officials and McClellan Park all played roles in making Phase 2 happen."
The USCS McClellan facility is strategically located, providing immediate access to two interstate freeways and rail, making it instrumental in serving the western states. USCS's client base in the Sacramento region primarily includes companies in the agricultural, bakery, organic and plant-based food sectors, such as Amy's Kitchen and Impossible Foods. However, the McClellan facility also stores raw materials and finished goods for a wide range of food manufacturers.
"In continuing our environmental responsibility, USCS has plans to install on-site solar panels by spring 2024," Palefsky says. "This move aims to reduce the facility's reliance on fossil fuel-provided electricity and decrease greenhouse gas emissions. The proposed solar project is expected to produce about 2.4 million kWh of electricity per year, resulting in a reduction of over 500 metric tons of CO2 emissions."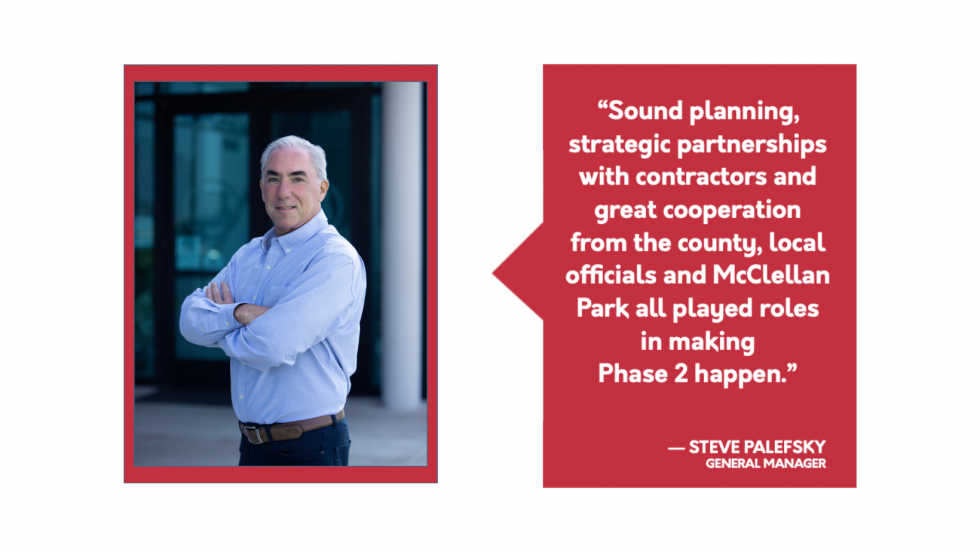 USCS's expansion doesn't stop at Phase 2. The company is preparing to embark on Phase 3, with plans for it to be operational by early 2025. This next phase will add an additional 7 million cubic feet of storage capacity and incorporate cutting-edge technologies and automation to enhance operational efficiency. USCS's commitment to meeting its customers' needs while maintaining a focus on environmental sustainability continues to shape its growth in the region.