In my 1980's junior high school, home economics was a required course. For a few short weeks, we learned how to sew a pillow, bake a casserole from a box, and the importance of wiping down the stainless steel sink after use. There wasn't actually much cooking involved in the class.
Luckily for me, I was a rare kid who came from a home where homemade meals were a regular part of life. But for the majority of Americans, whose only exposure to preparing food was in a class like my junior high school's, the story is less idyllic.
Today there are two generations of Americans who don't know how to cook. Processed food diets are a leading cause of rampant childhood obesity. There is a clear need for increased cooking and nutrition education, or food literacy, in schools.
What is Food Literacy?
Food literacy itself is a new field. When the nonprofit I founded, Food Literacy Center, was formed in 2011, the term had not even been defined. If you look it up in a dictionary — or even an urban dictionary — you won't find it.
At the time, I worked with California legislators to pass a statewide resolution declaring every September as Food Literacy Month. In that resolution, we define the term as "understanding the impact of your food choices on your health, environment and our community." Food literacy basically involves teaching folks about our food system, what's healthy to eat and how food choices affect the planet.
Food literacy is becoming increasingly important as one in three children in our country suffers from obesity. As awareness of this epidemic rises, so too does the passionate cry for solutions. Today, the word "food literacy" pops up in my email Google alerts with more frequency, and even celebrity chefs like Jamie Oliver have begun to use it to describe the work they do to improve school food and kids' knowledge about their health and what they eat.
Celebrity Chefs Celebrate Food Literacy
On Jan. 7, the field of food literacy — and our local Sacramento program — got a serious nod from three celebrity chefs who convened in Sacramento to cast a spaghetti-squash sized spotlight on the issue.
Jamie Oliver, known for BBC's "The Naked Chef" and ABC's "Jamie's Food Revolution," Alice Waters, who runs the prestigious farm-to-table restaurant Chez Panisse in Berkeley, and Ann Cooper, an internationally recognized chef and director of food services for the Boulder Valley School District in Colorado used California's capital as their launch spot for a new initiative: the Food Truth Coalition.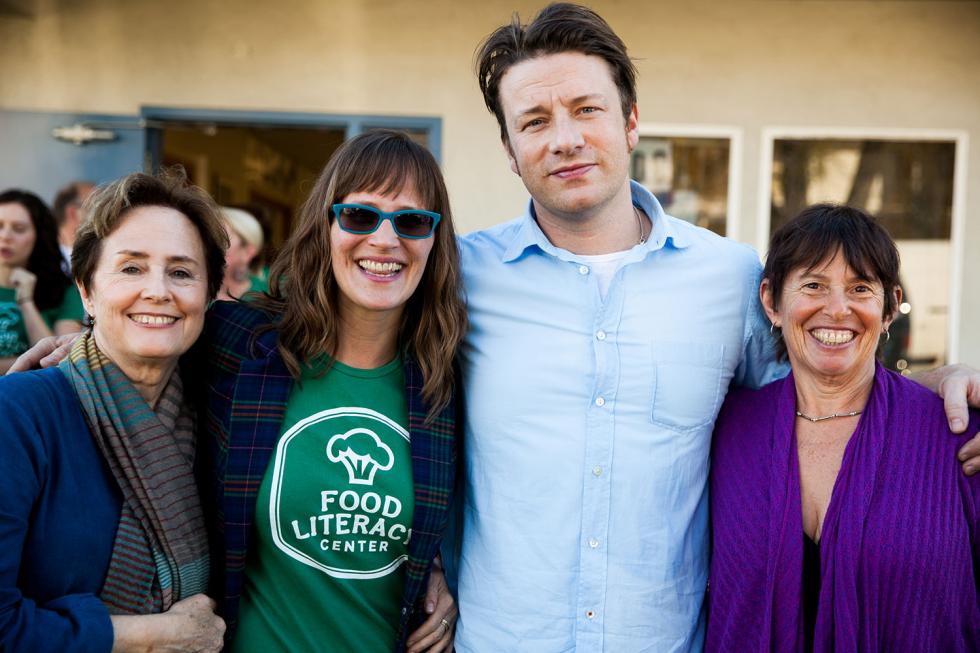 The coalition is an alliance between the three chefs to raise awareness about food education for kids, work for which they're already each globally renowned. By banding together, they magnify the conversation. By announcing it in Sacramento, they're asking for the attention of the eighth largest economy in the world. What happens in Sacramento ripples around the nation.
From a local perspective, this is great news for the food literacy movement. Forty percent of Sacramento-area kids struggle with obesity. Like other kids across the country, they're exposed to 4,000 food-related ads every year, nearly all of them for products high in sugar, fat and salt. According to the Robert Wood Johnson Foundation, food marketing greatly influences children's food choices, from what kinds of food they eat to how much.
Food literacy education and expanded access to healthy choices are needed to turn the tide on these statistics.
When it comes to improving healthy food access, local efforts are making strides. Within Sacramento City Unified School District, the 11th largest school district in the state, there are now salad bars in every school. They're also sourcing items like kiwis, mandarins and brown rice from local farmers.
When it comes to food literacy classes for local kids, Sacramento needs to do more.
Studies suggest that the optimum exposure to food literacy ranges from three months to 50 hours, yet nationwide elementary-aged students receive an average of just 3.4 hours of nutrition education per year. Nutrition and cooking are not required courses in our school system.
While Chefs Oliver, Waters and Cooper were in town, the Food Literacy Center hosted lunch. Our elementary-aged students and our volunteer Food Literacy Geniuses prepared a local, seasonal meal for our guests. While we ate, (and to my delight, Alice Waters expressed approval of the menu!), we talked about the basic components of a viable food literacy program—and how we can do more of it.
Some of the recommendations—and challenges—I came away with:
Should Food Literacy Education Take Place During School Hours?
In the not-so-distant past, food literacy in the form of home economics used to serve as a required school course. Nows it's rare to even find a school with a home economics classroom. They've largely been removed from schools. Even before that happened, the industry became watered down by corporate sponsorships, which lead to training programs where reheating packaged cake mixes was considered cooking. Since 1980, as home ec classes decreased, the rate of obesity among children has tripled.
Returning cooking and nutrition programs to schools is in increasing demand. The classes are currently delivered largely during after-school enrichment programs. Meanwhile, they're also rising in popularity off-campus in libraries and nonprofits. These programs are often funded by private donations or foundation grants, and classes range from the science of plant parts to the art of making homemade tomato sauce.
While after-school and nonprofit programs are critical to reaching kids that are most in need, chefs Oliver, Waters and Cooper argue that bringing food literacy into core classroom curriculum elevates its importance, deeming cooking and nutrition as skills we want all of our kids to know, skills as essential as reading and math. While after-school programs are critical, moving the programs into daytime curriculum ensures that every kid in every school receives the knowledge.
Who Should Be Trained to Deliver Food Literacy?
Yet, teachers aren't equipped to deliver cooking education. According to a study from the National Center for Educational Statistics, one-fifth of elementary school teachers indicated that high-quality food literacy training would improve their ability to teach it. If we have two generations of American who can't cook, we'll need to train a new generation of teachers to provide food literacy in the classroom. Like gym class or band, food literacy teachers should have specialty training in nutrition, culinary arts and food systems.
In the meantime, training programs for community members exist, such as Food Literacy Center's Food Literacy Academy, Jamie Oliver Food Foundation's Food Champion program, and Alice Waters' Edible Schoolyard Academy. These trainings provide instructors for existing after-school and library programs and for daytime school teachers who prioritize food literacy into their classrooms.
What Happens Next?
Let's commit to improving the food literacy of our kids. It might be too late for my generation, who grew up baking spice cake with one egg, water and a red box. But it's not too late for tomorrow's generation. There are many ways we can create meaningful change today.
You can advocate your local school to reopen their cooking classroom — if it still exists.
You can ask your after-school director if cooking or nutrition classes are available — and if not, help them connect with one.
You can follow chefs Oliver, Waters and Cooper—they all provide training programs and recipes for kids.
You can also cook at home. Try one of these simple recipes. Our kids made these for the celebrity chef team last week, and while they're worthy of formal company, they're easy meals that are also fit for your kitchen table on a Tuesday night.