Farmers markets are going to school, and the result is a fresh learning experience for a growing number of California students.
In San Joaquin County, elementary and middle school students are running farmers markets at 10 after-school sites. In Yolo County, the Yolo Food Bank runs each market held at local schools, but hundreds of students get to shop weekly for fresh produce. And in Sacramento County, a hybrid approach currently serves five schools.
Whether students are buying or selling, these markets share the same goals: teach good nutrition and expand fresh food access to those who need it most.
Student-Led Farmers Markets
In San Joaquin County, an innovative program pairs an after-school running club with a student-run farmers market.
Three years ago, a $75,000 grant from Kaiser Permanente funded running clubs for K-8 students participating in after-school programs in Tracy, Stockton and other San Joaquin locations. The young runners train after school and participate in local 5K runs. After the running club was established, the next step was a healthy foods component.
"We want our students and families to have greater access to healthy food and make healthy eating a priority," says Nora Hana, Expanded Learning Programs Coordinator of the San Joaquin County Office of Education. "A lot of our kids are not exposed to what's grown in the valley and that's such a shame because this is such a gold mine for fruits and vegetables that are healthy and nutritious."
Even though Hana had the backing of Kaiser Permanente, she lacked one important component: fresh produce. Then she contacted PUENTES, a nonprofit that runs the Boggs Tract Community Farm near the Port of Stockton.
"We decided to approach them and say, 'Hey, we have this really crazy idea to run farmers markets at school sites. Would you be willing to help us by sourcing the produce and delivering to each site?'" Hana recalls. "They were just as crazy as we were, I guess, because they jumped in right away without hesitation."
Last October, SJCOE selected five after-school sites to pilot the program. All happened to be in Tracy, where after-school services are provided through the Boys & Girls Clubs of America. The students ran test markets and took a field trip to the community farm, learning about the different types of produce from PUENTES and its certified grower, the Black Urban Farmers Association. As an added benefit, each after-school program was allowed to keep its farmers market proceeds to help fund running club activities.
After piloting three markets at each school, Hana says, "it was way beyond our expectation of success." So the program rolled out to five more schools, with plans for more next year.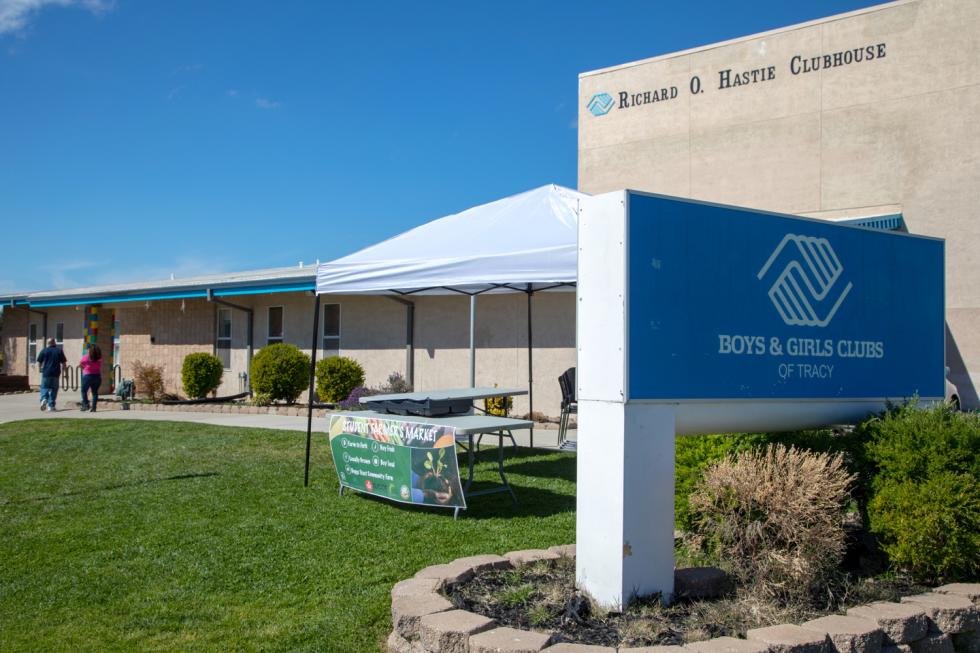 "Kaiser is happy to be part of this," says Dr. Steven Millar, a Tracy pediatrician, during a recent visit to the market adjacent to Monte Vista Middle School. "It's part of our mission to get people eating healthy and living an active lifestyle. We want to start early and encourage those habits from a young age."
Kids Farmers Market
Since 2012, Yolo County students have been able to buy fresh produce through the Kids Farmers Market. The program operates at seven schools, serving an average of 850 students each week in Esparto, Knights Landing, West Sacramento, Winters and Woodland. Like the program locations in San Joaquin County, these schools have a high percentage of students receiving reduced-price and free lunch — students who may not have regular access to healthy foods.
"The main goal of Kids Farmers Market is to increase access to and consumption of fresh fruits and vegetables and give children and their families the tools necessary to utilize this fresh food access through hands-on nutrition education," says Yasmin Sanchez, program coordinator with the Yolo Food Bank.
The food bank gives students play money (any student can sign up to participate; there's no income restriction) and provides a selection of 4-5 different produce items for "purchase." Volunteers share nutrition information, and the students also receive a recipe to take home. Three times a year, produce tastings encourage students to try new fruits and vegetables.
No Student Left Hungry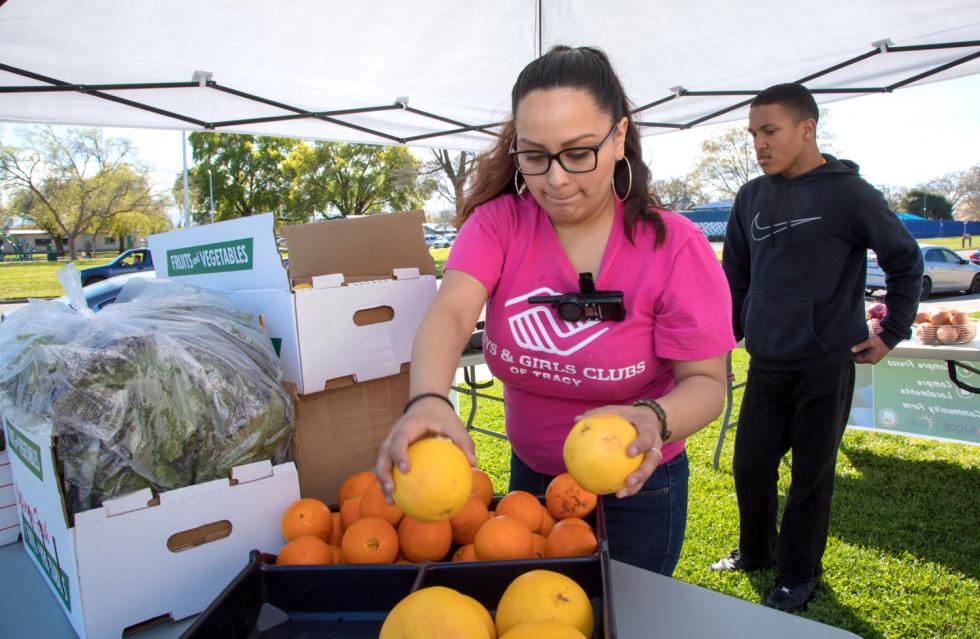 In Sacramento County, one school runs its own farmers market and four other schools are served by a monthly visit from the Sacramento Food Bank & Family Services.
At Leo A. Palmiter Junior/Senior High School near Arden Fair, students run a farmers market and Culinary Cafe, which serves lunch on select Thursdays from November through May. Both are open to the public. Produce comes from the school garden, and proceeds benefit the garden and culinary programs.
Four other schools are served through the SFBFS No Student Left Hungry program. The monthly distribution of fruits and vegetables follows a farmers market type model, where students act as the farmers sharing their goods, according to SFBFS spokeswoman Kelly Siefkin. There is no buying; all items are free.
"Some schools combine the distribution with health activities like a walk around the campus before getting produce," Siefkin says. "And there are so many new activities coming down the pipeline."