When Lucky Rodrigues drove by the storefront at 703 19th St. in Sacramento, he knew he had his work cut out for him. The two-story Victorian, constructed in 1900, according to Sacramento County assessor records, boasts something noticeable to anyone who's been around the central city grid: space in front for a small convenience market.
"I was just driving by one day and I saw this perfect little storefront, just totally like half kind of boarded up and just sitting there," Rodrigues says. Inside, more challenges awaited: "Decades and decades of just mess."
It was, as Rodrigues puts it, "one of those age-old places that was probably a million things." Most recently, it was the Save Rite Market, and after a little bit of repair work, Rodrigues opened it as Simpleton, a specialty coffee shop with a full kitchen and table service — and a different type of venture than what these types of corner buildings have often been historically.
In Sacramento's central city — downtown and Midtown — where traditional supermarkets or grocery stores haven't always been easily accessible, the small neighborhood markets have been important for the area's residents. But the markets have also sometimes drawn the ire of shoppers for their high prices and city planners for liquor sales and contributing blight.
Times might be changing with the small markets, says Tom Pace, planning director for the City of Sacramento. "It seems like there's an evolution happening right now," Pace says. "In the past, a number of them were liquor stores. … Some of them were viewed as problematic, attracting crime or public inebriation. But lately, we're seeing more of a demand for fresh food, groceries or prepared meals."
Simpleton and places like it are part of the new wave of businesses moving to meet this demand in Sacramento in buildings that have clearly seen better days.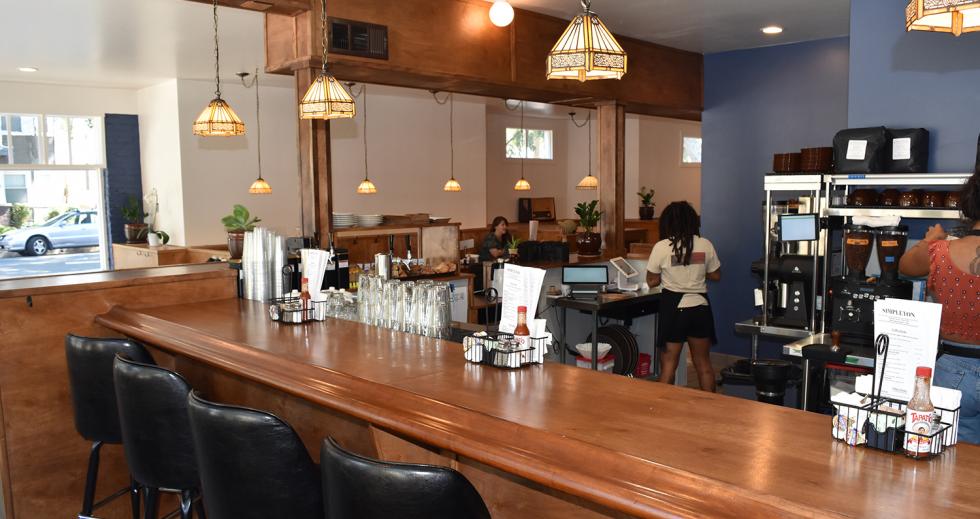 A New 'Nostalgic Spin'
Rodrigues, 34, the owner of Identity Coffees and a cofounder of Insight Coffee Roasters in 2010, is a veteran of Sacramento's specialty coffee scene.
A self-taught woodworker, Rodrigues did much of the work on Simpleton himself. With the help of business partners Ryan Rake and Vanessa Bautista, who is also Rodrigues' wife, he painted walls, built the cafe's wood booths and installed vintage light fixtures. "You can do so much with just aesthetics," Rodrigues says. "It blows my mind."
The menu will look familiar to people who've sampled the city's robust third-wave coffee scene — Temple, Old Soul and The Mill, just to name a few. Simpleton serves coffee that Rodrigues sources directly from farms in Brazil, Nicaragua, Guatemala and El Salvador. Rodrigues says he wanted a concept for this location, calling it "kind of a nostalgic spin on a café."
"I really like the idea of a place where (customers) could just go and sit and get table service but super-casual," he says. During a recent weekend morning at Simpleton, a Tom Petty & The Heartbreakers song can be heard as a server brings out plates of scrambled eggs, fluffy waffles and not-too-crispy bacon.
Local historian William Burg says older buildings can be ideal for ushering in new kinds of businesses.
"There's the old Jane Jacobs line that new ideas need old buildings," Burg says, referring to the late Canadian-American author who wrote about urban development. "And the idea isn't that new ideas germinate in immaculately restored historic buildings, but just plain, old buildings where the rent is cheap. Whether it's a coffee shop or a theater or a bookstore, if it's something that is kind of independent, small business, then having cheap rent is a good way to have a business model."
This has long been happening around the central city. On I Street, between 20th and 21st streets, Burg notes that a small storefront hosted a coffee shop, Giovanni's, in the 1970s. After Lee Page took the business over, he moved it around the corner in 1978 to open Weatherstone.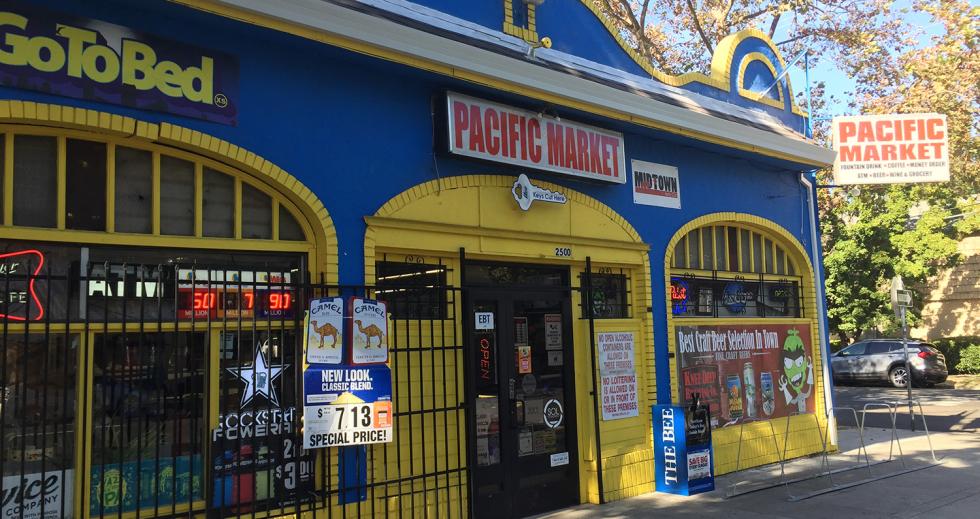 A Place for the Old Markets
Burg says he visited Simpleton recently to get a cascara tea, made from the cherry of a coffee bean, and that he thought the shop was nice. But the older markets have their place, too. "Part of why those stores exist in that neighborhood, as they do in other walkable neighborhoods, is because they're convenient for people in the neighborhood who are on foot," Burg says.
Pace agrees. "They offer convenience to the people who live nearby," he says. "They provide a small, locally owned option, and there are still a number of areas in the central city that aren't very close to a supermarket. So it provides a convenient option for those people."
Pace points to the Fremont Market across from Clara (the E. Claire Raley Studios for the Performing Arts) at 24th and N streets, or the Bon Air Market & Deli at 26th and J streets. Burg mentions the Pacific Market at 25th and P streets.
"They have made an effort to reach the customers that are there," Burg says. "They have a little sign-up sheet that if they don't carry something, you can put it on the list and they'll get it. So the ones that succeed are the ones that are trying to reach the market."
With infill development around the grid, both the old and new type of small markets might proliferate, with Pace seeing a potential "greater demand for commercial space as the population densifies in the central city."
It's not just Rodrigues' business representing the newer type of enterprise coming into spaces that could have once housed small markets. Around the corner, in the building where Giovanni's once was, Diamond Ink tattoo parlor now operates. Other types of businesses are coming into small market-type spaces in other parts of the central city, such as Waxidermy Records near 21st and K streets.
Rodrigues doesn't know if what he's done with Simpleton will start a movement. But he hopes to create what he terms "a long-term neighborhood place" and show what might be possible.
"Some of what I like about this project … is that I wanted to have a place that the city could look at and see what some of these types of places could be," Rodrigues says. "I'd be lying if I said that wasn't part of my intention."
—
Discuss this story and others on our Facebook page; "like" Comstock's on Facebook by clicking or tapping here.