Gregg Lewis never set out to sell beer. Along with his wife, Colleen Lewis, the winemaker opened the Dancing Fox in historic Downtown Lodi in 2009, and the family winery, bakery and restaurant quickly became popular for small-batch wines, large brunches and a cozy, pub-like atmosphere.
Over the years, though, Lewis found that they were increasingly losing customers to the world of craft beer. That's when the Lewis family decided to bring down the wall separating the wine and beer worlds.
"One thing that I heard too often was people at the wine bar saying, 'My husband's just going to watch,' or 'my wife's just going to watch because they only drink beer,'" Lewis says.
Led by son and brewmaster Jared, Lewis' three sons started experimenting with beer making, and the Dancing Fox debuted their own in-house beers in early 2015. Jared brewed on a small system that yielded 10 gallons per batch, enough to keep two or three beers on tap at a time, but not enough to meet customer demand. Three years later, the Dancing Fox is undergoing a major renovation to expand brewery capacity and add a distillery; the details are still being worked out, but the extra buildings will add 12,500 square feet to the current facility.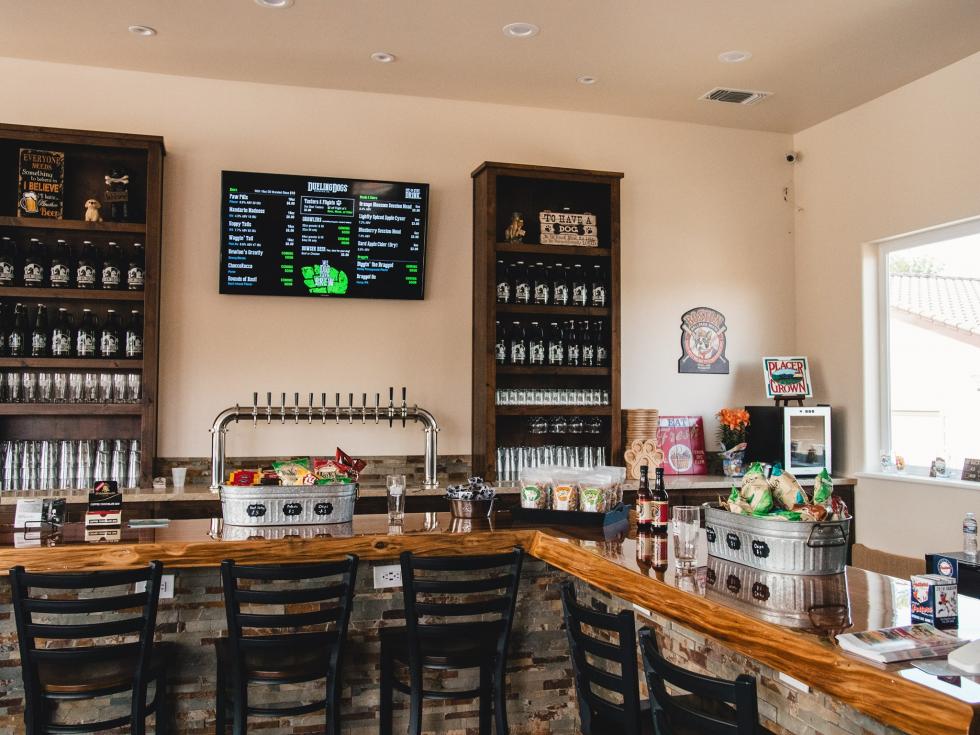 Over 70 breweries are currently operating in the greater Sacramento area, but only four of them — Solid Ground in Diamond Springs, Gold Hill in Placerville, Dueling Dogs in Lincoln and the Dancing Fox — are also licensed to make and sell wine, cider, mead or other types of alcoholic beverages. That's not for a lack of desire, but rather because old-fangled, pre-Prohibition beverage laws require separate licenses and permits for manufacturing beer, wine (which also includes cider and mead) and distilled spirits.
However, for business owners willing to navigate the choppy permit process involved with hosting two or more fermentation programs, there are major benefits to straddling the line between beer and wine. It's no surprise that all four of the Sacramento area breweries that go beyond beer sit in various wine countries. The Dancing Fox is one of four craft breweries in Lodi, but are the only one of the 60 wineries in the area to make their own beer. Wine stole some of beer's overall market share in 2017, yet craft beer volume continued to rise, making a place that offers both options increasingly valuable.
Even better for beer lovers, these boundary-busting brewery/winery hybrids are creating some of the most unique drinking experiences in the area. Take Solid Ground, a collaboration between Scottish brewer KC Sare and Scott Johnson, a UC Davis-trained winemaker at Perry Creek in Fair Play, in El Dorado County. In addition to producing the usual lagers, IPAs, cabs and malbecs, Sare and Johnson constantly bridge the gap between beer and wine.
"KC and I have been doing these hybrids, literally taking wine and blending it into beer," Johnson says. "It's a direct marrying of the two industries." One example is Arzelle, a strong ale blended with a viognier wine, and they also serve sparkling rosés and chardonnays out of beer taps.
Still, it took a series of workarounds and compromises for the Solid Ground dream to come true. Turning their brewery/winery into a brewery/winery/restaurant allowed Sare and Johnson to serve their wine on tap at their brewery in Diamond Springs, but laws that were originally intended to discourage monopolies require that the wine and beer be fermented in separate facilities. "There's all these pre-Prohibition laws that actually make it extremely difficult to have a winery and a brewery sharing the same facility," Johnson says.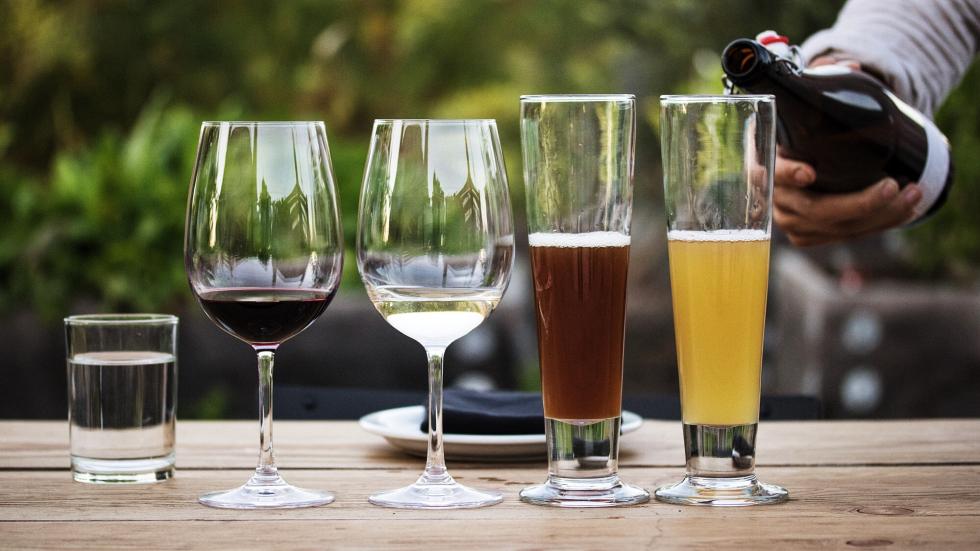 Solid Ground wine is made at Perry Creek, then sold back to Solid Ground. "Juice fermentation versus grain fermentation is one of the biggest problems in the industry right now," Johnson says. "It's driving everyone crazy."
No one needs to explain the frustration that comes with the dual permitting process to Earl and Adriana Stephens, who debuted Dueling Dogs earlier this year after a nearly five-year-long construction and licensing process.
"We had to make sure that the equipment was separate, we had to put a fence inside to make sure that nothing accidentally went over one side or the other," says Adriana, who makes cider, mead and cyser (a cider-mead hybrid) while her husband, Earl, brews beer. "There are definitely no grains allowed in a winery."
That long buildout process became a blessing for Adriana, allowing the self-taught cidermaker time to practice her craft, and also to take a mead-making class at UC Davis. Since opening in May, the meads and ciders Adriana makes on her two one-barrel fermenters have proven far more popular than expected.
"I can't physically keep up," Stephens says. "It takes me about a month to a month-and-a-half to make a batch, and it goes in three weeks." Dueling Dogs has already installed a new five-barrel system to ensure the availability of Adriana's most popular offering, currently the Orange Blossom Session Mead.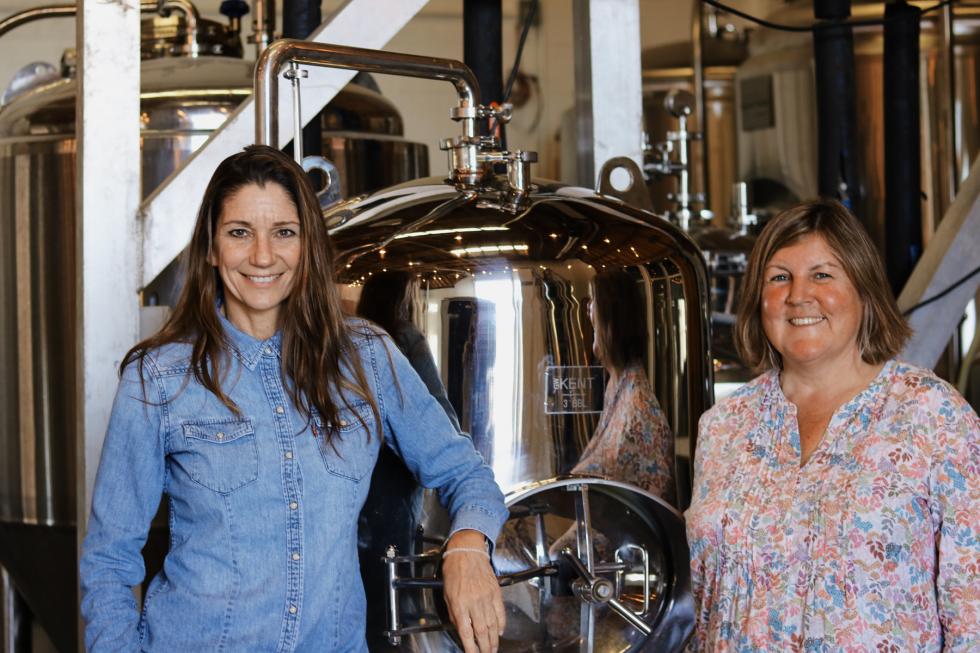 The value of offering something beyond beer at the brewery isn't just about pleasing divergent palates, but about extending inclusivity. "We have customers who can't drink beer, because it has gluten in it, but they love that we have the wine," Stephens says.
This trend toward brewery/winery hybrids isn't exclusive to the Sacramento area. When Elaine St. Clair and Laina Brown opened St. Clair Brown Winery in the city of Napa in 2012, they included a nano-brewery in their business plan. After all, in addition to her winemaking experience, St. Clair also owned and brewed at the defunct Napa Ale Works in the 1990s. Once again, though, government red tape gummed up the works. "It took four years to get the permits to pour both of them in the same space," Brown says.
Skirting laws by housing the brewery and winery in the same facility but at different addresses, St. Clair only brews enough beer on her two-barrel system to sell at the St. Clair Brown tasting room, which sits across the street in a greenhouse surrounded by an edible garden. The tasting area offers a unique synthesis of craft beer urbanity and the bucolic elegance of the wine world and has proven popular with fans of both beverages. "It brings in a lot of people interested in beer, but we find that it brings out a lot of beer lovers that are also wine buyers, and we get a lot of those mixed groups," Brown says.
Like the Dancing Fox, St. Clair Brown already has ambitious plans for expansion, including building a large taproom inside the brewing facility. However, they don't expect to start construction until late 2019, around the time that Lewis hopes the Lodi renovation will be completed. Unlike the Dancing Fox, St. Clair Brown has no immediate fans to institute a program of sour ales, a trendy style for beer drinkers but a terror for winemakers due to the risk of infection from wild yeast.
Expanding their current location into an adjacent parking lot, the new Dancing Fox facility will be large enough to include a separate area for barrel-aging beers, as well as a distillery, a larger outdoor area and even two private accommodations that will be available for overnight rental. The Lewis family has already purchased a bottling line capable of filling both beer and wine bottles, and they plan to dramatically expand the Dancing Fox's distribution once the new brewing facility is fully built.
"We've never really done distribution for the wine, but I think we'll be expanding that as well," Lewis says. "At my age, I would be content with what we're doing, but we're building the legacy for the next generation, just moving the notch up a little bit."