When Glynn Phillips purchased Rubicon Brewing Company in 2005, it was one of only five breweries operating in the Sacramento area. Fast forward 12 tumultuous years, and the total number of area breweries is approaching 60, with over a dozen new ones set to open later this year and in early 2018.
Still, even as Sacramento craft beer exploded, the scene on the central city's grid was slower to evolve. New breweries began embracing the tasting room model over the Rubicon-style brewpub model, eschewing foot traffic concerns by opening in low-overhead industrial areas and nondescript business parks. Food trucks replaced kitchens, and doors that swing open were replaced by doors that roll up.
New Breweries and Beer Bars Coming to the Grid

Capital Hop Shop:

1431 I St.

Now Open

Urban Roots Brewery & Smokehouse:

1322 V St.

Opening late 2017

Touchstone:

116 North 16 St.

Opening sometime in 2018

Sacrament Brewing:

1616 J St.

Opening late 2017
As for beer bars, a few key players raised the craft beer game on the grid — Midtown Biergarten, for example, which opened on K Street in 2014 — but most top performers chose to operate outside of downtown and Midtown. A long-running law against selling single bottles on the grid, originally intended to discourage drinking in public, ultimately discouraged businesses from duplicating the beer bar/bottle shop hybrid popularized by Pangaea, Final Gravity and others.
But that tide is starting to turn, as local beer all-stars and upstarts alike are migrating back to the grid, while even out-of-town breweries such as Fieldwork and Anheuser InBev-owned Golden Road search for a slice of Sacramento's muscular market share. The recent "cash flow"-related closure of Rubicon inspired apocalyptic talk about brewery oversaturation and a bursting "craft beer bubble," so why are breweries and beer bars embracing the grid again? And how will they carve out a niche in an increasingly crowded marketplace?
Take Two
"This is the big show," says Kenny Hotchkiss, co-owner of the newly opened Capital Hop Shop on the corner of 15th and I streets, a grid-based extension of the highly-respected Capitol Beer and Taproom. "There's a high energy here."
Hotchkiss and his life and business partner, Patti Aguirre, opened Capitol Beer and Taproom on Fair Oaks Boulevard in 2011, but they originally planned to set up shop on the grid. "We just couldn't find a space, and nobody understood what we were trying to do back then," he says. Eventually, they found their current space in University Village, and grew into one of Sacramento's premiere beer destinations. "I don't know if we would have done as well here the first time," Hotchkiss says. "It gave us the experience to come downtown with better quality."
"I think competition just raises the quality of beer, and I think there's always room for quality. We came to raise the level of beer down here." Kenny Hotchkiss, co-owner, Capital Hop Shop
Capitol Beer and Taproom is known more for the uncompromisingly-curated tap lists than for the décor, but Capital Hop Shop raises the game in every way. Renovated from an old auto shop, the new location has twice as many taps, a more spacious outlay and a full food menu. Even the hand-drawn chalkboard tap lists are gone, replaced by sleek and modern digital displays.
"I think competition just raises the quality of beer, and I think there's always room for quality," says Hotchkiss, when asked about market oversaturation concerns. "We came to raise the level of beer down here."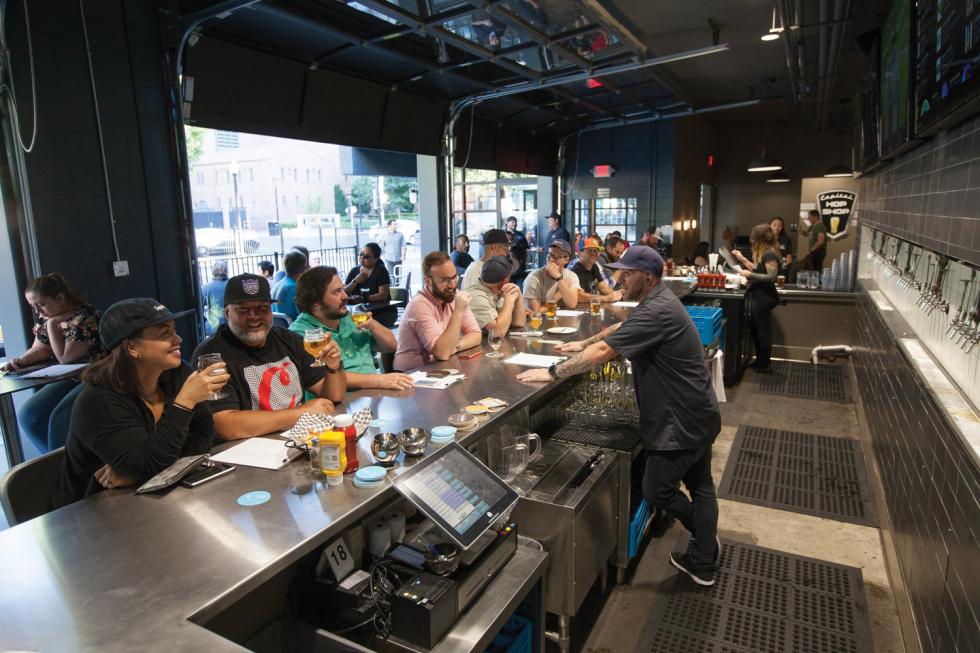 Rob Archie is another craft beer success expanding onto the grid. Inspired by his time visiting Belgian beer bars while playing international basketball, Archie essentially started the Sacramento craft beer craze when he opened Pangaea Two Brews Café (now Pangaea Bier Café) in the Curtis Park neighborhood in 2008. Now Archie and best buddy/brewing legend Peter Hoey are preparing to open Urban Roots Brewery & Smokehouse, an ambitious project that could transform the undernourished Richmond Grove neighborhood.
Archie and Hoey are renovating a 15,600-square-foot warehouse on the corner of 14th and V streets, with the aim of opening in early 2018. Along with a robust mixed-fermentation program and "the ultimate German beer garden," their vision for Urban Roots includes a restaurant, so business parks were never part of the plan. "We have a very retail-focused model, so we want the foot traffic, we want the nightlife," Hoey says. "I couldn't see a full restaurant going in the middle of a big industrial park."
Given the reputations of the people involved, expectations are high for Urban Roots, but Archie welcomes the challenge. "I don't really look at it as pressure, I look at it as a responsibility," he says. "I want to be the biggest neighbor on the block."
New Neighborhood Breweries
"You can't put a bad beer in the market right now," says Ryan Campagna, brewmaster at Touchstone, a proposed brewery hoping to open on North 16th Street sometime in 2018. Two years ago, Campagna was recruited away from Strike Brewing in San Jose by the owners of the rock-climbing facility Pipeworks, who wanted him to consult on a plan to open a small pub in their North Sacramento location.
"I was excited about how fast Sacramento beer was growing, so I said they ought to consider putting a brewery in there instead," he says. "It kind of morphed into a full-time job."
Touchstone is still in the permitting phase, held up by the addition of a pizza oven, but their proximity to the proposed soccer stadium in The Railyards made slow growth the smarter option. Campagna plans to brew small batches on a 7-barrel system, forgoing distribution at first and expanding organically. "I think there's going to be more of a market for the small local brewery than there is for the big regional brewery," Campagna says.
About one mile south of the Touchstone site, a former nightclub is getting transformed into Sacrament Brewing, part of the ever-expanding Burgers and Brew empire. Aiming for a late 2017 opening, the location will also serve as a "true brewpub," with a street-level restaurant, a rooftop bar and a glass-enclosed basement brewhouse that will serve as the centerpiece. "You should be able to see the brewhouse from any point in the brewery," says co-owner Derar Zawaydeh.
Ironically, Sacrament is not only embracing the grid, they're also embracing the old-school brewpub model. "We have an advantage over a stand-alone brewery, where they have to make the money on the beer," Zawaydeh says. "For us, it's a combination of the food and the beer, so we have more leeway on spending money on quality ingredients."
And about those apocalyptic prophecies of craft beer doom? "With beer, I don't think it's ever saturated," he says. "The more breweries that there are, the merrier."
Correction: Urban Roots is located in the Richmond Grove neighborhood.