Comstock's monthly look at the business news in the Capital Region. Here's some stuff that happened in October.
Hacker Lab to Explore Del Paso Heights
Hacker Lab announced on Oct. 19 that it's conducting a feasibility study for an entrepreneurship center and incubator to be located in Del Paso Heights. Already with two locations — in Midtown Sacramento and Rocklin — Hacker Lab provides over 25,000 square feet of space and access to workspace, prototyping tools, classes on topics such as 3D printing and welding, and a community of markers, artists and entrepreneurs, according to a press release. "Communities like Del Paso Heights are known for resilience, hustle, fortitude and creativity. These are the traits of an entrepreneur," said Gina Lujan, CEO of Hacker Lab, in the release. "It's not a matter of talent — they have the talent and then some. It's about equal opportunity and access." The study is funded by the City of Sacramento Office of Innovation and Economic Development, and will be completed by Nov. 30. For more information, visit http://fueltheheights.com/. ~ SC
Sacramento Region Bids for Amazon's Second Headquarters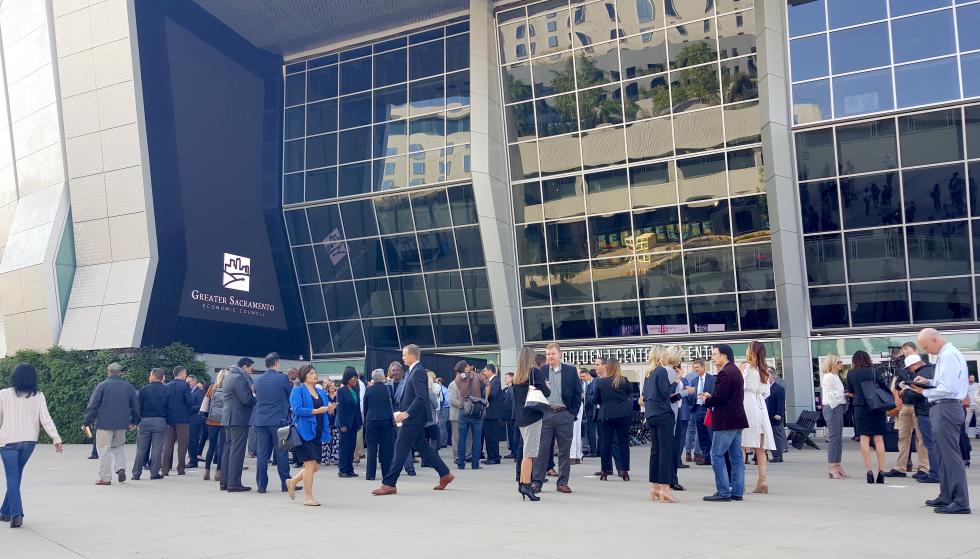 The Sacramento region is one among 238 proposals from cities and regions across North America hoping to become the site of Amazon's second headquarters. Proposals were due to the world's largest online retailer on Oct. 19. Amazon said it plans to invest more than $5 billion and create roughly 50,000 jobs for "Amazon HQ2." Sacramento's efforts were led by the Greater Sacramento Economic Council, which convened some 50 partners from 19 communities to craft the proposal over the course of five weeks, said GSEC President and CEO Barry Broome during a public announcement of the bid on Oct. 18 outside the Golden 1 Center in downtown.
Sacramento's bid listed 12 potential sites and noted, among other attributes: our easy access to the Bay Area and Seattle; our state's regulatory advantage (California has already seen Twitter, Google, etc. and welcomes disruptive industry, Broome later said); and the customized education and workforce plan developed by leaders from our region's colleges. "We're willing to morph our educational framework to make sure their educational needs are met," said Dr. John Jackson, president of William Jessup University in Rocklin, during a media roundtable. William Jessup worked with the Los Rios Community College District to propose the new framework for the proposal. Amazon's decision is expected in early 2018. ~ SC
The Mill at Broadway Announces New Options for Homebuyers
On Oct. 23, The Mill at Broadway announced it had sold all of the homes in its initial three neighborhoods, after less than 20 months since the grand opening, according to a press release. The developer of the residential community in Sacramento also announced the launch of three additional neighborhoods in conjunction with a zero-down mortgage program for qualified homebuyers to ensure "buyers will have more options than ever to finance the purchase of their new home," according to the release. The program is open to all homebuyers — not just first-time buyers — and is made possible by a new Federal Housing Administration loan program. Put simply: That means zero cash out of pocket. "Since day one, we have offered low down payment options to buyers, but even just three-percent down on a $300,000 home is $9,000. For many people, that's a barrier that keeps them trapped renting an apartment," said Chris Kohler of Finance of America in the press release. ~ SC
Big Arts Festival Returns to Sacramento
We don't usually do event previews in a recap. But considering the Sacramento Arts Festival is celebrating its 20th anniversary as the preeminent art and craft show for the area, I figure why not? The festival, to be held Nov. 3-5 at the Sacramento Convention Center, will feature 225 contemporary craftspeople and artists selling more than 150,000 original works, according to a press release. Paintings, sculptures, jewelry, ceramics, leather and more products will be available in all price ranges. "We are very proud to be a part of the Sacramento community with our festival for the last 20 years," says Warren Cook, the festival's producer. "Over 200,000 people have attended our show and we are so grateful for them." Attendees can also enjoy live music, and Greek, Indian and American cuisine. Admission for adults is $8, seniors are $7 and children under 12 are free. ~ SC
Entrepreneurs, small business workers and students will have the chance to learn about startups and contribute to Placer County's economy this spring when Sierra College and Hacker Lab open their new co-working and making space.