Shortly before her interview is due to start with Comstock's magazine, Rabbi Mona Alfi bounds out of her office at Congregation B'nai Israel.
It's a precariously windy Tuesday in mid-March, with gusts predicted by the National Weather Service to reach 60 miles per hour. Alfi is taking no chances, instructing her staff to cancel a class at her Land Park congregation that evening, which will keep members from having to drive in unsafe weather.
So it's gone for the past few years, while around Sacramento, congregations like Alfi's have had to adapt to the COVID-19 pandemic and other challenges. While the days of having to meet remotely for services are mostly done, houses of worship in Sacramento are still coming out of a tough time and facing uncertainty.
Comstock's spoke with representatives from three longtime Sacramento congregations to learn more.
First United Methodist Church: Lending a hand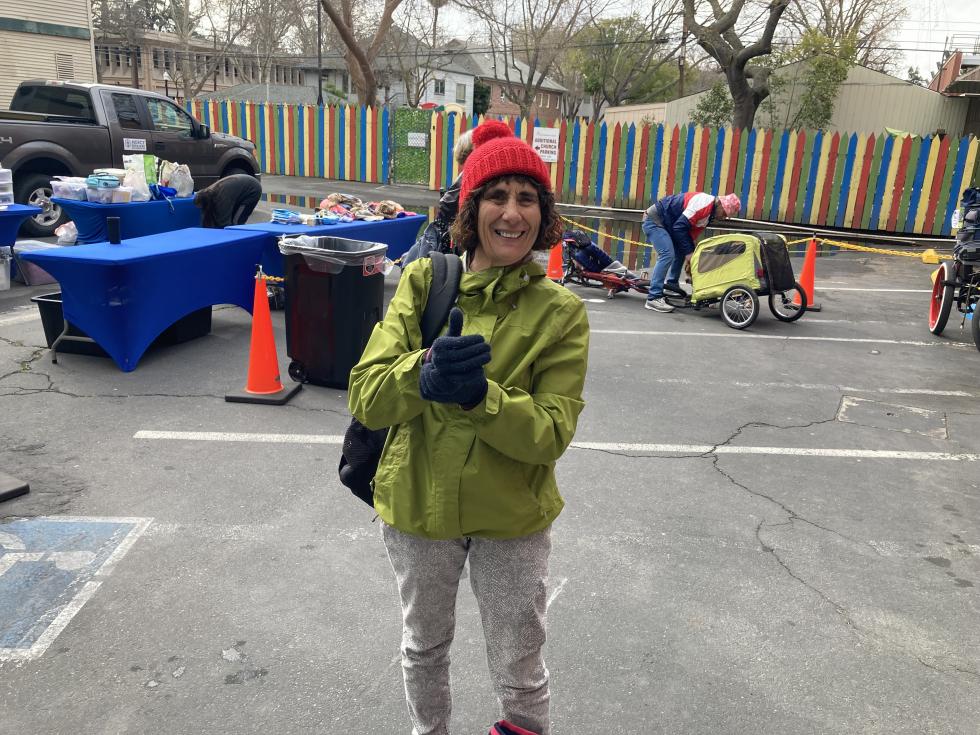 Cheryl Charleson stands near a portable shower outside First United Methodist Church. "I worked for 35 years and we never thought I'd be homeless," says Charleson, whose husband died in 2010.
Once, the 67-year-old might have been at a place like this to help, as a former volunteer for a Roseville homeless shelter. However, since last July 24, Charleson has been without a home for the second time, after losing a job.
So on a Monday morning in early March, Charleson, who recently moved to Sacramento from Roseville, is making use of services that congregations like First United provide. Aside from the chance to clean up, these services can include grabbing a meal indoors, charging a cell phone, or connecting with housing navigators.
It's part of an increased push by First United, which is one of four churches in the central city — along with St. John's Lutheran Church on Tuesdays and Westminster Presbyterian Church and Trinity Cathedral on Wednesdays — that have stepped up work to help people experiencing homelessness.
"We've just simply bumped up the services that we're providing," says volunteer Patricia Daugherty, as she prepares food in a First United kitchen. "And we were happy as soon as we could let them in."
Daugherty is part of a small group trying to make a difference. The pandemic has taken in-person attendance at First United from an estimated couple of hundred pre-pandemic to an average of about 70 people per service and others watching online, according to interim co-pastor Carl Thomas.
Attendance had already long been declining for the historic church, which dates to 1849 and has been in its current location at the corner of 21st and J streets since 1925.
"All the major denominations have experienced that," Thomas says. "The more independent large church, conservative churches have grown in the last 20 years and the mainline churches have declined."
While suburban congregations in the Sacramento region like Destiny Church in Rocklin flouted COVID-19 restrictions during the early part of the pandemic, according to media reports, churches like First United were forced to learn on the fly how to hold remote Sunday services.
First United has also had to sell a portion of its parking lot to pay for a recent round of renovations, which included fixing a corner of the church that was sinking into the ground.
A new permanent pastor, Peter Mahsea Evans, will start in July.
"There is considerable interest in keeping this place going on from the conference standpoint," Thomas says. "And our district superintendent, which is kind of middle management in Methodism, and the bishop are working very hard to keep this thing staffed to a point where it can be self-sustaining."
The Buddhist Church of Sacramento: A chance to shop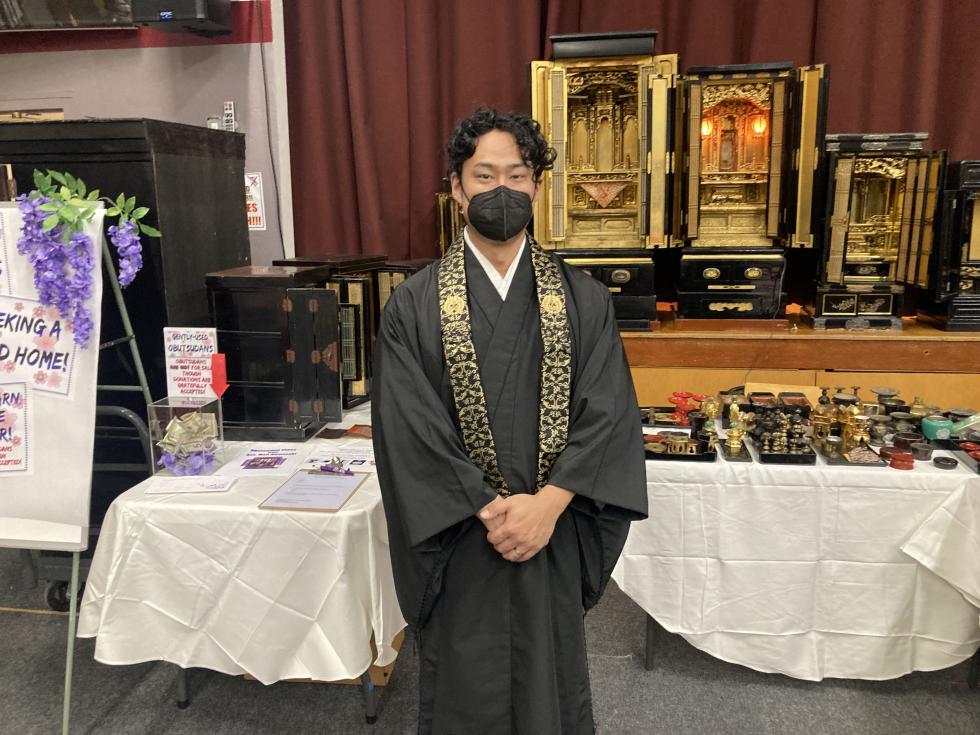 Several hours into the Sakura Matsuri Food & Shopping Faire on March 4, Aaron Imura looks at a display of antique dolls.
Imura, a scoutmaster for Boy Scout Troop 250, has been at the Buddhist Church since early morning with his boys, helping cook yakisoba for the event. But it's these dolls, that date to the 1890s, which get Imura. The fact they've been around this long means that some Japanese American families likely had to preserve them while interned during World War II.
"If someone was only limited to one suitcase, these have either had been stored with them and taken to camp, or stored elsewhere in someone's basement or buried in the ground or something like that," Imura says.
In a sense, the pandemic is just one more story of survival for this church and its members.
In normal times, the Buddhist Church is known for events like the Japanese Food & Cultural Bazaar held annually every August since 1947, according to Karen Adachi, board president for the church. The church held virtual events in 2020 and 2021 and a drive-thru event last year.
On this day in early March, the church is holding one of its first large-scale, in-person, and indoor events for the community since the pandemic began.
"I think everyone's really, they've been itching for something like that," Rev. Matt Hamasaki says in a phone interview a few days before the event. "So I think everyone really wants to come out and make sure it's successful."
The day of the event winds up being rainy in the late morning and early afternoon, though beforehand, there's some success, according to Marian Wong, a vendor.
"They sold a lot of things here," Wong says.
At the end of the day, people like Hamasaki see a silver lining with the pandemic, saying it "brings forth issues that perhaps would have taken longer to really confront our church" such as lower membership numbers — though he also notes that virtual services have helped attract new people to services.
"Having something like the pandemic happen is kind of a shock to our system, which makes us have to rethink how we're doing everything, essentially, at the temple," Hamasaki says. "And so hopefully, one of the outcomes of it is that the way we rethink it will help us be better prepared for the future."
Congregation B'nai Israel: More challenging than hate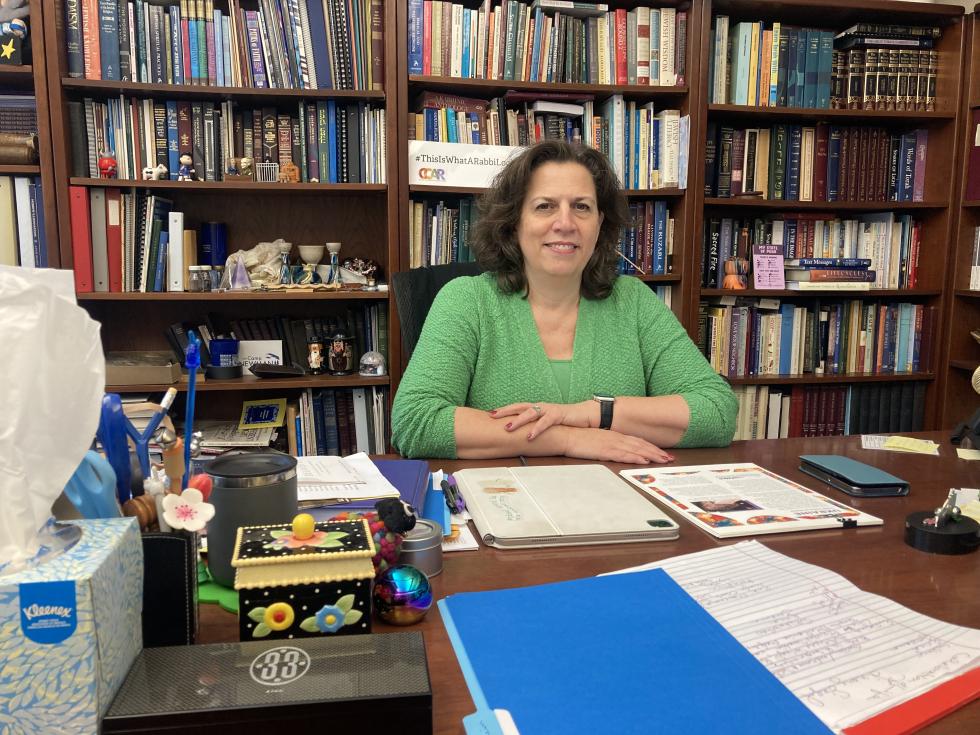 On June 19, 1999, two white Supremacist brothers firebombed three Sacramento synagogues in an anti-Semitism hate crime, severely damaging B'nai Israel, Kenesset Israel Torah Center and Congregation Beth Shalom. Alfi was serving as one of the rabbis at Congregation B'nai Israel, which was rebuilt.
Asked how that experience compares to the challenges of the pandemic, Alfi doesn't mince words: COVID-19 has been much more difficult.
"When there was the hate crime, all of Sacramento came together," says Alfi, who became senior rabbi for the congregation in 2006. "And there was incredible generosity. The Methodist Church was having a convention downtown, they opened up the convention space, so we could have our bar mitzvah there that weekend."
She continues, "The devastation about COVID is it's contrary to everything every religion knows how to do when dealing with a crisis, which is, normally we come together. And for COVID we all had to stay apart."
The move apart happened on the fly, with the congregation having five days to learn how to hold services virtually, with Alfi crediting a member who does related work professionally for stepping up.
"We just had to rethink everything between using our parking lot for drive-thru celebrations and holidays, dropping off gift bags at people's homes for bar and bat mitzvahs since they weren't able to be here," Alfi says.
The congregation resumed in-person services in 2021, but has continued to provide hybrid services, such as during the high holidays of Rosh Hashanah and Yom Kippur last year.
"Combined we had more people than we've ever had before," says retired Sacramento City Councilman Jay Schenirer, who is a longtime member of the congregation, a past president of it and has been elected to serve another term beginning in July.
Alfi has also noticed increased numbers for her congregation, which practices Reform Judaism.
"We had a huge spike in people wanting to convert to Judaism," Alfi says. "And I think that is because of the virtual nature of services."
Times have been tough, as members of the congregation like Schenirer know all too well.
"I think people look for something a little bit different during something like a pandemic when things are difficult," Schenirer says. "And it's our responsibility to be there for them."
–
Stay up to date on business in the Capital Region: Subscribe to the Comstock's newsletter today.
The temple and museum is usually a quiet respite for visitors, open by appointment only. But during one weekend, the serenity is replaced by bursts of firecrackers and thousands of visitors attending the Bok Kai Festival weekend, honoring Bok Eye.
Despite having faced enormous challenges tied to our nation's racial struggles, Black entrepreneurs have had a profoundly significant impact on the area's historical, economic, and cultural trajectory.