Our hearts racing and stress levels high, the six of us aren't sure whether our friendship will survive the next 10 minutes. We're stuck in a small room together and can't calm ourselves down long enough to agree on a system for tackling one of the final puzzles that will allow us to break through to freedom. Things are getting testy: We're heavy sighing, and huffing and puffing. It's possible I'm raising my voice.
I'll refrain from describing this final test, because I don't want to prevent you from making your own attempt to break out of the Study, one of three puzzle rooms at Escape Sacramento, which opened in midtown last October. And that wouldn't be fair — because if you're like so many others seeking affordable recreation and low-key adventure, you'll want to participate in the escape-room phenomenon that's hit U.S. cities over the past few years.
Escape Sacramento is one of three local escape-room businesses, and a fourth will open soon on Arden Way. There's also one in historic downtown Marysville, which claims to be Sacramento Valley' original. I first tried one of these rooms in Boulder, Colo. The college town is an ideal location with a young, always coming-and-going population eager for good times.
I had booked the Study (which accommodates two to six people) for mid-morning on a Saturday. I walk into the lobby with a few friends and see a hallway with several doors on each side. Once inside the room, our guide, Ryan Bautista, recites a backstory. He tells us no pen and paper or cell phones allowed. We have 60 minutes. He exits. The clock starts ticking.
Growing Phenomenon
The escape room phenomenon traces its origin back to Japan around 2008, and the concept quickly spread throughout Europe and to the U.S., where about 350 exist, according to the Escape Room Directory. Two men based in Connecticut founded Escape Sacramento (along with two other venues on the East Coast), after searching for a downtown venue in a mid-sized city. The owners leave operations up to local staff, which includes three full-time and two part-time employees in Sacramento. Bautista, a "jack of all trades," manages the site and helps create props and puzzles. "One of the best things at the job is watching people become elated because of something we built," he says (videos surveil each room).
Escape Sacramento's key demographic straddles the 25- to 35-year-olds. I'm on the upper end of that range and, like so many in my generation, I opt to spend money on experiences rather than stuff. These particular rooms, however, are appropriate for children and have attracted plenty of retirees. Some 6,500 people have played so far, Bautista says. "It's been a really great experience for everybody," he says. "I think I can count on my hand four people that have not been happy — more about not escaping. Everybody comes out smiling."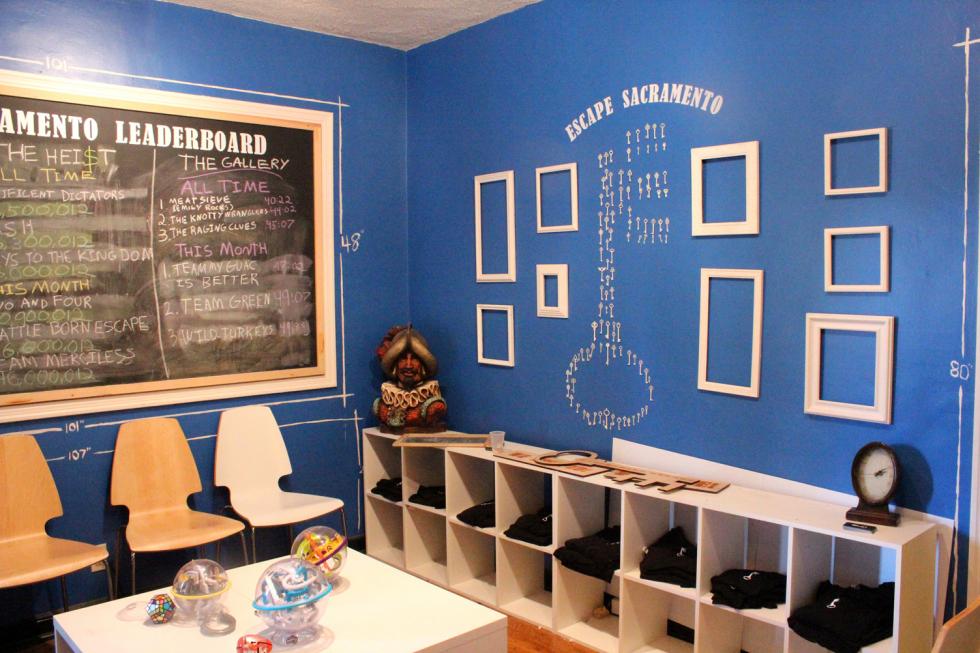 Corporate clients book private rooms for teambuilding, and Escape Sacramento even uses the activity as part of its hiring process: Does the candidate work well with others? Is he a critical thinker? Is she assertive? The rooms, especially on Friday or Saturday nights, usually fill up a couple weeks in advance, and walk-ins typically aren't successful.
The same busy schedule goes for Exit Strategy Games in Elk Grove, which advises customers against dropping in to play. Janell Woodbury opened Exit Strategy in March, after experiencing her first escape room during a vacation in Louisiana in August 2015. Woodbury, who has a business degree and a law degree, owns a small retail store and a law practice. Also an avid player of board games, Woodbury is familiar with the trials and tribulations of business ownership.
"I think the thrill of having to search for clues and solve puzzles under a time restraint, while being totally immersed in the room's theme and storyline, with the added excitement of being 'locked' in the room, gets people's adrenaline pumping, and delivers a level of excitement and fun that people are getting addicted to," says Woodbury, who has done 18 unique escape rooms and 21 altogether because she is "absolutely obsessed."
Having multiple escape rooms in a city can work in each business's favor, because of the unique concept on which the industry is based: "Our market can be limited by the number of scenarios we have," Bautista says. A customer goes through a room once, and that's pretty much it. The mystery is gone. But once they "whet their appetite," he says, they can try other options until returning to the original escape room, which operators typically change once annually. The escape-room community is collaborative Bautista says, with Facebook groups and online forums, where operators share recommendations for, say, the best UV flashlights to use. But sharing specifics about puzzles is a no-no.
Adrenaline Rush
The Study is the first escape room experience for five members of my group; it is my second. And I'm going to be honest: We had a great time … but we failed! I'm so embarrassed. Thankfully, we're not alone — in fact, we're in the majority. A whopping 82 percent of participants fail to escape the Study and its companion room, Gallery (the third room, Heist, involves acquiring money), which represents a failure rate higher than Escape Sacramento's designers expected, Bautista says. But they have to create clues and puzzles that cater to both the hardcore puzzle masters and novice players.
Bautista explains to our group what puzzles we had left to solve. Seriously, only one! We exit the room, all feeling a bit tense. "Do you hear people yelling at each other down the hallway?" asks a friend.
"Yeah," Bautista says, laughing.
Another friend comments on how the game seemed to change over the course of the hour: "The group dynamics are interesting. At first you don't have to work together, but then all the sudden you had to work together." Ultimately, we walk away feeling disappointed in our lack of investigatory skills, but happy, and with our friendship intact. When, I ask the group, can we plan our next escape-room adventure? Tomorrow?!
This reaction isn't unusual, Bautista explains. "It's a safe way to feel an adrenaline rush," he says. "You don't have to jump out of a plane. You don't have to put your actual life at risk. You use your mind, not your body, for the adrenaline rush."