With more than 200 spices, salts and seasonings in stock at downtown's new Allspicery, variety isn't just the spice of life. It's a life of spice for owner Heather Wong.
Glass jars line the shelves, many with household names: cinnamon, peppercorns, paprika. Others are more exotic, such as asafoetida, epazote leaves or ghost peppers — a chili so hot it's too dangerous to grind in store.
After winning the 2015 Calling All Dreamers retail business plan competition, Wong worked for nearly a year to make her spice dream a reality. Her cozy shop at 1125 11th Street — across L Street from the Capitol — offers ingredients for almost any ethnic cuisine. Spices are priced by the ounce to make them affordable for everyone from home cooks to restaurant chefs.
"I'm a foodie," she confesses. "I love cooking with my husband, and when we moved here almost four years ago, we had just come from an around-the-world trip. We wanted to explore all the new recipes we had tried abroad, so we were looking for some of the most obscure ingredients and couldn't find them. That was how the idea started, like 'Wouldn't it be nice if there were a spice shop in Sacramento?'"
At the time, Wong had a rewarding career as a regional sales manager for a clean energy firm. She hadn't really thought about becoming an entrepreneur until two things happened: She left her job, and she and her husband decided to start a family.
"On a whim, I knew the Calling All Dreamers contest was coming up and I thought, why don't I just see what happens?," Wong recalls.
Although her expectations were low, her work product was high. "You can't just throw together a one-pager of your business idea and call it a day," she says of her contest application. "You really have to put a lot of thought into how you're going to be a sustainable, operating business. You have to put together a cash flow. You have to look at market trends. It's a very detailed process."
With a total prize package valued at $100,000, Wong received $10,000 in cash plus valuable professional services from attorneys, accountants, designers and more to make Allspicery a reality. She joins 2013 inaugural winners Andy Paul of Andy's Candy Apothecary and The Daily Method, and 2014 winner Ana Manzano of Ana Apple. This year's semi-finalists are scheduled to be announced April 8 and will have the chance to meet with a personal business counselor from the Service Corps of Retired Executives before submitting a revised business plan, in the hopes of being named a finalist. Following a public vote, the winner will be announced in June.
The Downtown Sacramento Foundation, which sponsors Calling All Dreamers, estimates that over the past three years, the contest has led 11 new businesses to open, leasing more than 15,000 square feet of retail space in downtown Sacramento, and creating 10 full-time and 35 part-time jobs.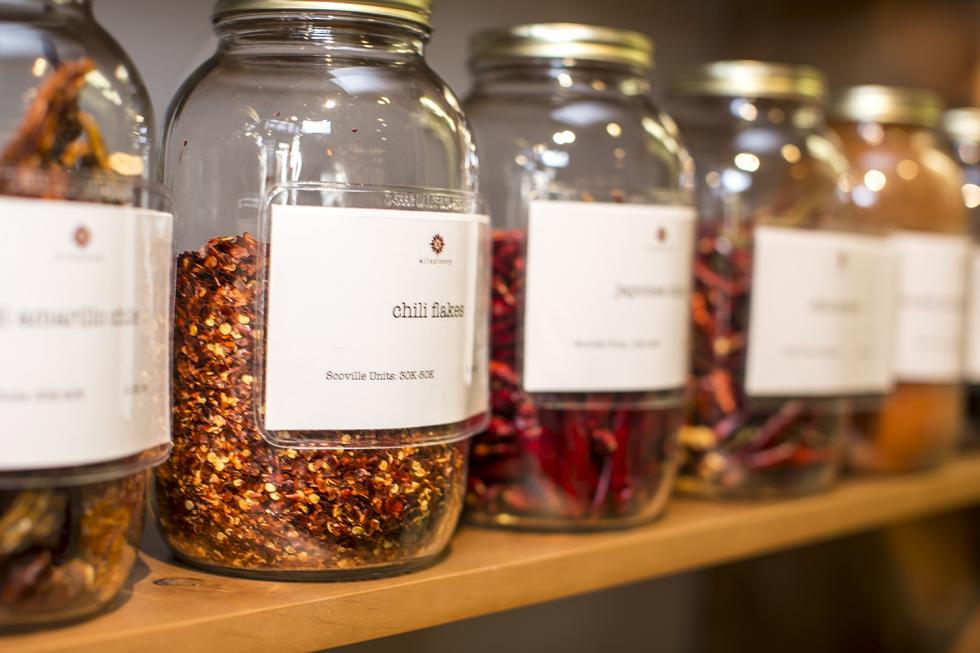 One of those newly opened businesses is Ana Apple, a children's clothing store and studio in Old Sacramento. Ana Apple just celebrated its first anniversary and is now succeeding without the benefit of contest prizes. "I'm so proud of what we've accomplished from Day 1 to now," Manzano says. "The retail store looks completely different, and there's a great kind of energy in here that sets us apart. We've heard it on more than one occasion, we're called a breath of fresh air."
Opening a specialty grocery business meant Allspicery was subject to California Department of Public Health permits and inspections — a process that invariably causes delays.
"I knew it would be hard, and it was all that and more," Wong says. "It takes a lot of time to put together a list of distributors and vendors, not just for the spices for also for the jars and scoops, the restaurant supplies in the back, the detergents and mops and stuff. There are a lot of logistics that, as a small business owner, you don't really think about right off the bat, but you're responsible for everything."
Wong uses primarily U.S. distributors to source spices from around the world. Vanilla beans are imported from Madagascar. Lavender comes from France. Lemon peel and many other ingredients come from California, and Wong draws on her "natural love of flavor and food" to create custom spice blends, such as a barbecue rub.
"It's been a very eye-opening and humbling experience," she says. "But it's also been fun to take the brown paper off the windows and start to get ready for the store opening, to have people look in and ask when we're going to be open. There's a lot of excitement from the people who walk by every day."
And what advice does Wong offer to other would-be business owners?
"Do your homework," she says. "Expect the unexpected. And believe in your idea. At some point, you will get to the finish line."