The Deliberation Room's speakeasy vibe ushers patrons back in time to muse about the Prohibition era when one had to forgo alcoholic libations. Exposed brick walls and a lofty ceiling provide the setting to sip a sidecar cocktail and sample Italian wedding soup, flatbread pizza or asparagus potato skins. This retro-chic bar and restaurant indicates a hotbed urban setting. Its location? Downtown Stockton.
The Deliberation Room, which opened on New Year's Eve in 2017, isn't the only budding business cropping up in the historic downtown of this port city. Restaurants, retail stores and salons are among the businesses finding assistance and resources from the Downtown Stockton Alliance, a public-private partnership uniting property owners and downtown businesses with a 2018-2019 strategic plan that focuses on specific steps to increase safety and cleanliness for a more more vibrant downtown.
"We're not big developers, we're little guys changing downtown one business at a time," says Jacob Benguerel, owner of the Deliberation Room.
Nearby on S. San Joaquin Street is Golden Rose Barber Shop, owned by barber Steven Herder, who this year set up shop in an atmospheric building with vintage fixtures, storefront windows and wooden floors. Herder also makes custom hair products branding them as Port City Pomade, "gentleman-tested, lady-approved."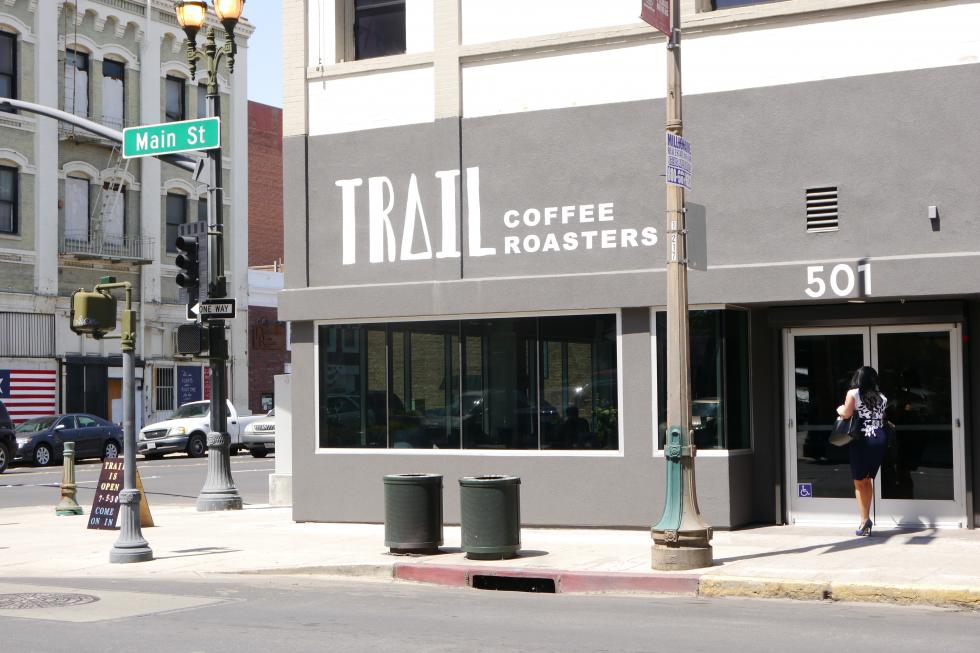 At Trail Coffee Roasters co-owner Gianna Vicari is orchestrating a test-kitchen and coffee house in its new space on the corner of California and Main streets. Trail previously operated out of an alley location, but moved into the remodeled Owl Drug Store in April. Furniture maker and sculptor Jared Rusten recently relocated from San Francisco and runs his shop in a spacious warehouse on Weber Avenue. On N. Aurora Street, a trio from upstate New York is setting up HATCH Workshop, an educational and studio space for fine crafts and design.
While Benguerel refers to these creative entrepreneurs as "little guys," there is nothing small about their ambitions, energy and role in helping revitalize a city recovering from bankruptcy, pension woes, homelessness, a stigma of high crime, and the impacts of the Great Recession when home prices plummeted and property taxes fell. These new businesses are building momentum, along with other efforts such as Ten Space's Open Window project, which covers nearly 12 acres in the city's core and is planning for commercial space and more than 1,000 residences, including Medici Artist Flats in the former Medico Dental Building on N. Sutter Street.
"There's a lot of excitement here right now," says Michael Huber, executive director of the Downtown Stockton Alliance. "There are investment opportunity zones, there are buildings available for sale and lease, and there are tax incentives to invest."
Available prospects in old buildings with character have long been a magnet for artists and creative people, and Huber is bearing witness in Stockton. The founders of HATCH bought a 35,000-square-foot former labeling factory. "They could have gone anywhere," but they relocated here, says Huber. "HATCH is all about creative interaction and that creative energy is building here."
Benguerel says he's been working for 10 years to create change in the downtown district. Raised in Manteca, he started a Stockton-based law firm in 2008 and in 2013 purchased the building at 10 N. California St. to serve as the office for San Joaquin Family Law.
"There are prices here you can't find anywhere else," Benguerel says. He bought the 3,500-square-foot building for $115,000 and remodeled it. "That block of California was pretty bad. The building across the street was falling apart and people were sleeping on the street. I went to the newspaper and police department but realized a hands-on approach was the way to go."
Benguerel contacted the owner of the derelict building across the street and asked him to fix up the building or sell it to him. In 2016, Benguerel bought 19 N. California Street for $130,000. "It was a disaster, the floor was rotted out and we had to pull so much crap out of the building," he says. But he had a vision. "I took one look at the building and knew it was meant to be a bar and restaurant." Working with the City of Stockton's economic development department, he took advantage of programs such as a small business microloan and commercial facade improvement.
While Benguerel says this block looks completely different now, he thinks the city is "about five years away from real change." He's aware of the stigma surrounding Stockton. "People have a perception about downtown Stockton and how safe it is," he says. "That perception does not always match the reality."
Safety and cleanliness are key goals of the Downtown Stockton Alliance. Huber says the alliance is increasing private security and bicycle police, and is taking action to power wash streets, remove graffiti and clean up trash.
"I grew up here," Huber says. "In the 1960s, we did everything downtown. Then the mall was built and the pattern of urban flight began. Now we are seeing the reverse."