Thanks to popular shows like AMC's "Mad Men" and trendy publications like Elle Décor and Dwell, mid-century modernism is experiencing a revival. This significant design movement depicting mid-20th century architecture, furniture and graphic design, has grown from a small, subgroup of enthusiasts to more mainstream recognition, and Sacramento has its own committed following of mid-century devotees who subscribe to the time period's iconic style.
"More people are aware of the mid-century modern lifestyle now, particularly because of how often it is being depicted in popular culture," says Gretchen Steinberg, founder of Sacramento Modern, a non-profit dedicated to preserving and protecting modern art, architecture and design in the Sacramento region. Steinberg has tapped into that passion by organizing home, bike and walking tours of our city's modernist style. One of SacMod's most popular events, the Sacramento Mid-Century Modern Home Tour, is back for 2016 and takes place just once every three years.
The first tour in 2010 was initially organized by three South Land Park neighbors, including Steinberg, and featured some of Sacramento's most architecturally significant homes. The tour quickly sold out. "We weren't sure what to expect that first year, but it has really taken off and grown," says Steinberg who lives in a home from the mid-century era.
Sacramento Mid-Century Modern Home Tour

Date: Saturday, June 18 – 9 a.m. to 3 p.m.
Location:Seven stops in South Land Park, Land Park, Hollywood Park and Greenhaven
Cost:$20 for Sac Mod members; $35 for non-members
Info:Space is limited and tickets sell out quickly. To buy tickets, visit www.sacmod.org
Steinberg knows many of the area's period homeowners, but when she spies a new home being renovated, she'll stop to say hello. That's how she met Los Angeles transplants David Crowe and Barbara Shepard. The couple had purchased a 1950 Blomberg Westerner blockhouse with no functioning plumbing, sagging cabinet doors and knee-high weeds. Their real estate agent deemed it a total tear-down. "The house had essentially been abandoned for six years and was falling apart," Crowe says, "but the original architectural design was still intact." They set about restoring the 1,081-square-foot home to its mid-century glory, careful to stay within the home's original footprint.
Four months after completing the painstaking renovation, Shepard was relaxing on the front porch when Steinberg stopped by to hand out some literature about the 2013 tour. "I invited her in and showed her around," she says. Before the pair finished talking, Shepard agreed to open her home for the 2013 tour. This year, the couple will be going on the tour as attendees.
Another stop on the 2013 tour was G Leyva-Brown and Kelly Leyva-Brown's 1955 Eichler home. Since purchasing the home in 2007, the pair have become mid-century enthusiasts. When they originally drove by the house, it was a mess. The driveway and sidewalks were cracked and the yard was covered with overgrown weeds and trees. "You couldn't even see the house," G Leyva-Brown says. The couple began renovations, endeavoring to stay true to the Eichler style, while adding a few modern conveniences and landscaping the front and back. In 2013, they were asked by SacMod to be on the tour and were ready for others to see their home. "We were a little nervous, but it turned out to be a great experience," Kelly says of the tour. This year, they will serve as docents for a former Boston couple who purchased their Sacramento Eichler home sight unseen. "They are doing all the work themselves and it's coming out beautifully," G Leyva-Brown says.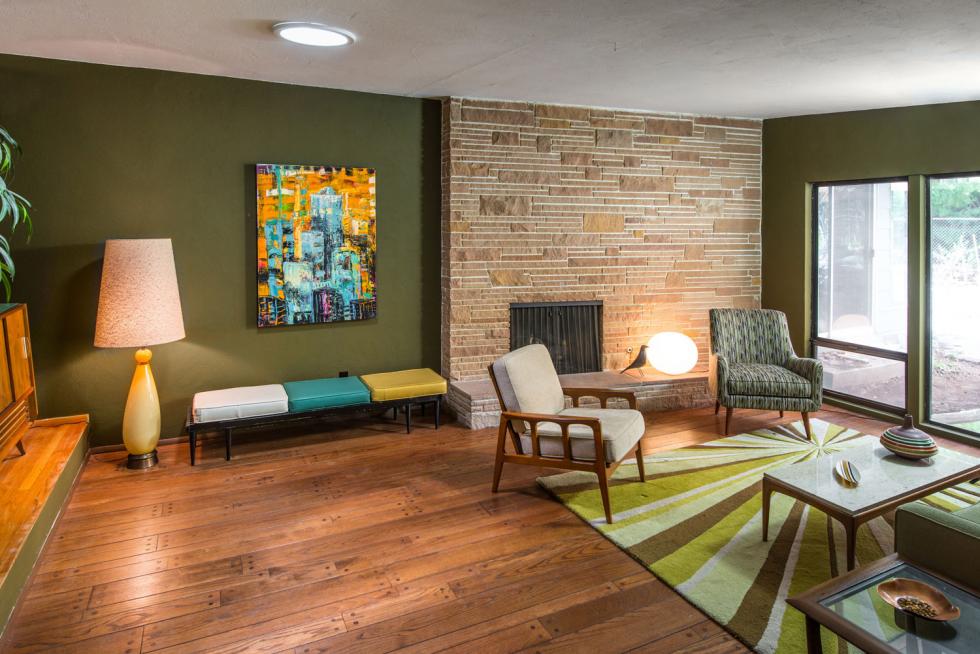 Veteran tour attendees David Hamon and Will Peterson purchased their 1965 ranch-style home in 2002 and began renovations that were mostly cosmetic, adding color to the bland white walls and pairing vintage and modern era furniture. Their biggest undertaking has been a backyard renovation. After years of jotting down ideas on cocktail napkins and flipping through mid-century editions of Sunset, the pair hired Stephen Crouse of SMC Landscape Design in Gold River to implement the design. "Stephen has been able to take our ideas and improve on them to give us a backyard that blends the best elements of mid-century and modern design," Peterson says.
After much coaxing, Hamon and Peterson agreed to open their home for this year's tour. "We were hesitant at first because our home is different than an Eichler, but Gretchen and others really encouraged us," Hamon says. "If nothing else, it forces you to do a really good housecleaning!"