Outside the Whitney High School library, a group of seniors sit in chairs, each clutching a resume and cover letter. The girls wear dresses or skirts. The boys are in slacks, a dress shirt and tie.
"I was just telling them that I wished they dressed like this all the time," says Library Technician Patty Golditch.
But these seniors are dressed for mock interviews, and those only happen two days a year at this Rocklin campus.
At the beginning of fall semester, about 450 seniors prepare a resume and cover letter, attend an interview skills class, and complete a 20-minute mock interview with volunteers from the community. (Full disclosure: Writer Joan Cusick has served as a volunteer interviewer for Whitney's mock interview program since 2013.)
"The mock interviews are all about reducing anxiety, getting that practice and building confidence," says guidance counselor Patrick Floyd, who coordinates the program. "How many of us get the chance to practice before the first professional interview in our life?"
That practice came in handy for former student Austin Harris. The 2014 Whitney graduate remembers being one of 30 applicants for a retail position. "There were only two people who got the job — myself and another person who previously worked at the store," Harris says. "Every job I've interviewed for, I've been successful."
Now in its sixth year, the mock interview program involves multiple departments at Whitney and builds relationships with the greater Rocklin community.
"In the beginning, it was just getting kids interviewed," Floyd says. "But we've started to showcase more and more of the programs we have at Whitney."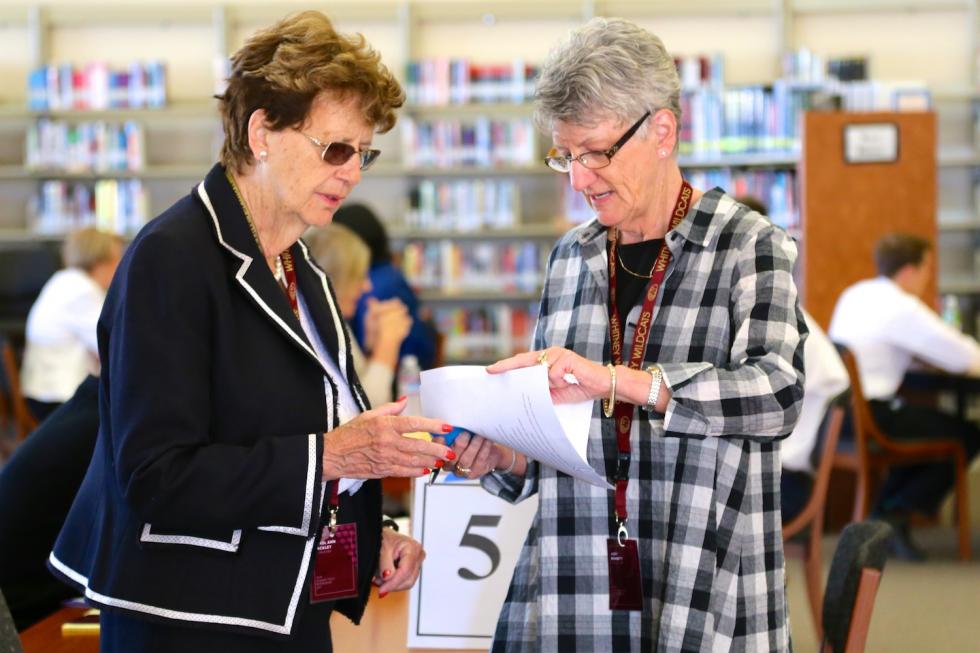 As soon as school starts in August, English teachers begin leading classes on resumes and cover letters. The guidance team also begins scheduling every senior for a 20-minute mock interview. This year, retirees from nearby Springfield at Whitney Oaks volunteered to match students with interviewers who had similar career interests.
A week before the interviews are scheduled, former University of Pacific professor Dr. Carol Ann Hackley conducts an interview-prep class with every senior, going over everything from how to dress to how to shake hands.
Then, during the two-day mock interviews, it's all hands on deck. The library is closed to make room for interviews, which spill over into any available space on campus. As community volunteers report to the auditorium for a briefing, they receive a program and lanyards designed by graphic arts students. The music program serenades them. The ROTC color guard leads a pledge of allegiance. And at lunchtime, the culinary program prepares and serves a meal to the adult volunteers.
"I think the whole mock interview process is one of the best life skills that high schools can provide," says former newspaper editor Gloria Beverage, who has volunteered as an interviewer for the past three years. "I am so impressed by the students — what they plan to do, their goals, their lifestyles. I walk away from there feeling such hope for the young people I meet."
Beverage was one of 46 volunteers who conducted one-on-one interviews and completed an evaluation form for each student. The feedback is shared with both student and teacher, and to close the loop, the students each write a "thank you" to their interviewers.
Molly Anderson, a coordinator for Capital Region Academies for the Next Economy — a state program designed to prepare high school graduates to succeed in college and careers — returned a year after penning a blog that encouraged other schools to adopt the Whitney mock interview program. Senior Rachel Zufelt says Anderson "made me feel very comfortable. I really enjoyed being the whole experience and learning about what I should and shouldn't do during an interview."
For Floyd and the guidance team, the mock interviews provide not just practice but important information about each student's college and career plan.
"When they close that door and they're walking out, they are excited," Floyd says. "I can see the confidence oozing out of them. Nothing gives me more satisfaction that seeing them walk out, pumping their fist and saying 'I nailed it.'"