Stand Up Kabob
Address:
5100 Chiles Rd #105
Davis, CA
Phone: (530) 746-2230
Website:
standupkabob.com/
Stand Up Kabob
Address:
5100 Chiles Rd #105
Davis, CA
Phone: (530) 746-2230
Website:
standupkabob.com/
"This is critical for the revolution," says Stand Up Kabob owner Karan Khoshcar to a young activist as he threads chicken and halved tomatoes onto swordlike skewers. "This is going to make the revolution fruit by November." It's one of many clues that Stand Up Kabob, a Persian restaurant literally welded onto the side of a used car dealership on the outskirts of Davis, is no ordinary kebab shop.
The kebabs, however, are excellent. Those chicken skewers emerge from the grill orange-gold and succulent, the result of a long bath in lemon and saffron. The koobideh, lamb ground smooth as pâté and grilled in long patties, trills with garlic and tart sumac. Best of all are the sturgeon kebabs, sourced from a local caviar farm and fresh as if just pulled from the sea. Flaky and freckled with char, they recall the kebabs served along Iran's Caspian coast, home to one of the world's last remaining wild populations of Beluga sturgeon. But unlike in Iran, you can match the smoky sturgeon here with its Platonic pairing — a crisp pilsner beer.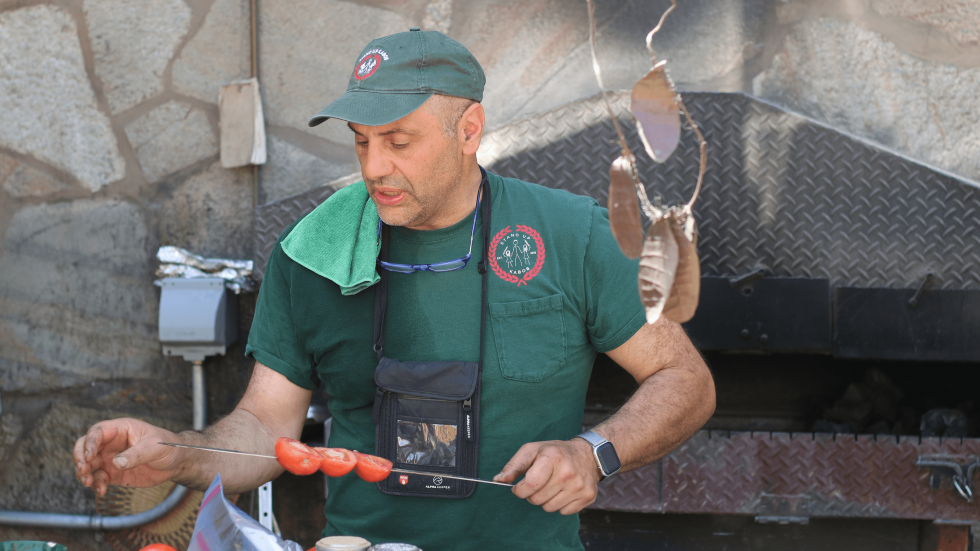 Khoshcar, who is passionate about beer and plans to start his own label, recommends Shams Gold, a pilsner out of San Diego that pays homage to a storied Tehran brewery razed during the 1979 Iranian Revolution. His family escaped the country in the aftermath of that revolution and arrived in Davis in 1984, when he was 14 years old. Through his restaurant and other projects, Khoshcar hopes to lend his support to a second revolution driven by the women of Iran.
"I often wake up early in the morning because I get ideas for how to help the movement, the revolution," he says. With Stand Up Kabob, he and his daughters try to change the world "one night at a time."
The idea for the restaurant and its mission came to him after a trip to Istanbul to visit his father, who died in 2014. (He couldn't get the papers to visit him at home in Iran, nor could his father come to the United States without a visa.) Like many visitors to Turkey's capital, they took a dinner cruise on the Bosphorus Strait, a narrow body of water that separates Europe and Asia. On the boat, tourists from around the world shared a meal, danced to Turkish music, and watched the 3,000-year-old city light up after sunset. It reminded Khoshcar's father of the Tehran of his youth, before the Islamist regime shuttered the cabarets, discos and cultural venues that made the city an artistic hub.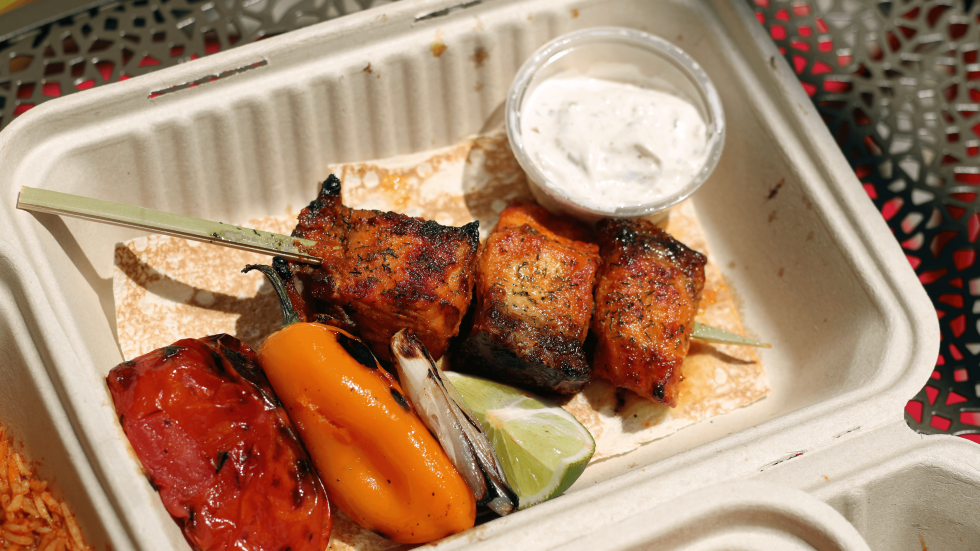 "He said, 'This is the best time I've had outside of Iran,'" Khoshcar recalls. "Everyone was just enjoying culture and dancing and laughing." When he grows emotional at the memory, his 23-year-old daughter Emily, also known as Daria, takes over. She manages the day-to-day business of the restaurant, and her 17-year-old sister Sophia, or Zinat, helps with prep and website work.
"It was like a cultural crosspoint between everybody on the ship, who had come from different places and were just there to enjoy that moment," Emily says. (She and her older cousin tagged along on the Istanbul trip.) "And my dad wanted to recreate something that might not be exactly the same, but it gave people that kind of oasis feeling where it doesn't matter where it is or what's going around you. Hence the car dealership, kind of not a traditional place for a restaurant to be."
Khoshcar has owned the dealership building since 2012; it's also where he had his first job in the 1980s. Soon after his purchase, he began petitioning the City of Davis to change the zoning so he could open a restaurant on the property. It took three years for the planning commission to approve the request, and Khoshcar says he's still not allowed to install equipment he needs, such as a bigger oven and a dishwasher.
But the make-do spirit lends to the atmosphere. Most of the cooking takes place outside, filling the patio with memories of backyard barbecues, street vendors and night markets (depending on your personal associations with the aroma of grilled meat). There's usually also one stew from the expansive Persian repertoire available each day, best served atop tahdig — rice toasted crisp at the buttery base of a pan. Salads, including a beet-topped option named after younger sister Sophia, meet the Persian penchant for bracing acidity; even the bastani, a firm Persian ice cream, is incomplete without a squeeze of lime.
Khoshcar built the patio from bent steel panels in bright yellow and green, certain details evoking that Bosphorus cruise. A clear plastic roof, like those on excursion ferries, lets the sunsets through in the evenings. Opposite the patio, propped up against the fence that separates the property from the neighboring RV repair shop, there's a painting of a suspension bridge — perhaps a depiction of Istanbul's iconic Bosphorus Bridge, perhaps a metaphor for the culture-spanning role of the restaurant.
"Our cause is to change the light in which Iranians are portrayed in the world. They're often portrayed as hostage-takers, as sneaky, violent people that all they do is cause harm," Khoshcar says. "But it's actually our whole culture that's been taken hostage. Killing women because of their headscarves, executing both men and women every other day, is not the Persian way of life. We have thousands of years of poetry to prove this."
A well-worn protest sign devoted to Mahsa Amini, the 22-year-old woman who was allegedly killed last year by Iranian morality police after being detained for violating dress code rules, hangs in a corridor of the restaurant. The motto "Woman, life, freedom" spreads across the board in English and Persian. After Amini's death, Khoshcar attended two of the world's largest Iranian women's rights rallies: Berlin in 2022 and Los Angeles in February of this year, together with Emily.
Khoshcar wants his customers to remember Amini and the women of Iran. To that end, he also wants them to remember their evenings at the restaurant, facilitated by what he calls the three S's: sights, scents and sounds. The latter is supplied by his eclectic playlist — careening from Israeli pop to stadium country — and live music on Saturday nights. Those are the nights when going to Stand Up Kabob feels the most like attending a party at a cool neighbor's house, and you're grateful for the invitation.
"If I can create an environment where you forget about your cell phone and your boss calling you or emailing you, and just get into the moment of being with your friends or looking at the freeway going by while you eat, I have created a memory that is going to stick with you," Khoshcar says. "And the next time you think about Iran, you're going to remember that."
–
Stay up to date on business in the Capital Region: Subscribe to the Comstock's newsletter today.