A light appeared in the window of a long-empty storefront in Sacramento's Curtis Park neighborhood last summer. In front of the curtains, a hand-drawn notice about the size of a bumper sticker beckoned passersby to check Instagram for the menu. No sign hung above the door, but a sandwich board stood on the sidewalk some evenings, with "Open" painted in bright yellow letters. When the days grew shorter, the chalkboard was trimmed with a string of Christmas lights that trailed into the door, like the lure on an anglerfish.
Equally alluring are the aromas that come from the crack in the door, as changeable as if it might be a portal to a different kitchen each day. Sometimes paprika and onion quilts the air, like goulash night in a Hungarian grandmother's home. Other times there's the spark of curry, usually the sweet, mild variety beloved in Japan. The clear presence of cake often beguiles.
But behind the door is just one small kitchen, and two cooks: Delcy and Elinor Steffy, the mother-and-daughter team behind Good Things to Eat. The pair take care of everything from prep to marketing to handing orders over the counter (the restaurant is currently takeout-only). Though new to restaurant ownership, the Steffys are clearly comfortable in their roles. "This was my dream for a long time," says Delcy, Elinor's mother.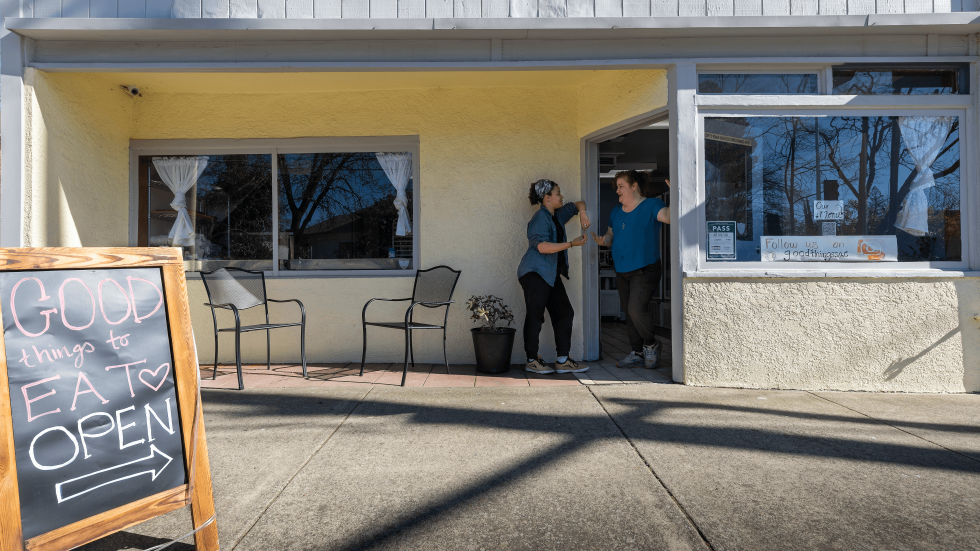 Delcy grew up in Pennsylvania and New York and worked in restaurants and catering in Manhattan in the 1990s. "I loved it," she says, recalling the frenetic pace of the kitchens and the decadence that emerged from them. But when she became pregnant with Elinor and unexpectedly found herself a single mother, she knew the industry's unforgivable routines and slim paychecks would no longer be sustainable.
She moved to California soon before giving birth to be near her mother's family, got a real estate license and worked as an agent for nearly two decades, maintaining her cooking skills as a hobby — with Elinor as sous chef as soon as she could reach the counters. They especially enjoyed exploring the cuisines of their heritage, including African American, Armenian, German, Hungarian and Jewish roots.
Elinor turned 18 last year and is now a well-rounded adult who's done mission trips in El Salvador, won monologue competitions, and written letters to lobby Congress to support sentencing reform with the Friends Committee on National Legislation. (The Steffys are members of the Religious Society of Friends, also known as Quakers.) She also dances with the Sacramento-based company Black Flag Dance and teaches hip-hop and contemporary dance at the Hawkins School of Performing Arts in Folsom. With her support, Delcy returned to her long-held dream.
While they were painting the circa-1920 building that Delcy found through her real estate connections, neighbors would often stop by to ask what kind of food they would serve. "We'd tell them, 'Good food,'" she says. That reminded her of a cookbook she owned, "Good Things to Eat, as Suggested by Rufus: A Collection of Practical Recipes for Preparing Meats, Game, Fowl, Fish, Puddings, Pastries, Etc.," by Rufus Estes, a chef who was born enslaved and later cooked for the rich and powerful on private railcars and ocean liners. His 1911 cookbook is among the earliest to be published by a Black American writer. The restaurant's name is an homage to Estes, but also an accurate description of what it serves, Delcy says.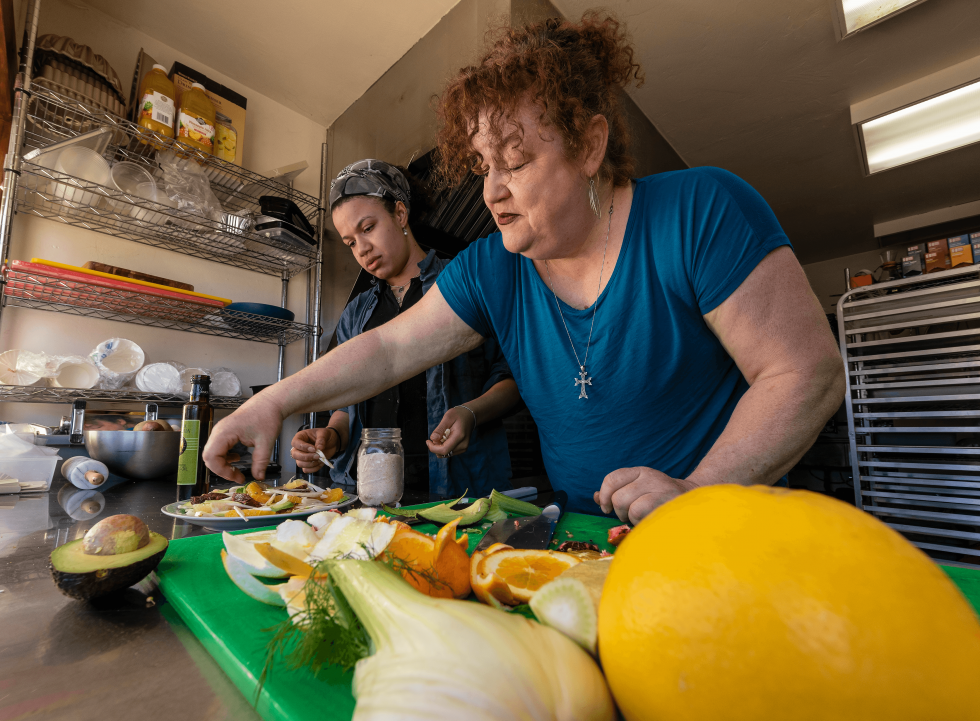 Most days — Tuesday to Friday — Good Things to Eat only serves dinner, with about as many options each evening as an enthusiastic home cook might make for a family — two or three, plus sides. There may be homemade fettuccine, the strands robust and reassuringly irregular, or quiche ribboned with seasonal vegetables. Delcy frequently makes a deep-magenta borscht in homage to her Eastern European heritage, though she says her ancestors might balk at the vegan sour cream she offers on request. Armenian nights feel especially imbued with memory. Delcy's mother was Armenian, and an exuberant, creative professional cook. "All of my interest in food stems from her," Delcy says, adding that her anthropologist father also informed her open-armed approach to cuisine and culture.
On a recent weekday, when Sacramento was buffeted with enough wind and rain to make the national news, the Steffys made khashlama, an Armenian meat stew. Early in the day, rugged cuts of beef went into the pot with tomatoes, onions, spices and beer; they simmered and slackened through the hours that followed. In the evening, when the wind and the rain began to pick up again, customers began to come and go, cradling warm containers like precious, living things. "Perfect comfort for a soggy windy evening," wrote one on Instagram. "Thank you for keeping us well fed."
"I don't think I realized how much people feel the deficit of real food," says Elinor. "I was happy to know that people appreciated food that way."
But Delcy says that she wasn't surprised that their cooking was well-received. "The thing that has surprised us, frankly, was the level and extent to which people connect with us, and even connected with each other, and the extent to which people want to hang out, talk to us, bring in their neighbors, bring in their family visiting from out of town," she says.
The Steffys plan to build on those connections by holding pop-ups at the restaurant, hosted by chefs from Sacramento's diverse immigrant communities and featuring stories, dance and music in addition to food. The next one will be a Filipino lumpia pop-up on Feb. 19 and will take place in the parking lot.
"Coming out of COVID and lockdowns, I think that that's something I know I've been craving: connection with people. I think that that's something a lot of our customers in this neighborhood have really been responding to," Delcy says. "We're a small space where they can see what's cooking right when they walk in, and there's a connection right away. … We're right here with them."
–
Stay up to date on business in the Capital Region: Subscribe to the Comstock's newsletter today.