Throughout Sacramento's central city, houses, apartments and businesses have often sat next to vacant lots. It's been a sign of economic imperfection and, perhaps, of Midtown's funkiness, with the land sometimes turned into unofficial parks, urban gardens or vehicle parking.
This is starting to change.
Much of the developable land around the central city has a project on it at the moment, from Blvd Park Place on F Street to newly-built loft apartments at 19th and Q streets. With the economy bustling and housing in short supply throughout the Sacramento region, the rate of vacant lot development on the grid is noticeably high.
"I'm not sure if it's an all-time high, but it's certainly a high level of development throughout the city," says Tom Pace, Sacramento's planning director. "And, I would say, one of the highest levels of development that we've seen in the central city in decades."
While Pace didn't have exact numbers to share, there's undoubtedly new life for a lot of pieces of land steeped in history.
"None of these vacant lots were always vacant," says William Burg, a local historian. "It's not like they just been sitting fallow since John Sutter was around. I can pretty much guarantee that every vacant lot used to have a building on it, but they were lost for one reason or another."
Remembering the Garage
Take the land for Blvd Park Place. Later this year, five newly-built single-family homes will come on the market. A street-facing Craftsman-style house could list for as much as $1.2 million, depending on the cost to finish construction, says real estate agent Ted DeFazio. The other four residences, which face an alley, will be in the $700,000 range.
The land used to be something quite different, though. Originally part of Sacramento's first state fairground, the neighborhood was developed as Boulevard Park in the early 1900s. Today, it's on a register of historic neighborhoods. And old-timers in the neighborhood, such as 91-year-old Bob Pugh, remember what the land for Blvd Park Place once was.
"This was Campbell's Garage years ago," says Pugh, who grew up in the neighborhood and has lived across the street since 1969. "He took care of all the neighbors' kids' bicycles and whatnot. He was a great guy."
The former owner of the shop, George Campbell, died in 1977, though his 88-year-old son, George Jr. Campbell of Elverta, says his father bought the shop in 1919, running it for 27 years before selling in 1946 to a Pontiac Dealership on 16th Street that was across from Memorial Auditorium. Aside from fixing bikes, Campbell repaired automobiles and let people park their cars on the land for a monthly fee. Campbell loved working on cars. "That's all he ever done all his life," George Jr. says.
Pugh remembers Campbell as a short, stocky man who liked to smoke cigars, starting with a fresh one in the morning and smoking it throughout the day. Campbell would sit in a big chair, his son remembers, and doze with his cigar, always William Penn brand. "You touch it, he was wide awake," George Jr. says.
It's unclear when the shop was demolished, though a 2016 letter to the City of Sacramento says an electrical shop operated on the property from 1946 to 1970. Pugh says that when he moved back to the neighborhood in 1969, the garage was gone, although a gas pump still sat on the land. George Jr. remembers seeing the land vacant sometime in the 1980s. "It was a surprise to me to see it gone," George Jr. says.
For years, the land sat empty, serving at one point in recent years as an unofficial parking lot for classic cars. It took a long time for plans for the land to crystallize.
Getting to Infill
Infill development — that is, building in an existing neighborhood on a piece of land that is either vacant or slated for redevelopment — has many benefits to the surrounding area. For one, getting vacant lots out of neighborhoods arguably improves them.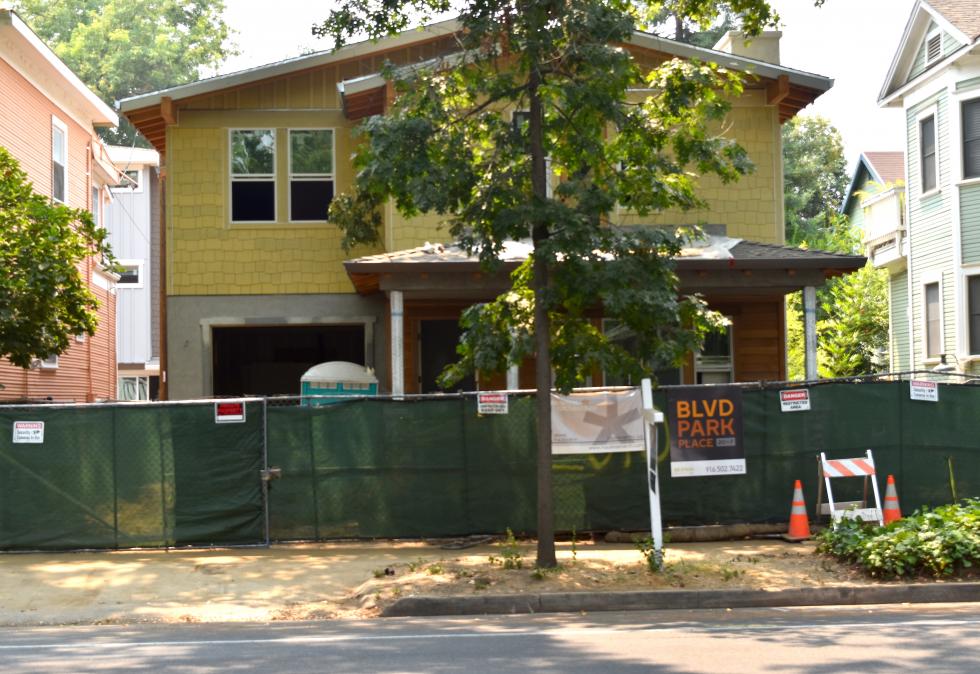 The area of 19th and Q streets, for instance, used to be a quiet area with several vacant lots. The neighborhood bustles now. Sixty-eight luxury apartments are just coming on the market as part of the Q19 development. Diagonally across the street, the Truitt Bark Park opened last year.
"I don't know that it's ever desirable to maintain empty lots," planning director Pace says. "Empty lots can be a source of blight and make a neighborhood feel incomplete."
Local historian Burg agrees: "To make room for growth, those vacant lots are important and we need them for housing," he says.
There are other benefits to developing vacant land on the grid, too. "The more people work downtown and also live downtown, the better," Pace says. "It (reduces) air pollution. It promotes healthy lifestyles for people to walk and bike to work and take advantage of the other amenities that exist in the central city."
But plans for the former site of Campbell's Garage stirred controversy after the land sold to the developer of Blvd Park Place in 2015 for $490,000. The following year, a number of people attended a Sacramento Preservation Commission meeting to voice concerns, with longtime Midtown activist Karen Jacques saying some people were worried about how the project would blend with the neighborhood.
It goes with the territory for infill development, says DeFazio. "It's basically the neighbors want to design your project for you," he says. In the end, DeFazio and architect Craig Hausman, acting on behalf of the property owner, agreed to tweak their plans, removing some intended studios in the back units. Construction is now nearing completion.
"I figured it was going to get developed eventually… My neighbors think it's really nice," Pugh says.
Building Out
The city has been working to codify the infill process, finalizing a new Central City Specific Plan in April that set new guidelines for building on the grid.
Greg Sandlund, a principal planner for the City, also says that a central city development impact fee the council has been phasing in is expected to generate $88 million over 20 years. This, in turn, will fund a variety of programs, such as Grid 3.0, an ambitious plan to make Midtown streets more pedestrian and bike-friendly.
A broader challenge, in time, could be expanding the scope of infill development. "If we're going to be successful in building homes in the central city, we're going to need other product types that target moderate and lower income people," Sandlund says.
Pace says that the central city isn't close to reaching capacity of developed land and that opportunities exist at the Railyards and in a planned river district along Richards Boulevard. The latter area, just south of the American River, is technically considered the northern edge of the central city.
Pace hopes that the level of development in the central city will eventually push outward into adjoining historic neighborhoods. "It is important, overall, to have a good land supply for housing development," Pace says. "It just might mean that supply is located outside the central city at some point in the future when all the easy-to-develop sites have been used up."
Then, there might not be anymore vacant lots in the central city. But if the grid's history is any guide, some will eventually appear once more.