Wine lovers have come to expect the best in red and white wines from Lodi wineries, but the addition of a new blue wine could add a patriotic note to store shelves and barbecues with friends and family this summer.
From their roots as the first winemaker in Lodi during Prohibition when Herman Ehlers sold his wine to local churches to be used for Communion, E2 Family Winery has grown into a five-generation family business that is still defying expectations. In 2002 this family of grape growers decided to take the plunge and turn their winemaking hobby into a commercial business — but it soon became clear they would need to find a niche in the saturated local market.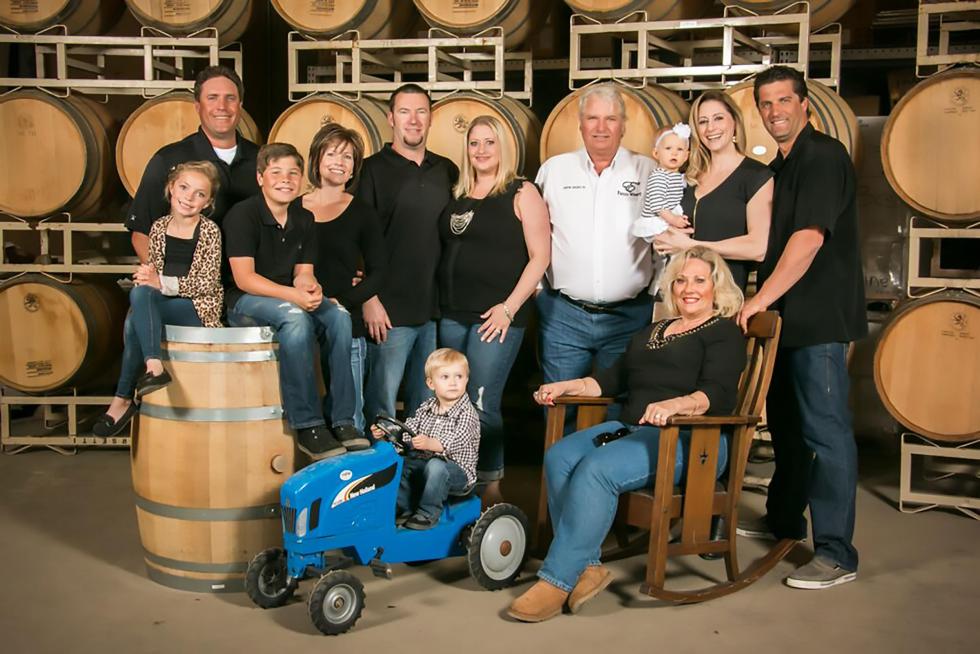 "Small wineries are at a disadvantage," says Stuart Spencer, program manager of the Lodi Wine Commission. "A small producer just doesn't have any leverage with distributors, retailers or restaurants."
In 2016, Brett Ehlers' idea for fruit wines turned out to be the perfect solution, earning them a place on shelves in local Safeways and a coveted spot on the Lodi Wine Trail Map. This innovative thinking is what keeps small family wineries like E2 afloat in the competitive market as larger, more well-known wineries take the lionshare of sales.
"I had a product that they didn't carry and they gave me a shot," says Ehlers, who is Herman Ehler's great grandson and E2 Winery's current winemaker. "Once you're in you really have to push your product to sell. You can't get complacent. You can't feel like you arrived."
Among the new flavors being offered this summer is the region's first blueberry wine. "You won't find this anywhere else," Ehlers says. "I got some pushback at first. A lot of the people that I talked to kind of chuckled and said, 'Oh, you're wasting your time.'"
Ehlers and his team of winemakers start with a Verdelho white wine as the base of the fruit wine, infusing a natural fruit concentrate until they reach a sweetness and overall flavor they are satisfied with. After the initial flavor is reached, it takes about 7-10 days to produce a new batch.
Large stores like Safeway and Raley's are very selective in the wines they carry and the decision to continue to stock a particular wine is completely dependent upon how quickly it moves. For E2 Winery, it didn't make sense for them to push their red and white wines on Safeway and Raley's shelves when there were so many popular varieties being sold there already. But with the fruit wines, they thought they'd have more luck — and they did.
According to Ehlers, when the winery released its first two fruit flavors (mango and strawberry) in July 2016, they were met with immediate success. Ehlers, who does all of the winery's deliveries, says he found himself unable to restock the stores as quickly as they were selling out.
As their business continues to grow, so does the winery. A newly completed park on the winery grounds will double as a wedding and an outdoor event venue and will operate as a music venue for the first time this summer. A new tasting room will soon follow.
"Wineries are really in the entertainment business," Spencer says. "Wine is a product and an experience that connects with people on an emotional level to a particular brand, family, vineyard and wine. It is those experiences at events that builds customer loyalty and repeat business, which are essential for small winery to succeed."
E2 is also preparing to release more new flavors this summer, including watermelon and peach — along with their blueberry wine. The novelty of the fruit wines makes it a great option for summer barbecues, Ehlers says. E2 sometimes turns their fruit wines into adult slushies for winery events. (Simply pour the wine into a slushy machine and let it mix for an hour and a half, Ehlers says.)
Even with the success of the fruit wines, commercial wine sales only make up a fraction of E2 Winery's business: Of the roughly 500 acres of grapes grown by the Ehlers family, between 85-90 percent of the grapes are sold to other wineries, including Gallo, Korbel and Bear Creek, to be used in their wines. E2 Winery also partners with other wineries as far away as Massachusetts to produce private labels.