It turns out there really may be a mystery in the gravy.
The mystery, however, isn't what's in it. It's what our body does with the gravy after you swallow.
Gail Bornhorst, an assistant professor in the Department of Biological and Agricultural Engineering and Food Science and Technology at UC Davis, has always been interested in food. And now she's trying to get to the bottom — or at least the bottom of the stomach — to figure out just what happens to food once it's reached the belly of the beast.
While eating is very much a basic human need, "it turns out that although we eat three times or more per day, we don't really understand exactly what happens to [the food]," Bornhorst says.
Bornhorst likened our bodies to a processing plant, except that instead of making food, it breaks food down into nutrients. We just don't understand how the factory workers in the plant are going about their day jobs.
Studying this directly in human trials comes with a host of issues, including sample limitations, the amount of resources needed and possible ethical controversies. There is also one other big compounding factor: People, their bodies and food are all disparate. Variables like the times people eat, stress, diet and even age can all have an impact on how we process food.
"So, it's first the individuals and then it's the food, and both of them are complicated already, but then when you put them together, it's even more complicated," Bornhorst says.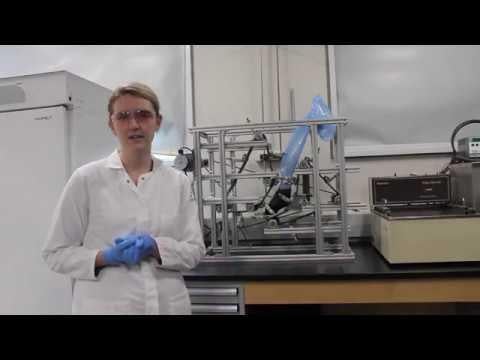 Instead, Bornhorst is relying on a machine to do the heavy digesting. The so-called Human Gastric Simulator is currently in its second version, and was initially an undergraduate senior design project. With the device, Bornhorst is able to look at how solid food is physically and chemically broken down, and how those processes may vary.
The team has already learned that perhaps there is some truth to the conventional wisdom that food prep matters: One of Bornhorst's students' master thesis found that different ways of cooking sweet potatoes — such as steaming or boiling — impacted the breakdown of the food's cells while being digested.
Such knowledge isn't just useful for people eating food, but those making it, as well. A fuller understanding of what happens in our stomachs can help food companies better design products to customers' varying individual eating needs and habits, such as being able to say which of their products may offer certain benefits, like making people feel full longer.
"Everybody wants food that does something for them," Bornhorst says. "Whatever that something might be depends on the person."
For example, Bornhorst said companies could implement this into the development of functional food products — such as protein bars and shakes, or chia smoothies — giving them scientific data to support the claims they make, and a screening tool in research development ahead of human trials.
"I think it's becoming a lot more [common] in the general public that people really want to get something out of their food, right?" Bornhorst says. "They want to enjoy food, but they also want benefits from that … and so because of that we really need to understand what's happening to our foods that provide these benefits to us."