April Walker made her first $10 as a musician on the wooden sidewalks of Old Sacramento five years ago. A then-transplant from Fairfield, Walker — whose stage name is SpaceWalker — carried her guitar case and a desire to expand her artistic roots to the historic district, the K Street tunnel and other downtown spots.
She's since made a name for herself in the local music scene (you may see her donning a unicorn mask while dropping beats at an open mic) and continues to bring impromptu, outdoor performances to the area with members of ZFG Promotions, a collective that aims to make the arts accessible and engaging in the greater Sacramento area.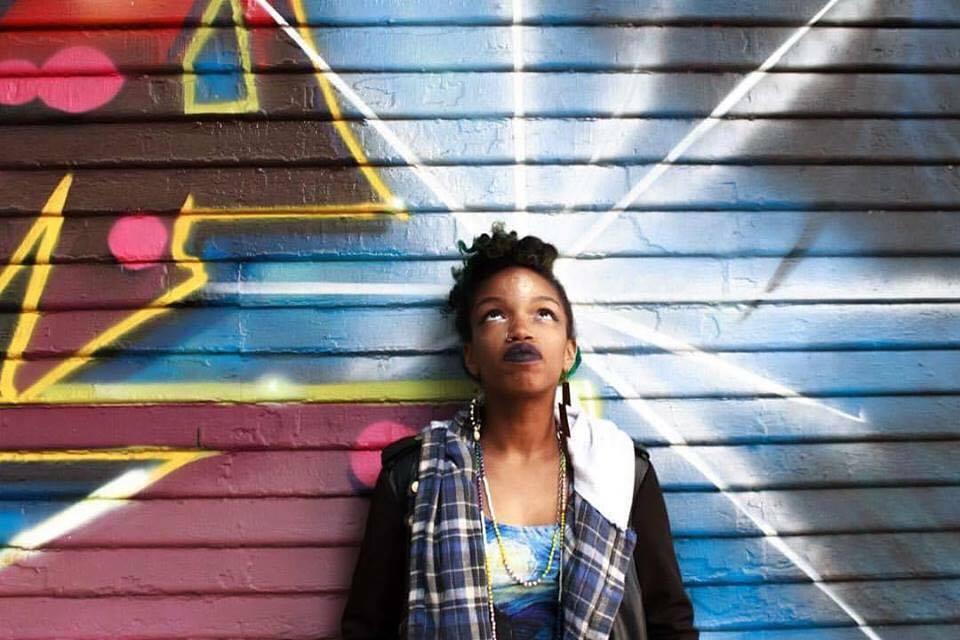 Recommendations for busking in Sacramento:

Request the City of Sacramento update its sound ordinance and consider higher decibel limits for areas deemed "entertainment districts."
Work with the City to provide general guidelines for successful busking and make those guidelines known to the busking community.
Work with the police department on a more transparent process for enforcement of noise ordinances and public safety laws.
Utilize www.busk.co as a platform for disseminations of information and promotion of buksing.
Adopt a statement of support to demonstrate a belief that busking is good for our community and its artists.
Explore encouragement of busking (i.e. busking festival, one day a month/year that spotlights busking, signs for businesses that encourage busking).
Explore a change in the City's public art ordinance that allows for creating performing spaces with 2 percent for art dollars.
"We've rarely asked for donations because of the impression we had about the ordinance on busking," Walker says. "But knowing there's no ordinance on busking, that's probably going to change."
Walker is correct. There is no city ordinance that regulates street performing while receiving tips or donations, commonly known as busking, and plugging in an amp is perfectly acceptable (depending on your location).
"You're allowed to put out a hat and play music as long as you're not too loud," says Sacramento Metropolitan Arts Commissioner David Sobon, who recently hosted a public workshop-style meeting at the R Street Warehouse Artist Lofts meant to elevate the conversation around this art form that's popular in many cities. "We want to have this done, and done well."
"It's something that has been encouraged in the past, and discouraged for a while, so it's time to let everyone know it's OK," Sobon says. "The best statement of the night was, 'Busking is not illegal in Sacramento.' It's absolutely a free speech issue and we're not going to control it."
But it's not so simple: Noise regulations are plentiful and enforcement has historically contradicted local regulations. For example, in terms of outdoors noise levels, according to the city code that regulates outdoor recreational activities, it's illegal to have amplified sound outdoors that exceeds the measurement of 96 "dba leq" during September and October, and 98 dba leq the rest of the year. But some musicians plug in an amp when performing, which produces a sound level that could go over this maximum limit.
Another example relates to the K Street Mall no-busking zone. According to city code, it's illegal to provide an unsolicited service in exchange for donations in the K Street Mall, the arena easement for the Golden 1 Center and Chinatown Mall on J Street. But with such vast changes to the area, and an arena that's drawing thousands of people, it may be time to change the wording, Sobon says. "The police are enforcing the mall, as in no sound or nuisance ordinance, but that's the perfect place to do it," he says.
To illustrate these complexities, Dion Dwyer of the Sacramento Downtown Partnership suggests going to the city website and typing in "noise." More than 100 results pop up.
"Sacramento is a bit confused on how to deal with it," Sobon says. "The officers have enforced something they thought they were supposed to. They looked at it more as panhandling, and that's a completely different issue."
Sacramento Mayor Darrell Steinberg thinks busking is "cool," and has the city council's approval to support experimental art. And movement is afoot — Sobon recently met with a city code enforcement official, a mayor's office staffer, new Police Chief Brian Louie and Jody Ulich, director of the city's convention and cultural services department (see sidebar).
For Walker, who along with members of ZFG Promotions, was booted from busking in the amphitheater near the Capitol rose garden on New Year's Eve, it's "kind of baffling" to know that while there's no ordinance prohibiting such impromptu performances, she and other artists just never know what to expect.
"We were able to plug in an amplifier, were freestyling about people walking by and doing our own stuff," she recalls. "We even had a crowd. The security lingered and waited until the last minute to ask us to go away."
But that's not the approach across the city, she notes. "When I first moved here I went to Sacramento City College and played guitar between classes, by coffee shops, outdoors, and not one time did anyone ask me not to. So I feel we need more of that."