The most common reason people visit their doctor might surprise you. It's not back problems, high blood pressure or diabetes. According to a 2013 survey by the Mayo Clinic, the No. 1 reason is skin disorders.
It shouldn't be too much of a surprise though, considering that skin disorders afflict 100 million Americans (one-third of the population), according to the American Skin Association. As a result, dermatologists see patients day in and day out who want solutions.
Venita Sivamani is not a dermatologist, but she has many friends in the field. She knows patients have to wait a month for an appointment that lasts 15 minutes. She's heard how they all come in with the same types of questions: What's the best sunscreen for my children? What's this mole under my arm? Can I use (fill in the blank) on my face? Problem is, each person's skin is unique so there is no one-answer-fits-all.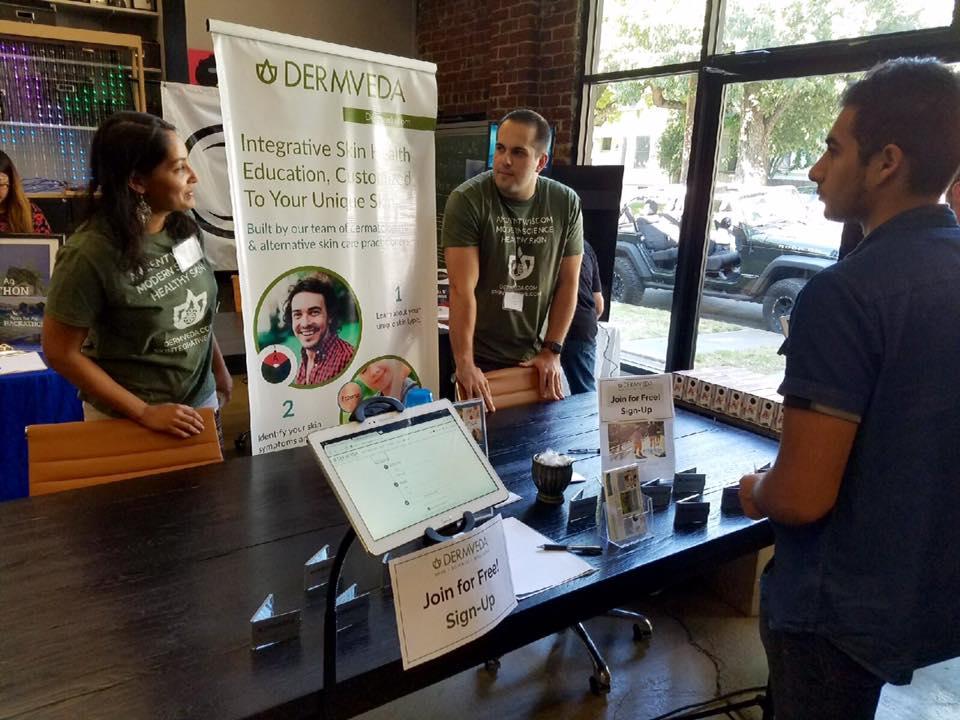 This is why Sivamani decided to create Dermveda, a Sacramento-based customizable online resource for skin health and wellness. With her background in education and business development skills, she co-founded the startup with her dermatologists friends Hadar Lev-Tov and Sarah Fitzmaurice. Other websites offer information on skin-related issues, but they either focus on data for practitioners or lock research studies behind a members-only paywall, she says.
"There's not enough time for dermatologists to address each of these questions in-depth," Sivamani says, "and there was no centralized resource they could send to patients."
On the website, which launched in 2016, users start by taking a free quiz to figure out their unique skin type. The results become the basis for their profile, which helps the platform deliver personalized information (and soon recommended products) to the user's homepage. Right now, about 70,000 users visit the website every month, Sivamani says, adding that she wants to reach 1 million by the end of 2018.
One unique thing about Dermveda is its integrative approach to skincare, drawing research from Western medicine, Ayurveda, Chinese medicine and naturopathy. The goal is to be the Internet's largest resource for skin that helps people take a holistic look at their body and health, Sivamani says.
"Another issue dermatologists were having was people coming in with things that could've been prevented," she says. "They're going to many different sites and forums, and finding information from sources that might not be credible."
At Dermveda, each new science-backed article can take three months to write and is then peer-reviewed by leading skin care experts, Sivamani says. More than 120 authors contribute to the website, ranging from makeup artists to physicians and alternative medical practitioners. Before being published, all content is reviewed and edited by Dermveda's core team of 12, which consists of editors and the advisory board, including Lev-Tov.
As a dermatologist in the University of Miami Health System, Lev-Tov immediately saw Dermveda's potential because he says most of the literature on alternative skin health was either complicated, poorly studied or nonexistent. When patients would ask him about specific alternative solutions, he struggled to find sufficient evidence.
"Tea tree oil sounds OK," he recalls telling one patient, "but I don't know if it's good for your acne."
Another patient wanted to know about aloe vera as a topical solution. This popular plant has been used for medicinal purposes for thousands of years. But Lev-Tov's best evidence didn't come from any books or studies, but from his grandmother, who had a plant in her apartment and used the gel on cuts.
Dermveda's advisory board has authored more than 2,000 publications throughout their careers, and many members have started or lead dermatology societies. It was this treasure trove of expertise that Cheryl Beninga identified as the key element for Dermveda to stand out.
Beninga is an adviser for FourthWave, a business accelerator in Los Angeles and Sacramento that focuses on women-led technology companies. The program connects entrepreneurs to relevant mentors, who help them find and fill gaps to grow and be ready for investment funding.
With her background investing in consumer internet companies, Beninga quickly pinpointed Sivamani's issue: Like many startups, Dermveda was trying to do too much. As Beninga researched the market, she found the online continuing education segment for doctors and skin practitioners was wide open.
"Nobody was focused on online education in the dermatology space," Beninga says. "This is a $2.5 billion business, and she had the leading dermatologists in the country as sources of educational content."
The decision was made to focus on education as the business model. Once those gaps were closed, the team could move forward with partnerships. Dermveda bootstrapped for its early years and plans to begin its first round of funding in the next few months. In October 2018, Dermveda will host the World's First Integrative Skin Care Symposium, bringing experts from multiple medical backgrounds under one roof at the Sheraton Grand Hotel Sacramento.
"We created this company because people want this information," Sivamani says. "We see integrative medicine as the future."
Do you know an entrepreneur who has what it takes? Recommend their company for our "Startup of the Month" here.