She's a four-time breast cancer survivor who has been through nine surgeries. But for Cinde Dolphin, the post-surgery process has always been a pain, specifically the drain bulbs.
These plastic tubes remove blood, pus and other fluids from the surgical area. Typically hooked to hospital gowns with mere safety pins, these rigs make it hard and humiliating to shower, sleep or walk around without drain lines getting snagged or bulbs getting punctured, Dolphin says.
"It's like having a water balloon full of blood pinned to your clothing," she says. "It's such a loss of dignity for the patient at a vulnerable time, so most people just stay in bed."
In 2014, she created the Kili Medical Drain Carrier, a patent-pending mesh apron that can hold up to four drain bulbs in the pouch. Now, her Sacramento-based startup sells the product to the UC Davis Medical Center, Sutter Health and Dignity Health hospitals, and others nationwide.
This is all new territory for Dolphin.
"I was not in the medical field," says Dolphin, who handled marketing for beer and wine brands for more than 30 years prior to this venture. "I was willing to step out of my comfort zone and begin trying things I felt would make a difference."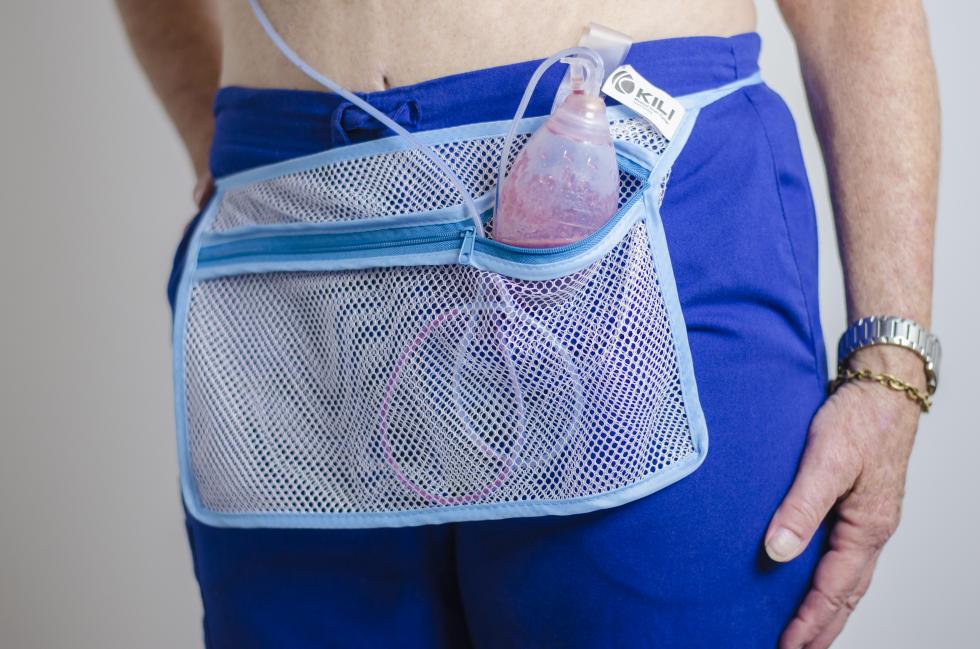 She started prototyping using laundry bags from the Dollar Store. The mesh material seemed ideal because it could get wet in the shower without a problem. After choosing a style she liked, Dolphin found a manufacturer on Alibaba.com, the multinational ecommerce site, who would make the product. She decided to name the business after a trip to Tanzania.
"Soon after I recovered from my final surgery, I said to myself, 'Gee, I survived cancer four times. I owe the global community some good karma,'" she says. "I volunteered in Tanzania with a micro-loan group at the base of Mount Kilimanjaro. The locals call Kilimanjaro 'Kili' so I wanted to honor the women in Africa who are doing wonderful things for their families."
So far, she has received $40,000, primarily from the U.S. Small Business Development Center and an investment from a friend. She wants to raise about $70,000 this year and $200,000 next year. Dolphin has an advisory team of 12 nurses and two surgeons.
Getting hospitals to buy in isn't easy. A safety pin costs next to nothing, so she has to convince hospitals why spending more to switch to her drain carrier would be a good move. In her pitches, she emphasizes that her drain carrier would save nurses time (no more readmissions due to drain bulbs falling off) and improve the patient experience.
"A lot of times in health care, the focus is high-tech," says Sharon Conner, outreach coordinator at UC Davis Children's Hospital and one of Dolphin's advisers. "But this product resonates with nurses, physicians and, most importantly, patients. Using this is much easier than using safety pins. It makes bathing easier for the patient and can increase the patient's mobility. Also, the surgical drains are securely suspended, which decreases the accidental removal of the drains."
Chrysti Tovani was in the hospital last year with a ruptured appendix. She had a drain bulb pinned to her gown that burst in the middle of the night. Fortunately, she knew Dolphin. She sent her a message to bring a medical drain carrier, which also later allowed Tovani to go out in public, go to the grocery store, shower and sleep with peace of mind, she says.
Similar products exist, but Dolphin says her competitors sell their products to a smaller market at a higher cost. Dolphin sells her drain carriers to hospitals at $4.75 each on 100-plus orders.
"The competitors are both pricey (between $30 up to $70) and intended for purchase by an individual," she says. "We believe we have the only solution that is appropriate for hospital/clinical use due to individual sanitized wrapping and bulk pricing. The mesh construction also dries much faster than most other drain holder material."
With such a simple design and a patent pending, Dolphin is aware her product can be replicated, but she has the bigger picture in mind.
"It's so simple, it could be copied so easily," she says. "But ultimately my goal is to bring ease, comfort and safety to patients, and help them be more mobile and be able to shower more easily, specifically during a vulnerable time of their recovery. If another product achieves that ultimate goal, so be it."
Do you know an entrepreneur who has what it takes? Recommend their company for our "Startup of the Month" here.