Rocket Department. started as a joke. It was 2013 and the 5-member team decided to design an offbeat product for a local hackathon.
"We wanted to build something that was the most absurd, least viable product we could think of," says Andy Colborn, a mechanical engineer and one of the co-founders. "The point was not to win, but to build something for no reason other than joy."
That joy led to the creation of Ready Set Cereal, an automated cereal dispenser. The machine connects to a web app, where users can place an order, telling the machine which cereal (or cereals) to dispense and how much milk to pour. Not only did the product work, but the team won the first place prize at Hacker Lab's Cereal Hack 4 hackathon. The grand prize included an incorporation package from a local attorney, and the champions of breakfast became Rocket Department.
"We ended up accidentally winning, and we all burst out laughing on stage," Colborn says. "It made more sense to become a company than not become a company."
The competition made the company official, but the team had a history. Some had been already collaborating through Code for Sacramento. They also had designed Leaflr, an app that calculates your personal impact on the environment. Most tech startups might have taken the buzz from winning a hackathon and built a business around the single product. Not this group. Their big idea is to develop many ideas, whether for other companies or for themselves. Rocket Department aims to be a sanctuary for creators and an incubator for innovation. Its diverse catalog attests to that mission.
The team created a cat fitness tracker by strapping an accelerometer to a cat, which hooks up to a web interface. Pet owners can monitor how active their cat has been while they're at work. For the Health 2.0 Developer Challenge, they used the Department of Public Health's open data portal to create LED heat maps to illustrate, for example, how a disease like bird flu spreads across California over a certain period of time. This year, for the TBD music festival in West Sacramento, they designed a laser maze and interactive glowing LED towers called Obelisk.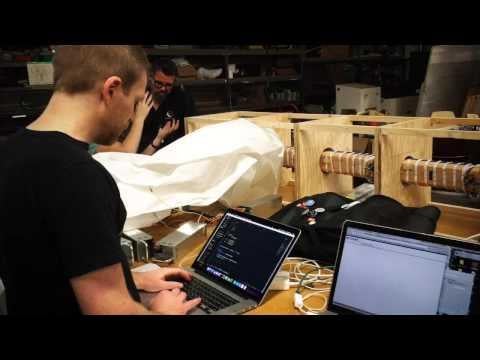 The 5-member team consists of millennials, with skills ranging from web development to robotics to IT. They work out of the Urban Hive. Most of them still have day jobs, even though the plan is for everybody to come on board full-time, where they would all be making money bringing ideas to life.
"We have the skills to make mostly anything a reality," Colborn says. "We see an idea we believe in and we partner with local companies and help them take the idea to the next level."
But as innovators first, they also have their own projects. Colborn's developing a 3D scanner set to hit the market in 2016. Emma Fletcher, a computer engineer and co-founder, recently launched a Learn to Solder Kit ($12), which gives users hands-on electrical engineering practice.
"Most people are never introduced to electrical engineering in high school, so I wanted to make something that puts it in people's hands," Fletcher says. "A lot of buyers are teachers or people with kids."
But is this business model sustainable? Colborn says the company's earnings grew 350 percent from the first year to the second. But the bulk of the revenue still comes from web services like building websites for businesses, who they find through word-of-mouth. As far as business strategies, the team's sorting that out. It is possible that a future product they build could spin off into its own company with Rocket Department as its parent, Colborn says. Still, the team's taking small steps to make sure they don't burn out early.
"We don't want to take any crazy, big jumps," Colborn says. "We could all probably get paid pretty well doing regular jobs, focusing on one thing, but that's not the dream."