Since its launch in 2015, David Kaisel's artisan flour business, Capay Mills, has found a devoted customer base among bakeries, restaurants, and retail customers who buy online or from farmer's markets or food co-ops.
The rise in interest in sourdough bread and home baking during the pandemic brought new devotees to the small heritage-grain milling operation in the Capay Valley. It "prompted the public to look more closely at the most ubiquitous ingredient in our pantries, and to realize how opaque the supply chain for grains and flour actually is," Kaisel says.
Despite all the loyal fans, the work hasn't always been easy. Just last year, Kaisel lost all but about 4 acres of the roughly 30 he planted due to drought. (Wheat is normally a rain-fed crop, and the fields where Kaisel grows do not have irrigation systems in place.)
Now a much wider form of support — specifically from people eager to invest in small businesses and local food supply chains — has turned its attention to Capay Mills. The business received more than $95,000 in investment within about the first week of its $107,000 offering on the SMBX Marketplace, an online investment platform where people can purchase small business bonds. (As of Feb. 17, investment is at $115,000.) Each bond for Capay Mills costs $10 and pays 7.5 percent interest for five years. The business still has more than a month left on its offering. Peter Barden, SMBX director of communications, says Capay Mills "might be the fastest raise we've had on the marketplace."
These funds will allow Kaisel to buy a third stone mill, equipment to clean grain prior to milling and a dehuller, which will allow the business to purchase and mill ancient grains, including spelt, emmer and einkorn. This equipment represents a hefty price tag for a small business focused on sustainably grown, heritage grains.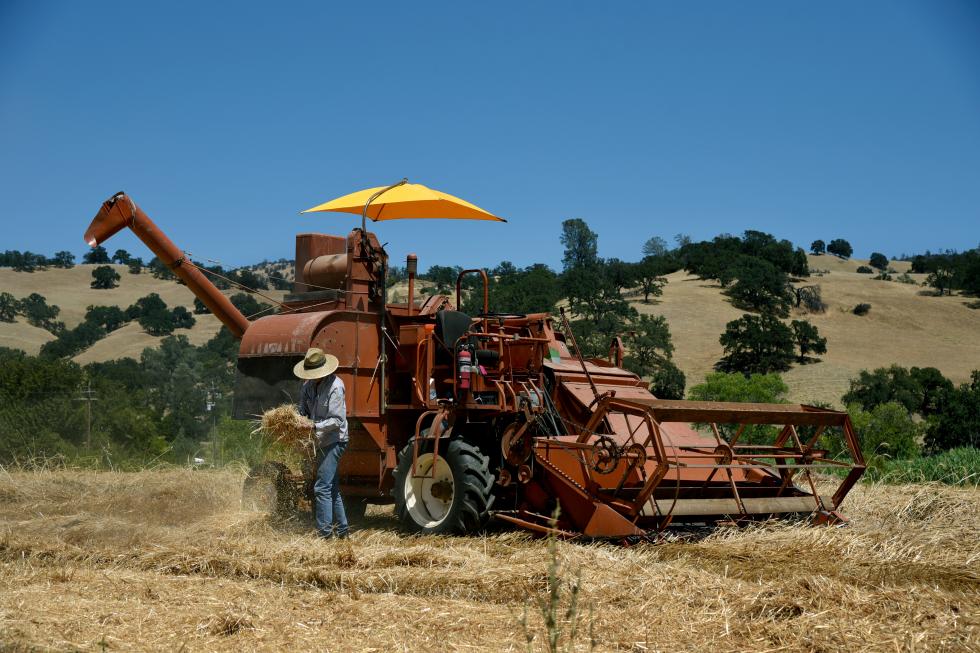 The investment will also go toward increasing capacity and reducing production costs. Kaisel will relocate milling activities from a small storefront in downtown Esparto to a 3,800-square-foot facility, which he is upgrading to qualify as a food processing facility. (Kaisel says he has already spent more than $25,000 of his own money to upgrade the building's electric service and insulation.)
Although there is risk involved in raising funds through the small business bonds, Kaisel says "the enthusiasm of investors leads me to think we should be able to ramp up sales to cover debt service." He is also working with a team of advisers who are helping him develop a new market strategy for his products.
"The support we've received is really impressive and encouraging, and unexpected," Kaisel says. "I think one reason for the response has been that there just isn't another mill targeting the local, regional market the way we are. We're not trying to compete with industrial-scale mills, but to offer a compliment that creates incentives for farmers to reintroduce cereal grains into their rotations, and enables the vibrant and growing artisan baking community to source locally grown flours that offer unique flavor and performance profiles, as well as environmental resilience."
"We're not trying to compete with industrial-scale mills, but to offer a compliment that … enables the vibrant and growing artisan baking community to source locally grown flours that offer unique flavor and performance profiles, as well as environmental resilience."

David Kaisel, owner, Capay Mills
SMBX, which is regulated by the Securities and Exchange Commission, connects qualified small business owners with investors — anyone with a U.S. bank account or credit card can participate. To qualify, a small business needs two years of operating history and two years of positive cash flow, according to Barden. Businesses are eligible to raise between $25,000 and $5 million. The loan terms range between 4-10 percent with repayment terms of one to 10 years.
"SMBX is a novel platform, offering debt financing rather than donations or equity," Kaisel says. "I like that it shares the risks and benefits in what feels like a less speculative way than some of the other vehicles. Investors are able to make an immediate return on their investments, while we'll have the strongest possible incentive to build a profitable business capable of paying those investors. A definite win-win."
Since SMBX launched in February 2020, about 50 businesses have issued small business bonds on the marketplace, Barden says. "The most successful businesses on the marketplace tend to have an excited customer base anxious to invest in their success," he says.
That excited customer base is something Capay Mills has no shortage of. When Comstock's last wrote about Capay Mills ("Shouldering the Burden" in the December 2019 issue), Kaisel had just been dealt a whole host of challenges to contend with. Record-breaking rain in the 2018-19 winter had prohibited him from planting all his acres. Then, that summer, the Sand Fire scorched parts of Yolo County and came dangerously close to his house in Rumsey, and he lost 2 acres of grain and $15,000 worth of farm equipment. But sales for his business were continuing to grow.
Kaisel's past career in product design for global development and public health had given him insight into Big Ag. He saw how industrial, monoculture farming, which involves high usage of pesticides and fertilizer and can cause soil degradation, doesn't do much to help the local community or the environment — or, for that matter, the consumers. In 2014, after completing the California Farm Academy, a beginning farmer training program offered by the Center for Land-Based Learning, Kaisel got his business off the ground.
"David has been keeping me apprised of his work to raise the significant funds that he needs for his flour business. He's grown so much in the last two years, and his need for new milling equipment and other infrastructure has outpaced him," says Mary Kimball, CEO of CLBL. Kaisel is also part of the organization's Farm Business Incubator and is growing grains at CLBL's new headquarters in Woodland. He is sharing a field with Admiral Maltings of Alameda; both are experimenting with grain populations that mix several varieties and species in the same plot.
Kimball calls the SMBX platform a great model. "I believe that it shows that the community is ready and excited to assist, at whatever levels they can, with this small-scale agricultural processing," she says. "We need more of such investment models, and the success of his bond issue will really be a motivation for others to follow."
As for Kaisel, he continues to be drawn to both the historical romance of wheat — and the need to educate consumers on this product. He likes to talk about how integral grains have been to human civilization for the past 10,000 years as the first organized agricultural activity. The rise of grains and civilization, he says, were codependent, and wheat remains the world's most widely planted crop.
Historically, flour was a hyperlocal product, Kaisel says, and that's what he wants to return to. "Flour mills weren't just there to mill flour," he told Comstock's during a tour in 2019 of his small storefront milling facility in Esparto. "They were there to connect the community."
–
Stay up to date on business in the Capital Region: Subscribe to the Comstock's newsletter today.