The oldest university in California is buzzing again. On the University of the Pacific's flagship campus in Stockton, students file into the Gothic and English Tudor buildings that played the fictional Marshall College in the Indiana Jones films. Classes are also in-person on the Sacramento campus, home to the McGeorge School of Law and the recently formed School of Health Sciences, and at the Arthur A. Dugoni School of Dentistry and graduate programs on the San Francisco campus. Face coverings are required indoors, but many also choose to wear them outside. Pacific-branded masks in bright orange and black seem to be in fashion.
"After nearly a year and a half of being very desolate, it's completely alive again," says Christopher Callahan, president of the university. "The students, when you walk around, you see it on their faces. They're just so excited and so appreciative to be back with their friends, with their colleagues, with their professors. It warms the heart, and it's certainly a long time coming."
Callahan became president in July 2020, a turbulent moment in the university's 170-year history. Four months after all three campuses closed to stem the spread of the coronavirus and two months after the murder of George Floyd in Minneapolis, many students and employees were hoping for change.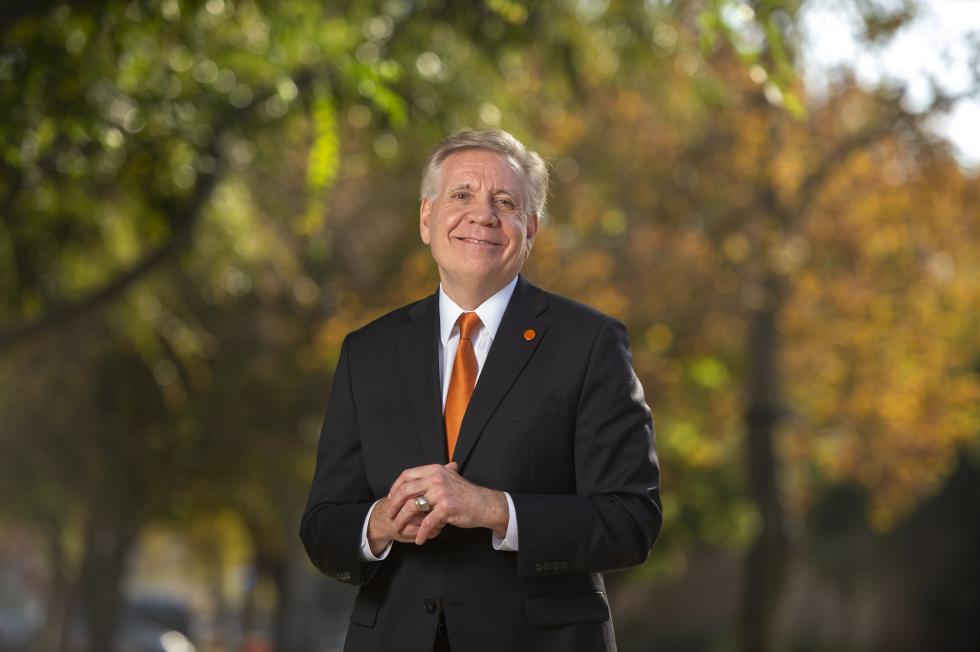 Most recently the founding dean of the Walter Cronkite School of Journalism and Mass Communication at Arizona State University, Callahan came to Pacific with an agenda that emphasized learning opportunities, community engagement, and diversity, equity and inclusion, which he outlined in his Sept. 2020 Discourse interview with Comstock's. His end goal is for University of the Pacific to become "the very best student-centric comprehensive university in the country, period." (Comprehensive universities like Pacific place a greater emphasis on teaching than on research and usually provide a wider range of undergraduate, graduate and professional degrees.)
In his first year at Pacific, Callahan recruited a team of new leaders from prominent research and liberal arts institutions around the country. One of his first new hires was Chris Ferguson, who became Pacific's vice president for enrollment management in Sept. 2020. Ferguson, previously an enrollment executive at Occidental College and Drexel University, helped to lead a retention effort that held Pacific's enrollment numbers steady between the 2020 and 2021 fall registration periods, following a less than 1 percent drop between 2019 and 2020, according to Callahan. It was an all-hands-on-deck effort that involved professors, deans and the president calling missing students to ask why they hadn't registered. Often, the reasons were financial, so Callahan says the university provided "millions of dollars in additional financial aid" to keep students enrolled.
The new leadership team also includes Maria Blandizzi, vice president for student life, and Elizabeth Orwin, dean of the School of Engineering and Computer Science, who both came on board this summer. Blandizzi and Orwin were most recently at UCLA and Harvey Mudd College, respectively. Pacific's first vice president of diversity, equity and inclusion, Mary Wardell-Ghirarduzzi, joined in July. "We have this small cadre of new leaders that are working side by side with leaders who have been here a long time," says Callahan, "and it's really turned out to be a wonderful mix, to be able to move forward at a much faster pace."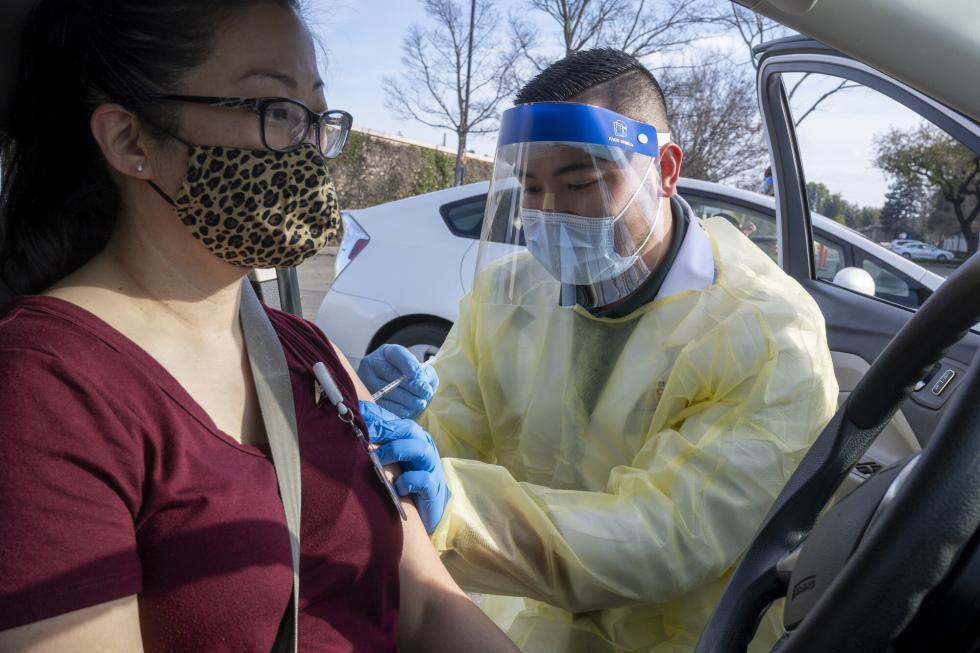 Wardell-Ghirarduzzi, who Comstock's featured in a web story before she took her position last June, takes input from a team of DEI leads representing each of the university's 10 schools. The leads are responsible for identifying the specific needs of their students in the context of their varying curricula. One of the most recent additions to the team is Fei-Lin Hsiao, who has been teaching music at Pacific for 15 years. Her appointment as DEI lead and assistant dean for diversity, equity and inclusion for Pacific's Conservatory of Music was announced August 12.
Hsiao is working to improve accessibility for students with disabilities and to reconsider the Eurocentric canon that students study. "What's unique about us is, we really need to look into the particular repertoire we ask students to perform," she says. "We have been trying to make sure that we always include underrepresented groups." The University Symphony Orchestra will be performing the semester's first concert Sept. 18, featuring music by the Black English composer Samuel Coleridge-Taylor.
Callahan anticipates significant enrollment growth for Pacific over the next decade, especially at the School of Health Sciences, the youngest among the university's 10. The school was formed in fall 2019 to house 10 programs, including clinical nutrition, occupational therapy, audiology and speech-language pathology, that had previously fallen under other departments. Six of the programs are offered on the Sacramento campus; the others are based in Stockton or San Francisco.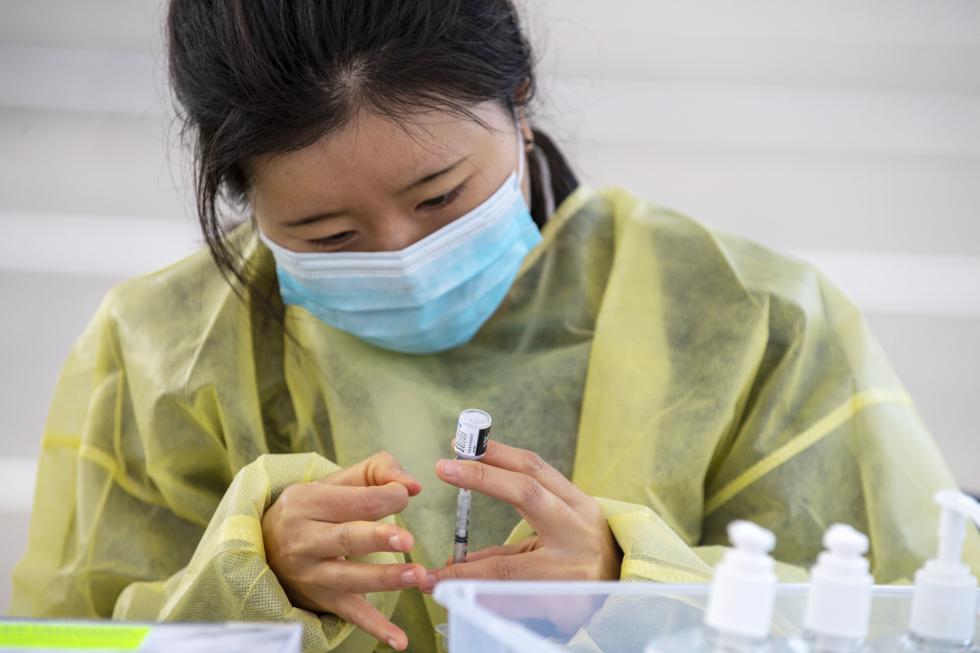 COVID-19 drove demand for many health care professions, and consequently for the programs at the School of Health Sciences. Founding Dean Nicoleta Bugnariu, who started her role in June 2020, says many of the school's existing programs received a significant increase in applicants during the pandemic compared to previous years. Most students are from the Capital Region and plan to continue to live and work here. "That's very important to us as a school, that model of recruiting from the community, educating and then returning students to the community," Bugnariu says.
School of Health Sciences students are also a visible presence in the community before they graduate. Earlier this year, students from the Master of Physician Assistant Studies program and the Thomas J. Long School of Pharmacy began delivering COVID-19 vaccination clinics for students, faculty, staff and the greater community. Thanks in part to these clinics, Callahan says that Pacific employees are currently 90 percent fully vaccinated, and students are 85 percent fully vaccinated. COVID-19 vaccination is required with limited exceptions, and anyone who has not completed both doses (or the one-dose Johnson & Johnson vaccine) must report weekly at on-campus testing facilities. Those who test positive must quarantine at a residence hall set aside for the purpose.
Though Callahan calls these measures "extremely stringent," he knows they're not bulletproof. "If COVID has taught us anything, it has taught us how to adjust quickly on the fly," he says. He and his leadership team have a phalanx of plans on reserve for COVID-19 mitigation and student aid as needs shift. One of his pet ideas is the possibility of opening a bed and breakfast on campus, the proceeds from which would go toward financial aid.
When Callahan joined Pacific, the university "needed to think about how to do things differently and more innovatively with an entrepreneurial spirit … to really change the culture, to embrace that new way of thinking, that new way of doing, that new way of executing," he says. "I think we've gone a long way, with a lot of work still to do."
–
Get all our web exclusives in your mailbox every week: Sign up for the Comstock's newsletter today!