"Don't you think people are formed by the landscape they grew up in?" asked Lt. Gov. Eleni Koulanakis at The Golden Land Joan Didion Celebration at Golden 1 Center Nov. 10. The question framed the event, organized by Sacramento Historical Society and spearheaded by SHS Vice President Gregg Lukenbill. In speeches that preceded the unveiling of a statue in the late author's image, city leaders and artists contemplated Didion's relationship to Sacramento, focusing their eulogies on the intersection of place and identity.
Before Joan Didion wrote her 11 subsequent books, including "Play It As It Lays" and "The Year of Magical Thinking," she lived in California's capital city as a fifth generation Sacramentan. Her family's Poverty Ridge mansion, now known as The Didion House, was her home during her last two years at McClatchy High School. She attended Sacramento City College before transferring to UC Berkeley, where she wrote her first essay for Vogue magazine. Throughout her 87 years, Didion became known for her keen observational perspective, economical writing style and low-key, unassuming glamour.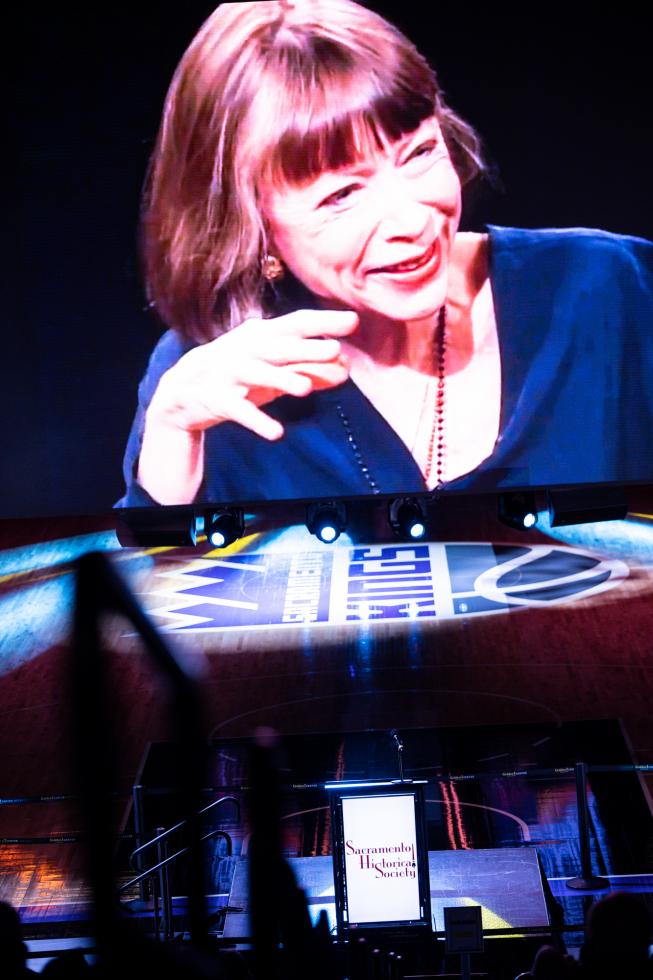 The tribute to one of America's most notable and beloved authors, who died December 23, 2021, is arguably overdue. In a San Francisco Chronicle opinion article published earlier this year, one writer claimed Sacramento had forgotten Didion, and expressed disbelief over the lack of attention given the writer during her life and after her death. Only "The Didion" luxury lofts and an accompanying mural, she lamented, stood as physical remembrance of Didion's impact.
At the Golden Land celebration, however, sentiments suggested the contrary. "Joan Didion never forgot Sacramento," said Mayor Darrell Steinberg as he took the stage. "No!" several impassioned audience members exclaimed in agreement. Sacramento would, in turn, never forget her, he said. As proof, the mayor declared the creation of an annual Joan Didion Day on her birthday, Dec. 5.
Steinberg celebrated the literary giant's influence by illuminating Sacramento's creative spirit. All we have to do, he said, is dig under the surface to see the renaissance of art and culture in the city. He shouted out 916 Ink, the Sacramento organization that offers free creative writing workshops for children, for its mission to give power to the written word.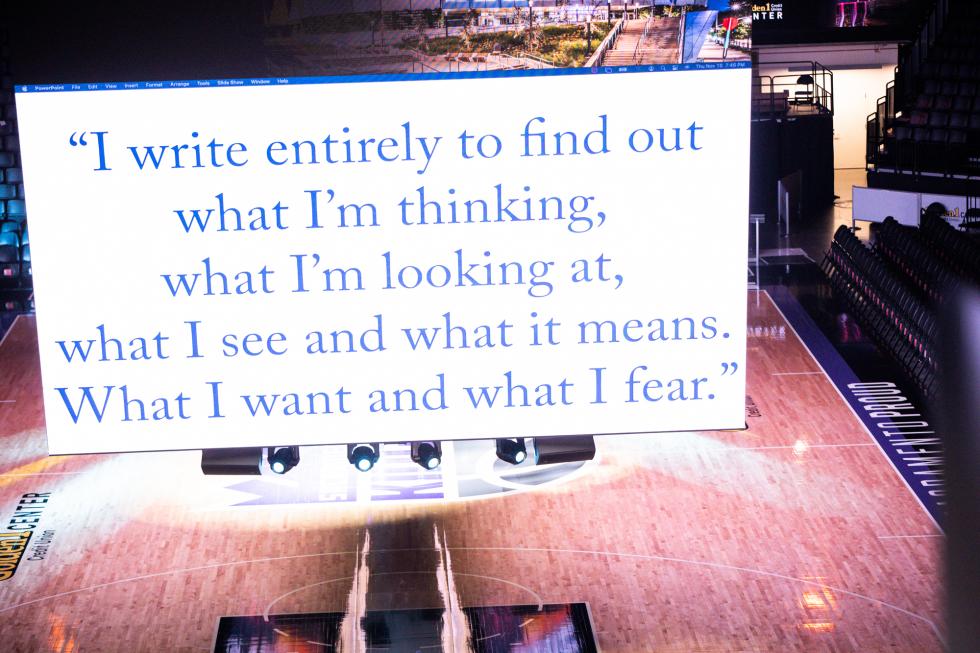 Between talks, SHS projected archival videos, biographical slides and text snippets of Didion's most iconic quotes onto a large screen, casting a glow over the west quadrant of the court. "A place belongs forever to whoever claims it hardest, remembers it most obsessively, wrenches it from itself, shapes it, renders it, loves it so radically that he remakes it in his own image," read one quote ensconced in oversized pink quotation marks.
In contrast to Didion's towering influence over the Sacramento region were humanizing tidbits about her youth. In a video recorded for the event, former Gov. Jerry Brown remembered Didion as his older sister's friend at UC Berkeley, and described his impression of the writer as "gentle and fierce." He praised one of her early influential essays, "Many Mansions," which explored the architecture of California governor mansions and, with her token critical perspective, the implications of class built into the institution.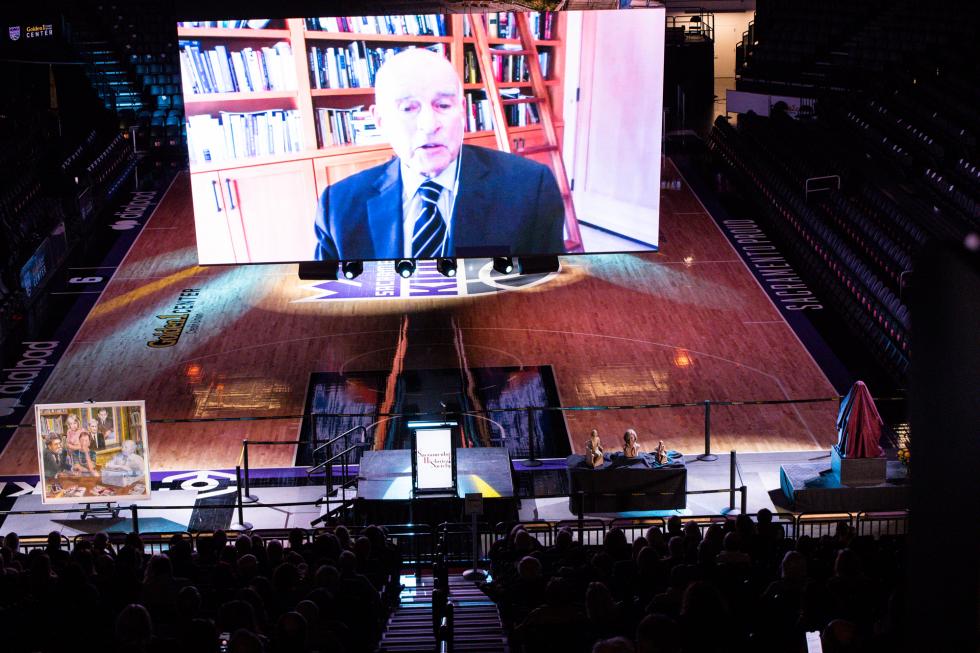 Other speakers encouraged the crowd to think of Didion's literary contributions as an inspiration and a torch to be carried by the next generation. Consultant Erin Saberi said the objective of the California Commission on the Status of Women and Girls is to "establish the conditions that might bring about another Joan Didion." Saberi called out Didion's affinity for writing about the marginalized, which "brought the lives of California women to the page" and showed "what it's like to live in a world defined by others."
Ginny McReynolds, a former longtime English professor at Sacramento City College, spoke of the kinship she felt between herself and Didion, who she credited for indirectly giving her permission to write. "Her essays were always about more than they seemed," McReynolds said, reading from a long-form essay of her own. Didion's social, often political writing was about the "rungs of society who suffered," McReynolds said. "The reader sees themselves in every piece."
McReynolds announced the creation of the Joan Didion Scholarships for Writers, established for Sacramento City College in partnership with the Sacramento Historical Society. The endowment will support aspiring writers at the college with an emphasis on English or journalism majors beginning in the spring of 2023.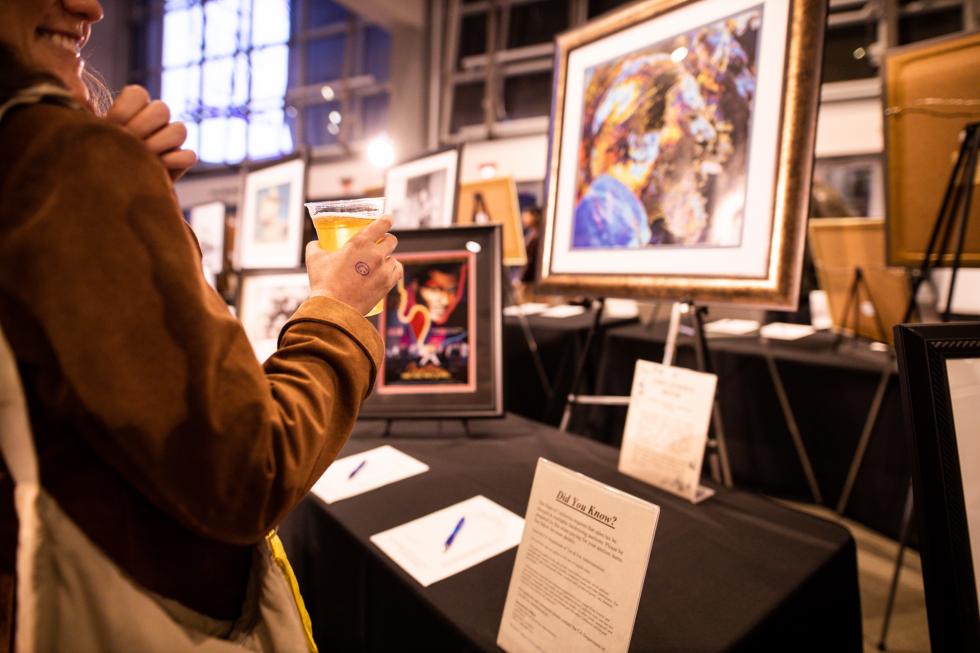 Tributes broadened into commentary around place. Sacramento Bee editorial cartoonist Jack Ohman defended Sacramento's identity crisis. "We're not inferior to any city," Ohman shouted for comedic effect, "and Joan Didion was born here."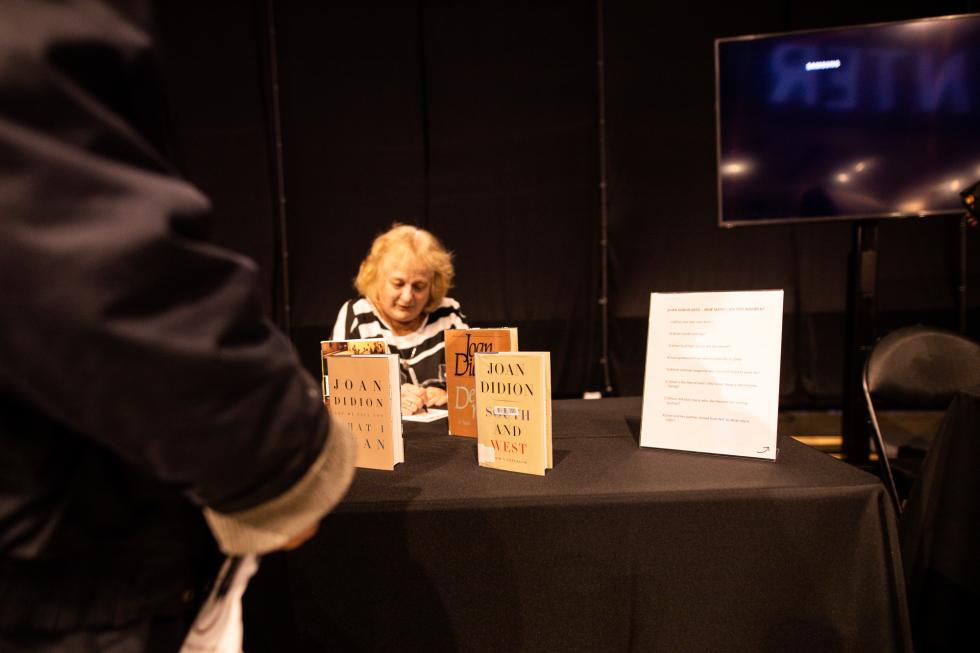 After the remembrances, attention turned to the visual dedications onstage. Artist Jerald Silva introduced his new painting of what he described as "Sacramento's groundbreaking writers" — Joan Didion, philosopher and political activist Cornel West, labor organizer and storyteller Ernesto Galarza, journalist Herb Caen and author Ann Bannon. Silva shared his process of being in conversation with the people he paints, and the poignant, heartbreaking experience of hearing of Didion's death just as he was painting her.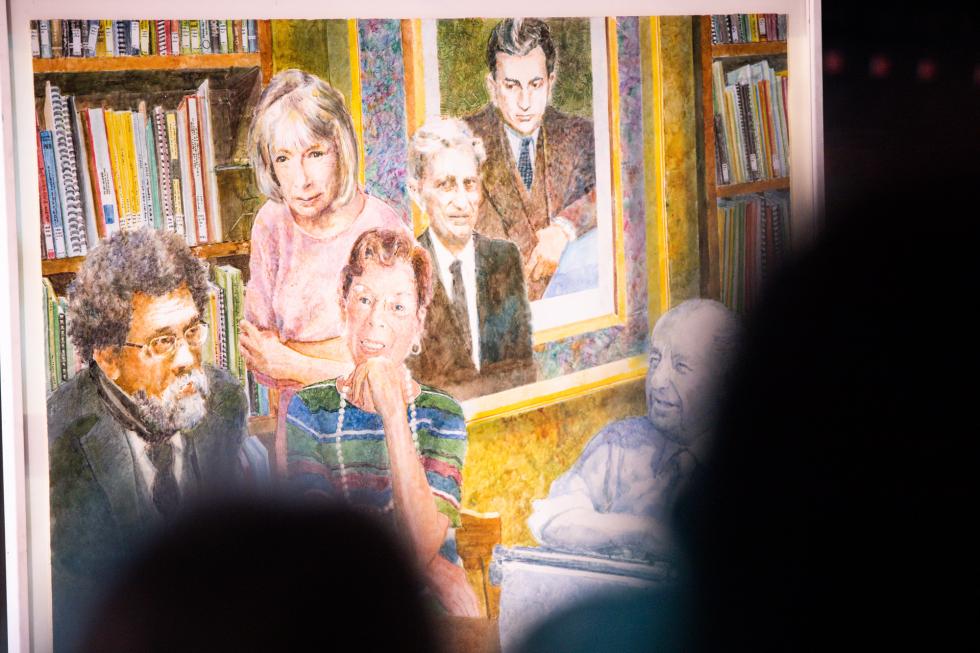 The night culminated in the unveiling of the life-sized statue of Didion posing in her chair, arms and ankles crossed, signature cigarette in hand. Figurative ceramicist Lisa Reinertson was commissioned for the sculpture, which she introduced with slides that laid out her inspiration and creative methods. After reading a few of her books, Reinertson said, she began to think about Didion's themes. Symbols began to emerge, which she etched into the exterior of Didion's throne. Across the chair's back, a snake slithers to connote the cover of "Play It As It Lays," and pine branches signify Didion's Donner family lineage. Reinertson said that while she experimented with a pen in her hand at first, the cigarette, a common prop in photographs of young Didion, felt more natural and fitting.
Audience members were invited to observe the statue up close as the festivities came to a close. The image of Sacramento's native daughter will live permanently in the Sacramento Central Library, but, as former Gov. Brown uttered reverently, "We won't be seeing the likes of her again, ever."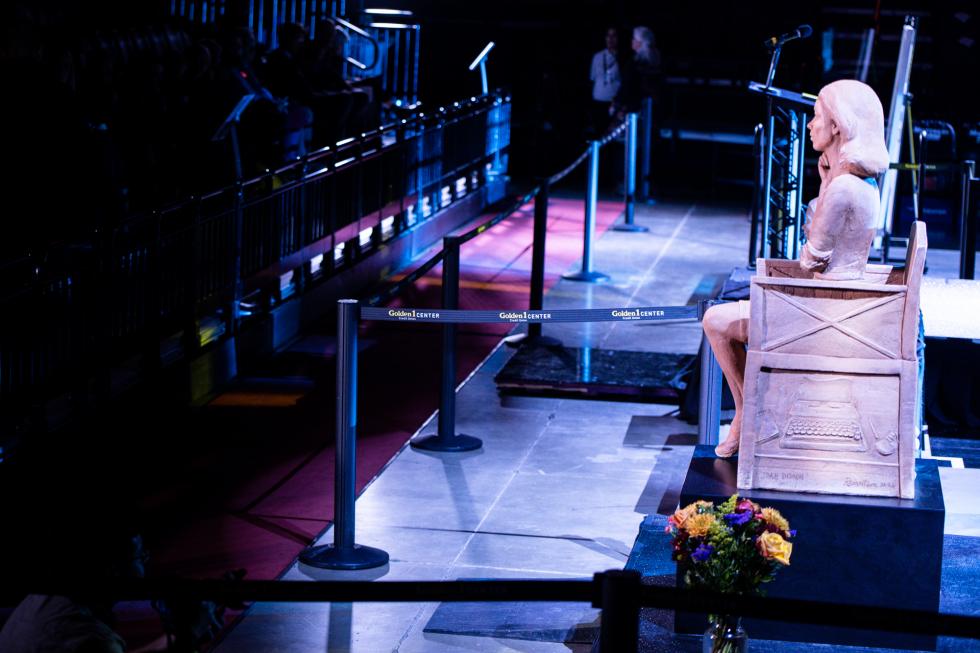 –
Stay up to date on business in the Capital Region: Subscribe to the Comstock's newsletter today.