In 2014, sitting around the lunch table at Springview Middle School in Rocklin, the campus where he worked, Joshua Hanosh taught himself to code. He'd seen his math and computer science students' impressive talent with coding and wanted to learn for himself. Soon he was making websites for friends and family.
Hanosh, originally from Omaha, Nebraska, moved with his parents to Paradise in 1990 when a relative invited his dad to join the family dental practice. After earning a degree in managerial economics from UC Davis in 2008, he sold life insurance. "I'm a terrible salesperson," he says. "I just want to help people." Hanosh and his wife, Danielle, returned to Davis to earn master's degrees in education and their teaching credentials.
But Hanosh never planned to teach for his entire career. Even though he admitted to himself he wasn't quite the teacher he wanted to be, he considered sticking with the profession for the security. "It would have been easier to stay with the known," says Hanosh, now 33.
Education aligned with the couple's shared mission of making a difference in the world. But Hanosh says the workplace wore on him. And so he learned how to code in hopes of pursuing a different career.
Then a call came from a customer looking to hire Hanosh's burgeoning web-development services, which at the time was just a side hustle. What followed was a transition from the world of public school education into the private sector, as Hanosh built his own company to help other businesses succeed, while devoting time and energy to the animal sanctuary he runs with his wife.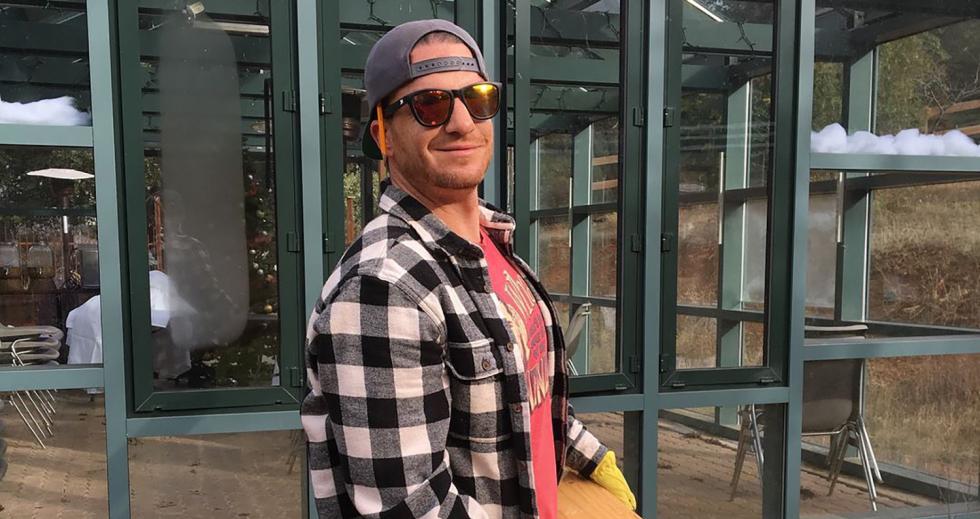 Striking Out on His Own
The more time Hanosh spent in his web design hobby, the more he thought about how he could carve out a different approach in the industry. "I saw that people were getting taken advantage of by web designers and I had this entrepreneurial spark; I would be a web designer who doesn't charge upfront fees and is affordable," he says.
It was the start of Dedicated Designs in January 2018. Six months later, he quit teaching, but he soon realized that starting a new company didn't come with the stability of a teaching job — no retirement, no health care benefits, and he was bringing home a third of his old salary.
The transition was scary. "During my first couple months of not teaching I was like … uhhhh, did I make the right decision? Can I really do this? Business owners are looking to me to help them market themselves … and it's a lot of responsibility," Hanosh says.
But the risk paid off. In nearly two years, the company has grown to 35 clients, primarily through word of mouth. "Having someone recommend you to someone else, it's just the greatest compliment," he says. The company offers small- and medium-sized businesses complete branding services, including social media engagement, promotional videos and marketing.
"So many people come to me that are either starting a business or have had a business, and they just have never really put much time or money into marketing, especially their website," he says, adding that many of his clients once believed their budget didn't allow them to have a professional-looking website. "My business owners do great work, but they feel like they don't look as good as their competitors because they don't have a flashy website or a video." His goal is to help them look as legit as they are, he says.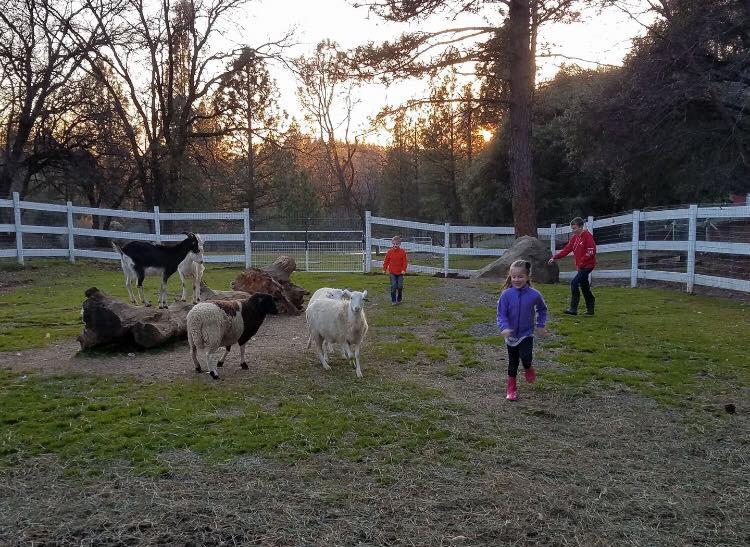 Now, he's launching workshops, at $10 per spot, to help business owners who don't have the budget to hire a company with their web presence, teaching tools such as social media and Google, and how to make graphics.
"To me, to help these people is going back to one of my core values. You can't live a life that's only about you," Hanosh says. "I've been there. I know what it's like to have a very strict budget, where you can't afford certain things. That doesn't mean you don't deserve to have a business presence that looks professional."
Danielle says she admires the bravery her husband displayed in stepping out on his own. "The career change has given (Hanosh) invaluable freedom to learn and grow both professionally and personally and to pursue his passion while simultaneously helping others." Danielle says her husband's dedication to each client is a natural fit. "Josh's entrepreneurial spirit combined with his natural people skills and incredible work ethic made for a very smooth transition from teaching school to running his own business."
But even after hiring two employees and creating a paid internship program for high school students to offer work at a reduced rate to nonprofits and businesses overcoming hardship, Hanosh still doesn't have much downtime. "It's either my company or the sanctuary," he says.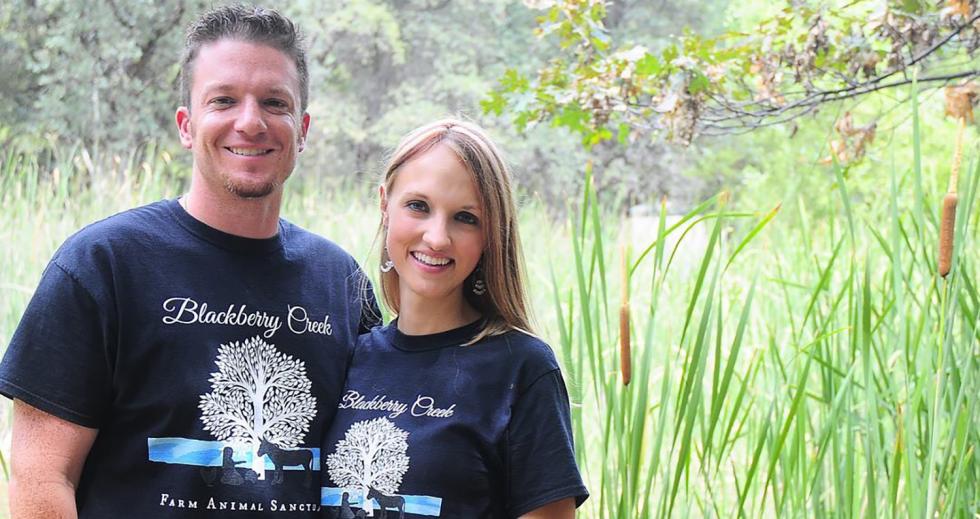 Finding Time for His Passion
In addition to his web-development work, Hanosh and his wife operate the nonprofit Blackberry Creek Animal Sanctuary, which they founded in 2014 on their 5 acres in Colfax where they live. They care for nearly 100 animals, including pigs, goats, llamas, turkeys, cows, chickens, ducks and donkeys. Some of the animals were surrendered or saved from slaughter; others were rescued from neglect and cruelty.
The sanctuary was inspired by a life-altering trip the couple took to Maui in 2013, where they volunteered at Leilani Farm Sanctuary. Upon their return home, they discussed what legacy they would create. "We didn't want to just work and have (our day jobs) be our sole focus," Hanosh says.
The couple used their savings to buy the Colfax property. They wanted to create a place for traumatized animals and humans alike to find peace. Hanosh says he had experienced trauma in his childhood, and both he and his wife had observed the effects of trauma on many of the students they taught. "A lot of our animals have been abused, neglected or unwanted, and there are a lot of kids that experience that, sadly," he says. But then children come to the sanctuary and "you just see them light up."
Danielle also helps connect people with the animals through her children's books. Her second book, "The Otherside," explores what happens to pets when they die and will be released in November. Danielle plans to eventually leave her teaching job at Springview Middle School in Rocklin to continue writing books, and managing the sanctuary and its programs.
With his transition from teacher to entrepreneur who works from home, Hanosh says he has more flexibility to balance work for Dedicated Designs and the animal sanctuary throughout the day, "even if it's just going to the feed store and running errands," he says. "There were many nights …11, 12, 1 a.m., where we were fixing fences or dealing with a sick chicken or a pig, and then we had to get up and go to work (teaching) the next day."
Blackberry Creek Animal Sanctuary's annual fundraisers will be held Aug. 24 and Sept. 21. For more information, click here.
The Hanoshs earn no income from the sanctuary: All donations go to the animals' food, medical supplies, maintaining the property and one part-time contractor. Just feed, vet care and the contractor run at least $5,000 monthly. Since opening in 2014, Hanosh says maintenance has cost $40,000. They've had some success with online crowdsourcing campaigns.
Despite the challenges that come with running both an animal sanctuary and growing a business, Hanosh says he's grateful — he believes that every day his life choices are leaving a positive impact on the people and animals with whom he interacts.
Through the meaning he has found in his own life, Hanosh wants to lead by example: "If you can find a job that is fulfilling for you, and you're making a difference in other people's lives, and you don't look at it as a job, you look at it as you're just living life, that's the ultimate goal."