Update (4/2021): Quicklegal CEO Derek Bluford was sentenced to seven years in prison for wire fraud, money laundering and other charges, according to the Sacramento Business Journal.
Update (2/2018): Quicklegal was named our Startup of the Month in June of 2016. Shortly after, we became aware of legal proceedings against Quicklegal. You can read more about the settlement judgement and the original complaint. In a statement to Comstock's, CEO Derek Bluford said, "I had an employee who impersonated me. He defrauded me, our company and one of our clients." In January of 2018, Derek Bluford was convicted of fraud.
Derek Bluford was in eighth grade when his single mom got into legal trouble. She had gotten injured at her prison job and couldn't work full-time. Disability assistance wasn't enough to cover utilities, food and rent, and they were about to get evicted from their duplex rental in Elk Grove.
But through a friend of a friend, they connected with a lawyer.
"He pulled up in a nice car, a genuinely nice guy, and he helped us be able to stay at our house," Bluford recalls. "He was Superman for me."
Bluford grew up wanting to help rescue others from such legal problems. But instead of flying solo, he chose to use the power of modern technology to harness the abilities of attorneys nationwide. In 2014, Bluford created Quicklegal, a cloud-based legal practice management system, where lawyers can offer on-demand advice to customers with legal questions.
Customers can submit one question for free. Each additional question costs $25. Or they can video chat with an attorney for $40 per 15 minutes. So far, Bluford says, more than 30,000 customers have used the app, most of them fledgling entrepreneurs with basic questions: How do I start my business? Should I be an LLC or a sole proprietorship? Should I have investors?
The app allows customers to select a legal specialty. It also connects them with an attorney near them, which is crucial because certain laws vary from state to state. "Some state laws prohibit the way an attorney can interact," he says. "We've decided to adjust our technology to meet each state's requirements."
In January, he relaunched the app after six months of beta testing with added features for attorneys. Originally, Bluford says, the startup served only as a lead generator for attorneys. With the new version, attorneys can use Quicklegal to manage all of their cases and documents, take their state required CLE (continued legal education) courses and receive full malpractice insurance coverage.
Attorneys pay $499 to be a part of the platform, which has an Uber-like review system for customers to leave feedback. After three negative reviews, an attorney can be barred from the network. As of May 2016, 1,800 attorneys have registered. One of them is Kirill Tarasenko.
Based in Sacramento, Tarasenko Law Office works with more than 100 clients and handles civil litigation, primarily personal injury cases. Tarasenko was looking for a cloud-based management solution when he came across Quicklegal. He has answered questions from customers online, but has not done any live interactions yet.
Tarasenko says he tried cheaper software options before, but none matched Quicklegal's bundle package that includes practice management, legal research and malpractice insurance.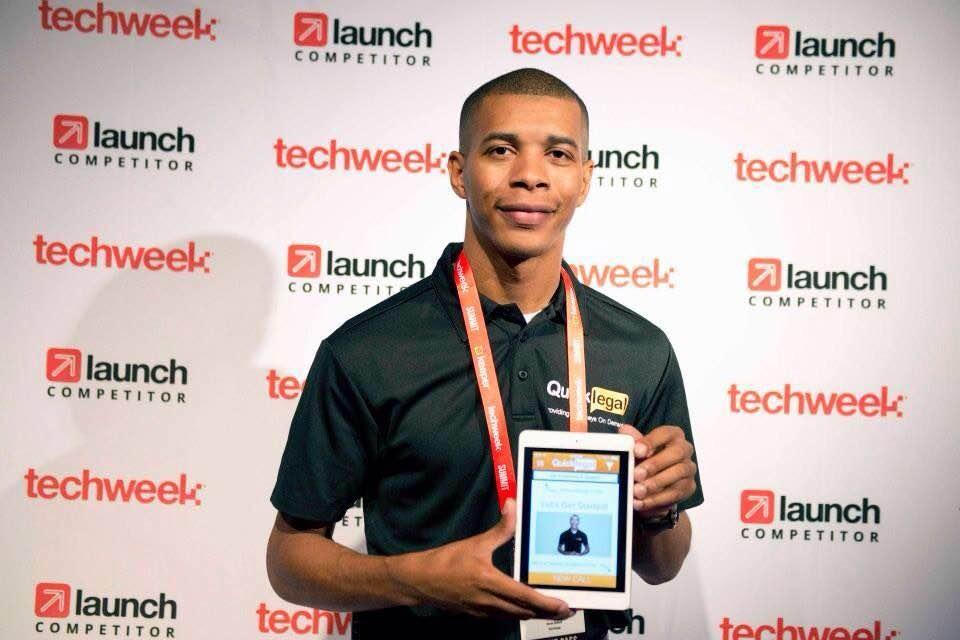 "As a knee-jerk reaction, most would say $499 is too much," he says. "But if you break down the multitude of services, it's considerably less than if you were to piecemeal each of those services separately."
Quicklegal generates about $150,000 a month, Bluford says, adding that he's just $300,000 short of his goal to raise $3 million from investors. In the beginning, he funded the startup himself. He invested the $500,000 he made from selling his first business, which focused on small claims services and evictions. Since then, Bluford's had a solid winning streak.
At Techweek Los Angeles in 2014, Quicklegal beat out 2,000 companies in a pitch contest to win best new app, which he says earned $180,000 from sponsors. Bluford went through the Founders Space incubator program in San Francisco and then the 500 Startups Program, which he says invested $125,000. In April, Quicklegal took the top prize of $10,000 at Capitalize, the new local tech startup tournament put on by the Sacramento Kings and Velocity Venture Capital.
Of the $3 million goal, Bluford says 80 percent will go to marketing and advertising while the rest pays for offices, payroll and insurance. With so much momentum, he says two of the largest legal service companies have already approached him with acquisition offers. But Bluford wants to focus on scaling up his Sacramento-based startup right now.
"The objective is really to spread this company and bridge the gap between consumers and attorneys," he says. "I believe in the law and we need to get some of it back on track."
Editor's note: Comstock's recently became aware of legal proceedings against Quicklegal. You can read more about the settlement judgement and the original complaint. In a statement to Comstock's, CEO Derek Bluford said, "I had an employee who impersonated me. He defrauded me, our company and one of our clients."