It would be safe to say that Peter Hoey has mixed feelings about barrel-aged beer.
The brewmaster and co-owner of the highly regarded — and very busy — Urban Roots Brewery & Smokehouse in Sacramento is aware that many of the beers that will take the brewery's reputation to new heights simply can't be rushed.
They have been brewed and then poured into dozens of wood barrels that once held wine or bourbon. And then they sit. And sit. A year goes by. Then 18 months. Employees had been fielding inquiries daily at the brewery and restaurant on V Street where eager fans were wondering how much longer it would be before they could have what's inside. Now they can finally find out.
The award-winning Hoey — who has a national reputation for his skill and knowledge as something of a brewer's brewer — generates plenty of interest among aficionados. Is this barrel-aged stuff merely good? Great? Transformative? The interest is intense but not necessarily widespread. These beers are more complex — and more expensive. Some are slated to be sour and fruity. Others are going to be rich and complex.
While most craft beer, especially the India Pale Ales, emphasize freshness and have a limited shelf life, the people behind those barrel-aged beers say they offer something mystical and nuanced. They make you think and savor. They are equal parts science and art. Some are made with a revered — or notorious — wild yeast known as brettanomyces. At its best, brett beer can be rich and vibrant and funky. At its worst, brett is about as funky and appealing as road kill.
The brewer can only control so much of what is happening in those dank, dark barrels. The yeast and bacteria dance and linger and alter the taste and character of the beer over time.
As he prepares to spend several hours blending beers from different barrels, Hoey explains that aged beer will eventually pick up traces of "sherry and caramel and port-like notes." "So we are taking flavor that already exists in port wine and marrying it with a beer that will develop those flavors on its own and then aging them together," he says.
Part of the appeal of all this is letting nature do its thing — all of the bacteria and yeast sloshing around in those barrels, the liquid teasing out flavors from the repurposed wood. A brewer like Hoey is usually something of a control freak: He's highly organized, detail oriented, and precise with times, temperatures and ingredients. But he concedes a different approach is needed here because beer in barrels is just different.
"I'm definitely not in total control," Hoey says with a laugh. "The fun part about it is you can start a road map based on what you've done before and gotten a certain outcome. That's all well and good. But there is a certain wild component to it, especially in our mixed culture beers. The beer will tell us what it wants to be and it's up to us to help guide it in that direction."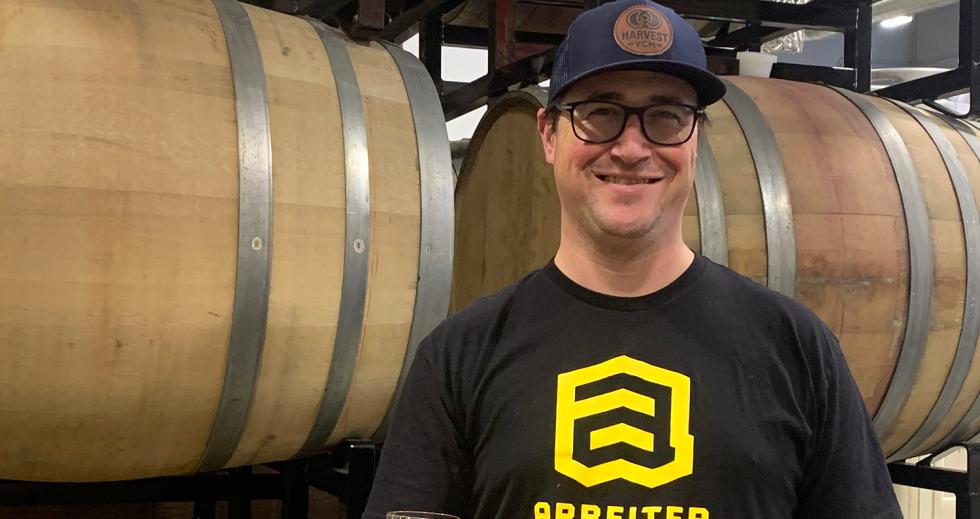 While the clock is ticking and the beer is fermenting, the cash register stays silent. Strictly from a business perspective, this entire process, at least at the start, is horribly inefficient and costly.
"It's something that the artist in me wants and the business person does not," Hoey says. "Being an owner of this project, I am conflicted about that. We brewed these beers over a year ago. I paid for ingredients. They take up room and we're paying rent on the space. We bought these barrels. And no money has come in. We do sell a lot of fresh beer … and that pays the bills for this project."
Anyone who has visited Urban Roots knows that the crowds devour both the hefty plates of slow-smoked ribs, brisket and sausage, as well as all kinds of popular beer styles, including those juicy, accessible hazy IPAs. That's part of the business plan: Those things keep most of the customers happy and fed while subsidizing this relatively crazy idea of spending months and months aging pricy, specialty beers in barrels that maybe 5 percent of the customer base will appreciate.
"There is a certain wild component to it, especially in our mixed culture beers. The beer will tell us what it wants to be and it's up to us to help guide it in that direction." Peter Hoey, co-owner, Urban Roots Brewing & Smokehouse
"For me, it's respect for tradition," Hoey says. "It's not compromising. The beers we're talking about take time."
Louie Toro, who has visited top breweries throughout the world and is one of Sacramento's leading beer enthusiasts, was among the first to taste Hoey's first barrel-aged beers when they were recently released in bottles, complete with classic wax-dipped seals and understated labels. There are two offerings — a traditional stout and a coconut-vanilla stout.
"What I like about barrel-aged beer is the way the flavors completely settle," Toro says. "Everything melds together in the barrel over time. Peter's coconut-vanilla is world-class. Urban Roots started out aiming to compete with the heavyweights. They're definitely a player nationally — and soon to be a big player."
Is Sacramento ready for barrel aged beers? Rare Barrel in Berkeley is thriving. The Bruery in Southern California is well-established and highly respected nationally and internationally. Mraz Brewing in El Dorado Hills has shown there's a strong appreciation for well-crafted, carefully aged beers, especially sour beer. Moksa Brewing in Rocklin, Flatland Brewing in Elk Grove and Dunloe and Sudwerk in Davis, among others, have also invested time, money and floor space in barrel-aging.
Andrew Mohsenzadegan of Flatland shares Hoey's passion for barrels, but he reluctantly scaled back his barrel-aging program in 2019. "It's been a tough pill to swallow. We probably sell 10 IPAs to one sour beer," Mohsenzadegan says. "But barrel-aged beer gives you street cred, it's complexity and simplicity. You're letting nature do most of the work. There's a romanticism to that."
There's plenty riding on Hoey's barrel program — the money, the time, the potential to bring more acclaim to Sacramento.
"People like sour beer. Most of the sour beer … is what's called kettle sours. It's beer that's fermented very quickly with a lactic acidic bacteria and it creates crisp, clean acidity, but it's very one-dimensional," Hoey says. "You can make that beer in two weeks. These beers we're talking about 12, 18 months or more. Brewers often talk about ingredients — hops, malt, water, even minerals in the water. But one thing that doesn't often come up is time. I treat time as an ingredient. Time is a big deal. Time is what's going to allow these beers to mature. It's what's going to impart those richer umami, silky flavors that only come with extended aging."
—
Read more food and beverage industry insight and analysis from Comstock's at the Food & Fermentation section by clicking or tapping here.