Flashback to 1959, Nevada County.
The Grass Valley Group, a small research and development firm, just launched. Its first big project was a panoramic sound system, created for Cinerama, Inc. By '68, the company developed its "notable vision mixer," a device used to create special effects for video. In the decades to follow, other tech companies sprouted in the area. But in the past 20 years, economic downturns have forced some firms to move or close. GVG, acquired by Belden, has since relocated its headquarters to Canada.
Still, the technological roots are very much alive in the Sierra Nevada foothills. From these roots, Jon Gregory decided to plant his vision of the future: The Green Screen Institute opens this month, a multipurpose facility with a core focus on virtual reality (artificial environment) and augmented reality (digital information superimposed on a real environment).
"We wanted to create something people could touch, see, feel and rally around," Gregory says. "To do something authentic in the area based on the video technology legacy."
On New Mohawk Road in Nevada City, the 27,000-square-foot facility has three components: a training academy, business accelerator and coworking lab for established companies. The academy will include classes that can last from a weekend to up to six months. The Green Screen Institute will hire industry experts on a contract basis to teach the classes. The idea is to develop the workforce needed for the influx of virtual reality and augmented reality companies.
"You don't need to have a two, four or six-year degree to get a tech job if you learn how to become a really good programmer and make an app," Gregory says.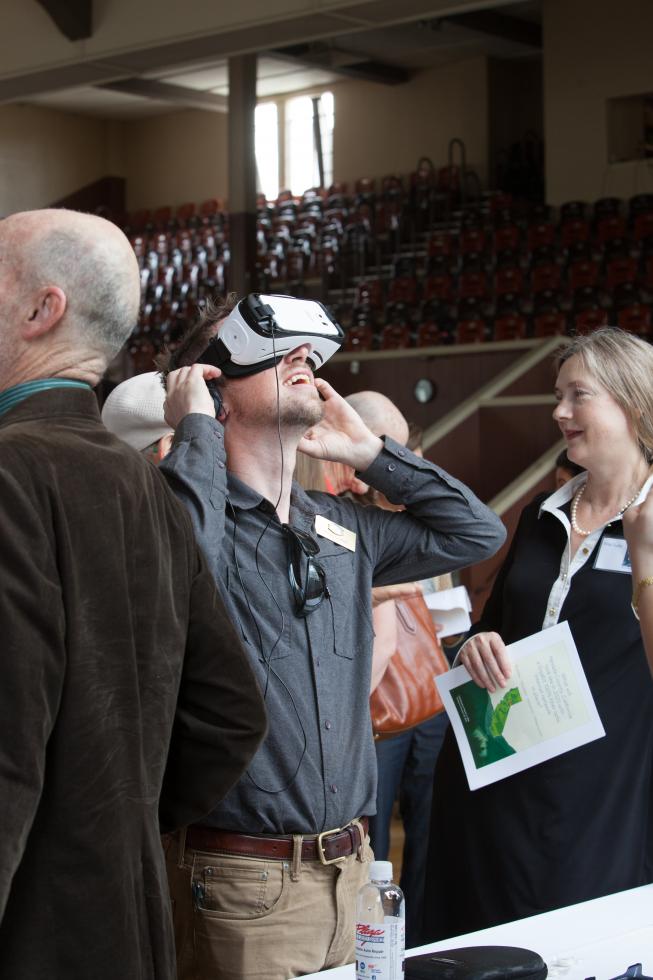 The accelerator is the next level — a three-month intensive course to help VR and AR startups go from prototype to workable product. This includes helping entrepreneurs build out the management team and prepare for investors. Ideally, Gregory says, accelerator graduates will move up from the program to stake claim on one of the offices in the coworking lab.
Established business can pay for lab space with monthly memberships ranging from $25 (one-work day per month in common area) to $500 or more (private office). Many pricing plans include access to conference rooms, training and videoconferencing facilities, the kitchen area and a screening room.
Similar to Sacramento coworking hotspots like Urban Hive and Hacker Lab, Gregory says the lab will be a collaborative space that allows for synergies to occur among diverse companies. He plans to pitch big tech companies in the Bay Area and beyond about setting up a satellite office at the facility, where remote workers can escape the hustle and bustle of the big city for a more natural environment.
"Two weeks ago, I met a guy visiting Grass Valley for the first time," Gregory recalls. "He lives in San Francisco, read about our institute and I gave him a tour. He said, 'I had to get out of the city to be able to get some coding done.'"
The institute already has its first high-tech tenant. Gyro-Stabilized Systems, a Nevada City-based company, designs, builds and supports stabilized camera platforms and systems. Jason Fountaine, co-founder and managing director, says his company needed more space, so he tripled its size by securing 9,000 square feet at the institute to accommodate 50 employees.
Gyro-Stabilized Systems is not a virtual reality company, but Fountaine sees potential for collaboration in this market space. For instance, the camera systems they design could be used to make very realistic and up-to-date models of environments from both aerial and ground perspectives to make VR environments more realistic.
Gregory believes strategic partnerships could be the key to growth, which is why he connected the Green Screen Institute to the nonprofit Nevada County Economic Resource Council, a local economic development corporation, where he also serves as executive director. This allows him to diversify revenue streams: Green Screen Institute LLC operates as a for-profit property management entity, which makes money through rents from the coworking lab and equity from accelerator companies. NCERC is a tenant in the facility (with free rent) that will run the training academy, where tuition will contribute to the long-term sustainable funding plan, Gregory says.
Still, this type of green is not what Gregory had in mind when he chose the name: Stakeholders, he says, helped him decide to call it the Green Screen Institute because the name not only plays off of the green screens used in video production, but also the lush, green scenery of Nevada County.