When I learned I'd be attending a fancy French dinner party as a member of the media, my first thought was that I had nothing to wear.
But I know how to get an outfit without throwing down wads of cash. One phone call to a friend, and I had a white dress that I later easily repurposed for Halloween. I was the Greek goddess on K Street.
The lavish, invite-only Diner en Blanc, is a private, international pop-up picnic party that prides itself on its secrecy and fashionability. According to the official website, "Thousands of people, dressed in all white, and conducting themselves with the greatest decorum, elegance, and etiquette, all meet for a mass 'chic picnic' in a public space."
So elegance and etiquette are also required. Where do I buy those?
When the event unfolded the evening of Saturday, Oct. 8, outside the newly unveiled Golden 1 Center, in my white dress acquired just hours before, I parked my vehicle in a nearby garage and followed the other similarly dressed folks toward the entrance.
I was handed a white balloon by a volunteer. Upon arrival, the scene reflected the diversity of our region, with more than 1,000 adults of varying ages and ethnicities setting their tables, drinking wine and, of course, taking selfies. (Full disclosure: I took one in my mirror at home before departing.) But diversity doesn't necessarily translate to inclusivity.
So how did one get invited to this first-time-in-Sacramento event? First, you had to know someone in the know, or on the six-member volunteer host team: Maritza Davis of Unseen-Heroes, restaurateur Bobbin Mulvaney, communications consultant Christine Ault, placemaking expert Tre Borden, event consultant Libby Siino, and Michelle Odell with Kaiser Permanente's public affairs department.
With this being the inaugural event, organizers had a large hand in the guest list, creating more than half of it. The host team invited 600 guests, or 300 tables, which seat one couple each. They still had to pay for the tickets at $37 each. Then, the remaining 200 tickets (a total of 400 guests) became available online to anyone on the 3,000-name waiting list. All were sold in less than two hours, according to Ault.
"We had people clamoring to get in," she said during the party, adding that Sacramento's participation in the worldwide event (which started in Paris) highlights the area's cultural appeal. "You don't have to be big to be world class. This is a way of bringing cosmopolitan to [Sacramento]."
While DEB has been criticized as being highly exclusive, organizers say there is no special treatment and point to the fact that attendees have to be very willing to do more than show up: On top of the ticket price, the rest of the night is contingent upon guests' participation. Food, tables, chairs and utensils are BYO and must be carted away at the end of the night (many ordered pre-arranged dinners from local restaurants and bottles of wine, as outside alcohol was prohibited).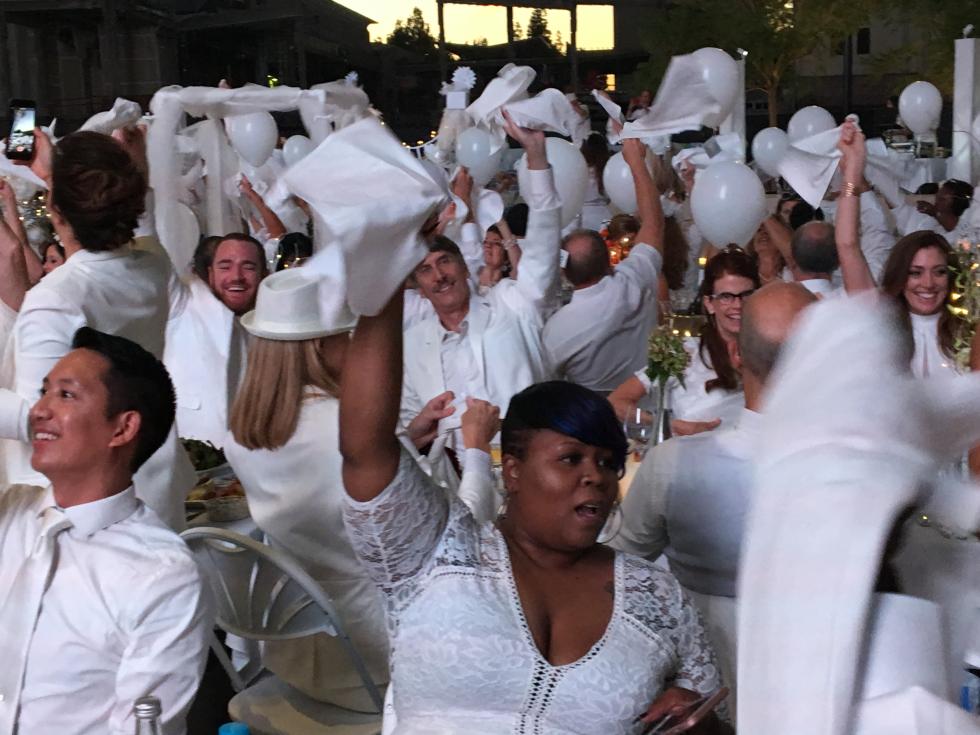 "It's all about fellowship and friendship, it's about you doing the work to create an experience," says Odell. "It's beautiful to watch the community come together in a way that's not about being in the inner circle."
But many of the guests I spoke with got in due to connections to some circle, "inner" at least as far as having a connection to the local DEB planners.
Kendra Lewis, who grew up with New Orleans family roots and a grandmother who regularly celebrated the formal dining experience, craves any excuse to dine out in style. So when she heard the news that DEB would be coming to town in the fall, Lewis called a friend whose son was on the local host team, and shortly thereafter received an invitation for two.
Similarly, Mary Kelly is neighbors with Bobbin Mulvaney and was asked early on to be a "table lead," which meant she was responsible for holding weekly meetings to field questions regarding rules and requirements (there were many, Kelly says), and even invited her own guests.
Instead of using charter buses as many cities do, guests were strongly encouraged to meet at designated points to ride Regional Transit light rail to the arena. But they didn't mix with the common folk, or even pay the $7 daily pass fare. They rode for free, as RT donated passes to all riders dressed in white, and four trains from each of the three locations had been cleaned, with beefed-up security and "reserved" signs on the exterior, Ault says. RT staff were also at the arrival points handing out thank-you cards and balloons.
Regional Transit Spokeswoman Devra Selenis confirmed the complimentary tickets, saying they promoted future ridership and highlighted the transit system's improvements in safety, cleanliness and convenience. The money from DEB ticket sales covered event permits, police, facility rental, entertainment, decorations, an Alcohol Beverage Control license, insurance, maintenance and sanitation. Organizers worked pro bono.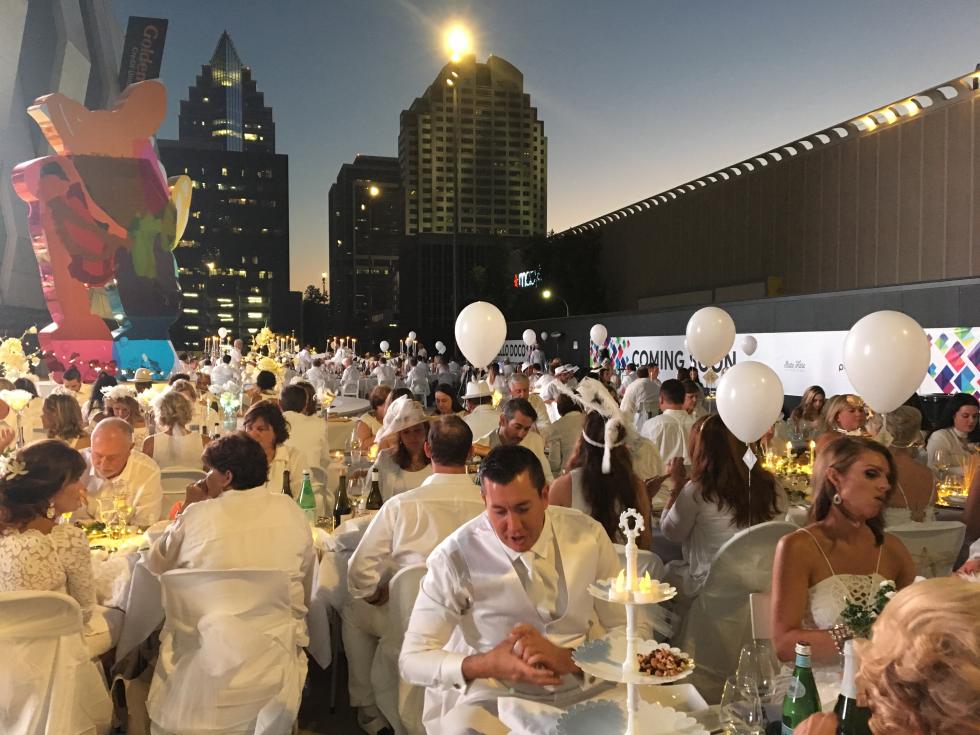 I'll be honest — when I first accepted this assignment it was with the presumption that the dinner would not be my scene. But while taking in the atmosphere, I was happily surprised to see a couple friends I know from yoga. (They got in by knowing someone with tickets.) Guests were on point in their adherence to the rules, with many going above and beyond, adorning themselves with masks and hair pieces. The energy was high, napkins were spun en masse before guests broke bread and strangers seated beside one another quickly became friends. It was unlike any themed party I've ever attended.
Borden says the fact that the dinner wasn't a fundraiser and didn't have a corporate agenda created a relaxed environment. "It was kind of like a house party, or block party, but next to the arena and everyone looked fantastic," he says. "It created a sense of a community on the rise. This is the first time, where on a community level, you could tangibly witness that."
Yet it's a lot of work for attendees. I've never been to a party where guests pay to attend and aren't provided food and drinks as part of the entry fee, plus have to bring their own tables and chairs. But hey, maybe I'm just traditional. It was one of those parties to see and be seen — and that's not necessarily a bad thing. DEB is inherently about creating a scene that makes as much of an impact on guests as it does on passersby. Sacramento's selection for the event adds it to a list of high-profile cities that includes Tokyo, Vancouver and New York — not bad company for a growing city seeking to establish itself with a national profile.
Borden says that next year, a larger host team will work to "aggressively" expand attendance and attain a larger location. There will be more tickets to purchase online as well. As capacity for DEB grows, and it becomes an annual party to look forward to, naturally so will the waiting list and anticipation.
"Diner en Blanc is bringing an international flair to our quaint, friendly environment," Ault says. "There was an excitement, a sense of joy and happiness in the air all night long. People didn't stop dancing until the music stopped, and the floor was packed."