If Davida Douglas had one word to describe her ideal Sacramento community, she would choose "equitable."
Since 2008, she's been working toward this goal as executive director of Alchemist Community Development Corporation, a nonprofit organization that focuses on improving the access of Sacramento residents to healthy food, among other efforts. Alchemist is most known for bringing CalFresh (food stamps) to local farmers markets. Starting in July, Douglas' role changed as she became programs and operations director, and handed the executive reins over to Tiffany Rosso.
Rosso brings 20 years of nonprofit experience, working most recently in fund development for California Musical Theatre and March of Dimes. She says she was drawn to Alchemist because she wanted a job that directly serves the community, and respected the organization's commitment to social justice. She also holds a master's degree in nonprofit administration from the University of San Francisco.
Founded in 2004, Alchemist grew from having an annual budget of $150,000 when Douglas took over in 2008 to a budget of $377,000 last year. Realizing the organization needed a broader toolkit than she alone could offer, Douglas shifted her role into a newly-created position to oversee programming and operations, and then embarked on hiring her replacement.
"I felt like there was so much stuff being left undone that [hiring a new executive director] was necessary for us to be a healthy organization," she says. "There's not enough of me."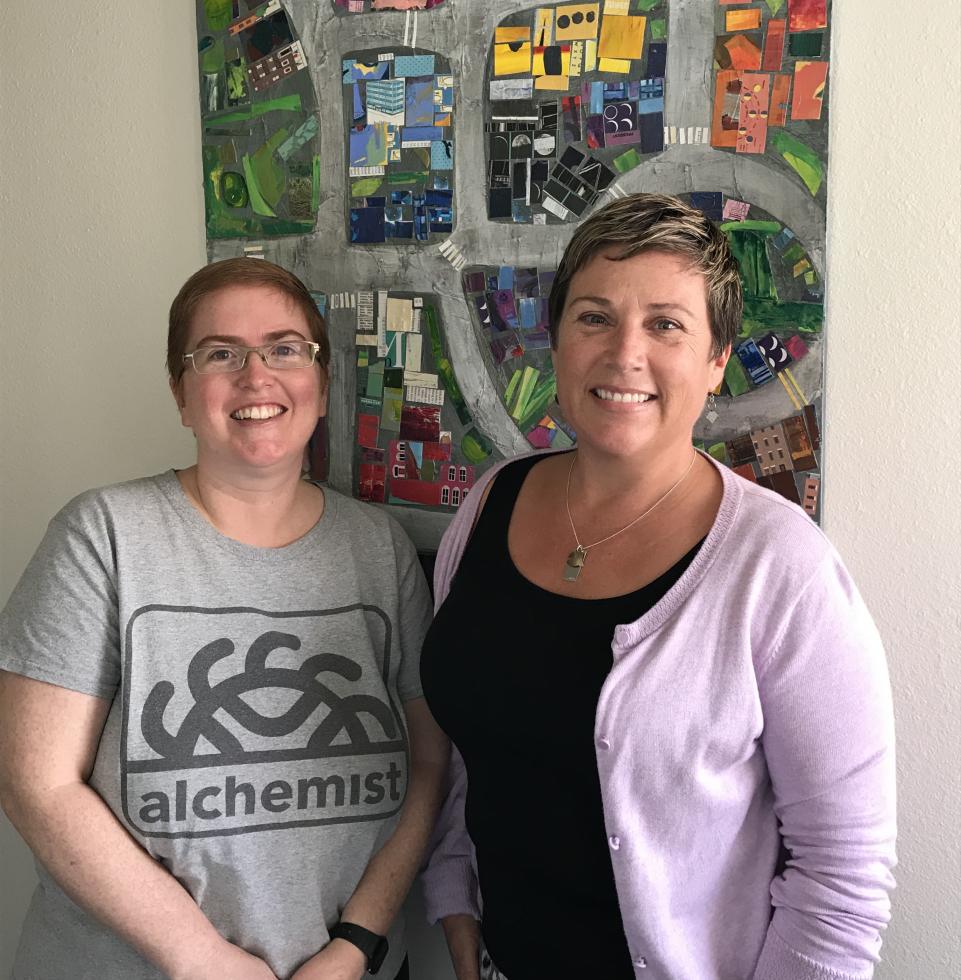 Douglas was hired as the first staff member for the nonprofit, which now has five full-time employees. Rosso started in July, and will gradually take over executive duties. Together, the team has some important goals to address.
Through March of next year, Alchemist is working with UC Davis students on a feasibility study and planning grant for a food business incubator. They're working closely with an existing model called La Cocina in the Bay Area. The concept is to help culinary startup owners with training and services (such as kitchen space) build lasting enterprises. La Cocina's nonprofit has 30 up-and-coming businesses. According to Douglas, Alchemist's 18-month, $71,293 grant helps them determine the economic impact of and demand for locally-produced products in our community, as well as the types of needed equipment, pricing structures and business training services to facilitate success.
The nonprofit also continues to expand its CalFresh program at local farmers markets. They currently partner with 20 farmers markets and farm stands throughout the Sacramento region to operate their Market Match incentive program. According to Douglas, the match program allows families to increase their food budget by giving them vouchers to buy fruits and vegetables when they spend their CalFresh benefits at a farmers market. Since last July, Alchemist had 2,403 new Market Match customers and issued over $101,000 matching dollars.
According to Douglas, through its CalFresh program — which is separate from the Market Match program — at 11 markets in the greater Sacramento area, Alchemist has processed over 15,000 CalFresh transactions totaling over $240,000 CalFresh dollars. Based on U.S. Department of Agriculture calculations that every $1 of CalFresh spending generates $1.79 of additional economic activity, Alchemist has helped generate over $428,000 in economic activity for our community since June of 2016.
Alchemist plans to continue expanding its farmers market programs, and Douglas is ready to tackle that challenge. "It's my favorite program," she says. "We can't even see the ceiling on that. Each year it grows. I love the market match program. It's really super awesome. It's effective. It's a win-win for everybody: farmers, people using it and the households they're buying for."
Rosso agrees. "Everybody has the right to access the food [at farmers markets], and to public spaces and a healthy way of living," she says. Meanwhile, her first objective as the head of Alchemist is to diversify funding, which includes increasing individual and private foundation donations. The nonprofit is currently selling tickets to the fundraising event Catalyst for Change on Nov. 9.
This executive team already has their sleeves rolled up, ready for the big community equity challenges ahead.