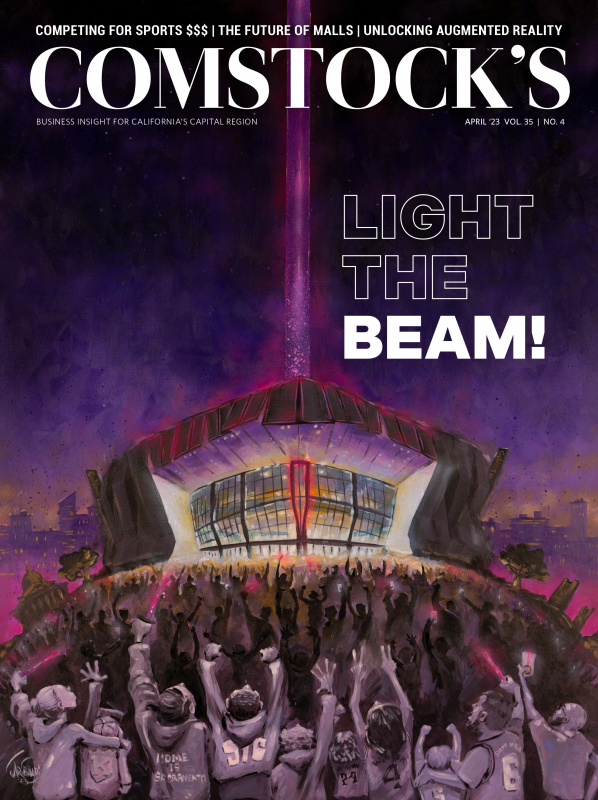 This story is part of our April 2023 print issue. To subscribe, click here.
If you're ever on Jeopardy and you're asked to name an American company that not only helped the country and its allies win a war (the Big One) and, a bit more than two decades later, helped send it to the moon — before getting mired in a sludge of litigation — remember one of this region's more complicated and often controversial sagas: Aerojet.
Aerojet-General Corp., as it was once known, began life more than 80 years ago in Rancho Cordova as the maker of jet-assisted takeoff, or JATO, rockets. Under the visionary guidance of Professor Theodore von Kármán, the rockets were invented and previewed for military brass and highly placed elected officials at the California Institute of Technology. The demo was a success: The company landed its first production contract in 1942 and began to assume its place as the legendary developer of products for the nation's armed forces and space exploration program.
The company built and provided propulsion and power systems for launch vehicles, satellites, missiles and other space vehicles for NASA and the Department of Defense, as well as other federal agencies. Time magazine called it the "General Motors of United States Rocketry" in 1958. By 1963, Aerojet employed 34,000 people, including rocket scientists, to work on missiles such as the Polaris, Minuteman, Trident and Titan. Six years later, its jet propulsion technology helped land American astronauts on the moon.
At its peak, Aerojet owned roughly 12,600 acres 15 miles east of downtown Sacramento bordering Folsom and Rancho Cordova. Residents from as far away as the city of Davis to the west and Placerville to the east claimed to hear — and complained to both the company and Sacramento County about — the regular, wall-shaking booms associated with the testing of jet-propulsion rockets.
The company may have reduced its presence in our region, but Aerojet Rocketdyne is still headquartered in Sacramento and has an address in Rancho Cordova (2001 Aerojet Road) and some administrative offices here. It now has a manufacturing facility in Huntsville, Alabama with 5,000 employees that is making key parts for the Department of Defense and NASA, including 39 propulsive elements for the 2022 Artemis mission to the moon.
Throughout the years, Aerojet had many partners, names and iterations, becoming many things to many people, even working on movies such as the Roger Corman classic cheapie, "Monster From the Ocean Floor." The trivia page for the movie on IMDB reports that Corman read about Aerojet's one-man submarine in a Los Angeles Times article and called the company to ask if he could use it for free — in return for publicity. "According to Corman they were delighted," the anonymous fan submission claims.
But things haven't always been so delightful. The Environmental Protection Agency declared the area around Aerojet's Rancho Cordova's manufacturing site a Superfund site after toxic contaminants such as trichloroethylene and chloroform were found in drinking water wells near the site in 1979. As recently as 2011, the EPA filed an order requiring Aerojet to conduct a $60 million cleanup of rocket fuel-polluted groundwater at the site.
Then, in early 2017, Aerojet announced that it would cease manufacturing in Rancho Cordova and relocate or eliminate about 1,100 of its 1,400 local jobs by 2019. "The company that arrived here in 1951 and once dedicated more than 20,000 workers to the 1960s space race and the gigantic history of putting men on the moon will soon be a shell of what it once was," wrote the Sacramento Bee when it broke the news.
A lost opportunity
A little more than a year ago — to be precise but not ironic, on Valentine's Day — Aerojet Rocketdyne Holdings, as it's currently called, was left at the altar when it was announced that its suitor, Lockheed Martin Corp., backed out from a $4.4 billion deal to buy it. At the time, spokespeople for Aerojet said it was "prepared to continue as an independent company."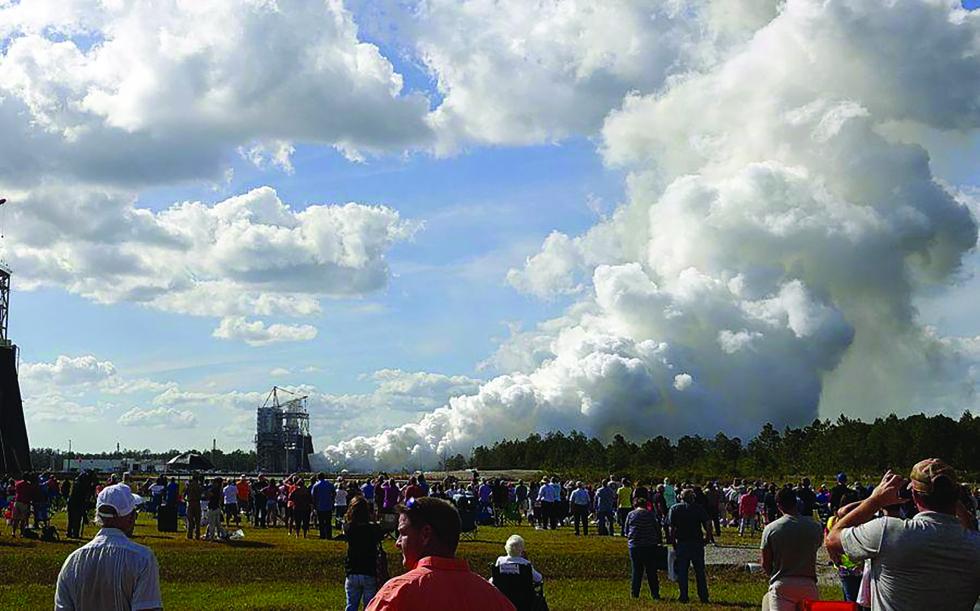 Losing such a lucrative lifeline made the statement sound exceedingly optimistic at the time. According to the website Seeking Alpha, which researches and monitors investments worldwide, the Federal Trade Commission blocked the deal "because Lockheed could use its control of Aerojet to hurt other defense contractors." Regulatory roadblocks led Lockheed Martin to back out. "Despite the cancellation of the deal, Aerojet Rocketdyne is open to takeover offers," the Seeking Alpha analyst continued.
When Aerojet had an expansive plant in the Rancho Cordova area, it also faced extensive setbacks — such as numerous layoffs when the economy or the nation's commitment to space exploration declined (one of which saw a tsunami of out-of-work engineers and administrators stream their way into local government jobs in the early 1970s); big-ticket lawsuits over enough issues to keep a litigator's book of business overflowing, mainly with water contamination; and toxic groundwater leaks that affected area businesses and homes — but also with cybersecurity troubles.
In fact, as recently as last July, the company agreed to pay $9 million "to resolve allegations that it violated the False Claims Act by misrepresenting its compliance with cybersecurity requirements in certain federal government contracts," according to the U.S. Dept. of Justice. The settlement resolved a whistleblower lawsuit by former Aerojet employee Brian Markus against Aerojet.
"Based on my interactions with Aerojet and its leaders, I think you need to consider three things that changed the course of history for it," says Henry Wirz, retired chief executive officer of SAFE Credit Union, who's had a long affiliation with both the U.S. Air Force and the aeronautical industry. The contaminated water problem, he says, "became a major headache for the corporation. Granted, they cannot walk away from it and are on the hook for remediation regardless of whether Aerojet is sold to another entity. But the publicity surrounding the toxic issues fades with an ownership change."
Wirz adds that the "value of the extensive property" made changing its location "an easy decision and it enhances the sale price for stockholders. A major part of the value of Aerojet was the land value."
He also thinks the discontinuation of manned space flights "may have reduced the demand for rocket engines. When the shuttle program ended, the handwriting was on the wall for a long hiatus from manned flight."
The company may have reduced its presence in our region, but Aerojet Rocketdyne is still headquartered in Sacramento and has an address in Rancho Cordova (2001 Aerojet Road) and some administrative offices here. It now has a manufacturing facility in Huntsville, Alabama that is making key parts for the Department of Defense and NASA, including 39 propulsive elements for the 2022 Artemis mission to the moon.
Henry Wirz says he could add a fourth reason for Aerojet's change of fortunes "but I am less sure about it." He suggests the company could have been affected by "the transition from NASA to private space companies. The private companies have their own technology and that extends to propulsion systems as well as all the other elements of space travel and exploration."
BEHIND THE BACK STORY: AEROJET FLEW HIGH
- In addition to having one of its products make a cameo in the Roger Corman horror film "Monster from the Ocean Floor," Aerojet welcomed Lyndon B. Johnson to its campus just a year after he'd ascended to the U.S. presidency following the assassination of President John F. Kennedy in late 1963. Johnson was lured to the plant to watch the test firing of a Titan engine. A report at the time estimated that his motorcade attracted close to 14,000 spectators.
- Among the most respected industry names to put in time at Aerojet (yes, actual rocket scientists!) were Julie Van Kleeck, a rare woman in the male-dominant field; Robert Goddard, known as the father of controlled, liquid-fueled rocketry; and George Sutton, who wrote a seminal book, "Elements of Rocket Propulsion," in 1949 and whose work was still being referred to by the designers of Elon Musk's SpaceX rocket.
- Much as high-tech companies create a work-and-live environment for their employees, Aerojet was a self-contained community. It had its own airline, stores, gas station, 24-hour cafeteria, physicians and a recreation-entertainment center that saw Louis Armstrong, the jazz legend, doing gigs there.
- Aerojet was involved in the 1969 Apollo 11 moon landing and took part in every Space Shuttle mission.
- In 1988, Aerojet's annual sales topped $1 billion. While that's a lot of money no matter the year, in 2023 dollars that total would be about $2.53 billion. You could make a lot of horror films with that budget.
– Ed Goldman
Do you know of any unique history, events, people or places for us to share in The Back Story? Email us at editorial@comstocksmag.com.