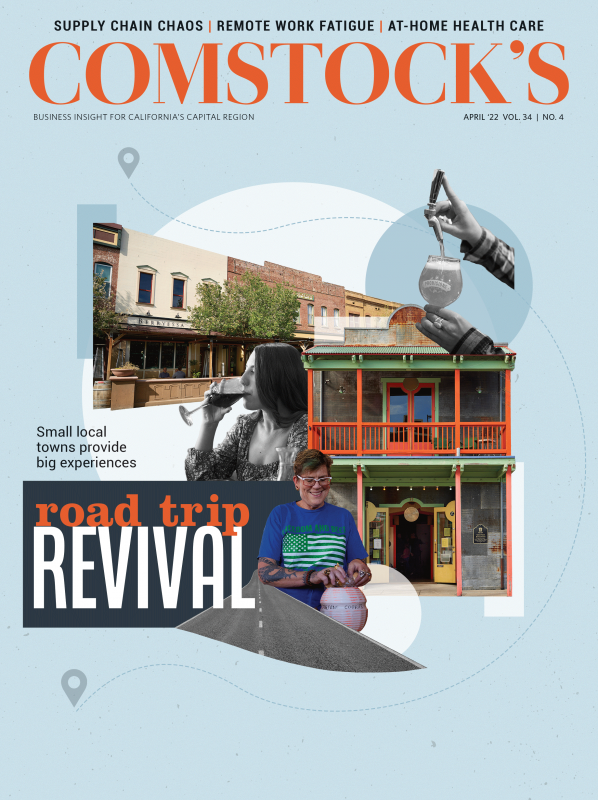 This story is part of our April 2022 print issue. To subscribe, click here.
"Booked up" is a pretty apt descriptor for the California State Library. It's also mapped, newspapered, postered and documented up. In fact, there are approximately 6 million items in its inventory. Four million of those are books, and nearly 2,000 of those are law books.
If you love nature, the library will make you a birder in paradise with its exquisite collection of 435 hand-colored aquatint engravings based on the original watercolors of John James Audubon. What makes "The Birds of America" especially jaw-dropping is that both fowl and flora are life-sized renderings.
"Every day I come to work is like going to heaven," says Jessica Knox-Jensen, chief of the State Library Services Bureau, on a recent private tour of the massive facility at 9th and N streets in downtown Sacramento. The library has two buildings at that location, connected by a tunnel that runs under bustling N Street. But it's not for the workers' protection. "We don't want any books or artifacts to get wet," she says, adding with a grin, "We really don't care if we do." Knox-Jensen, who's been at the state library for more than four years, worked at the state archives for a decade. She holds two master's degrees — one of which, from San Jose State, is in library information services.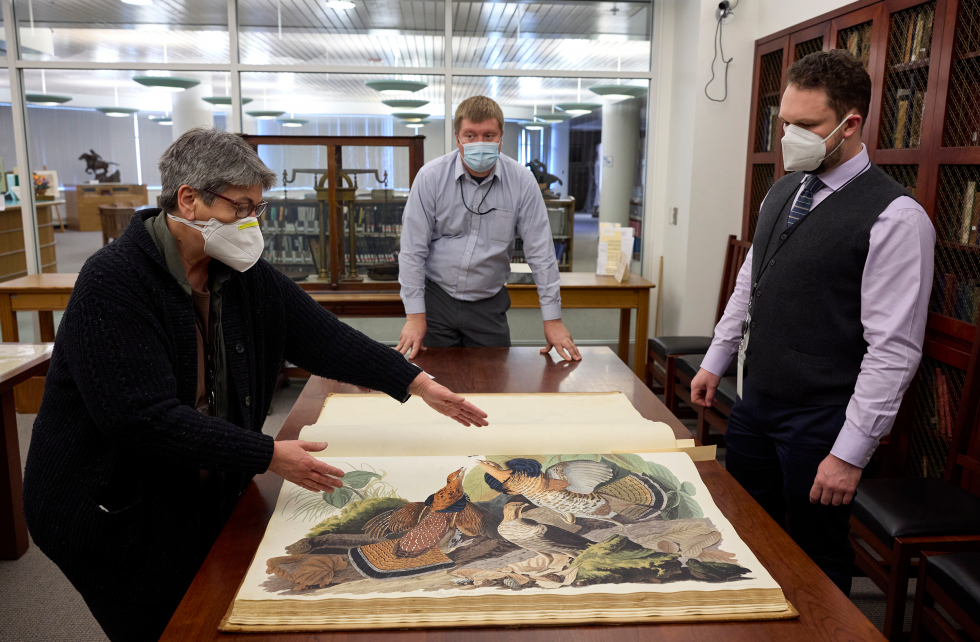 While many of the institution's treasures are remarkably accessible, you should make an appointment to visit (see the sidebar).
"I love when the halls and rooms are filled with people doing research or just reading for pleasure."

Jessica Knox-Jensen, Chief of the California State Library Services Bureau
"COVID closed us up pretty tightly," says Alex Vassar, the library's affable communications manager who, after some years spent working as a legislative staffer, calls his current post "my all-time dream job." An admitted policy wonk, he says, "I love looking up records of old meetings and speeches." He also displays serious enthusiasm about the collection of state newspapers, many of which date back a century or more.
One of the more satisfying aspects of the institution is its services for the blind. Its Braille and Talking Book Library serves the blind and people who Knox-Jensen calls "print-disabled" in 48 Northern California counties. She says that the library circulated more than 200,000 audio and Braille books and descriptive videos in 2021, "and it also made another 200,000 audio book and magazine downloads available to eligible patrons of the service."
Among the items that thrilled this visitor on two outings late last month:
– Samuel Langhorne Clemens' signed library card — actually, "his hand-written 'bio file,'" clarifies Sue Tyson, head of the library's California history section. It's a small, two-sided piece of paper authenticating that he'd visited the place as himself, not as his alter ego, Mark Twain, though he was already filing dispatches under that name for the Sacramento Union newspaper.
– A delightful full-color, calf-bound version of Mark Twain's "The Jumping Frog," one of only 20 copies produced. It features a pull-out drawer with artist-proof wood engravings and prints, plus the artist-proof copy of the regular edition. The 1865 short story, more familiarly known as "The Celebrated Jumping Frog of Calaveras County," helped establish Twain's formidable reputation as a reporter and humorist.
– A surveyor's 1844 map of the Sacramento Valley, which shows pieces of California that were under Mexican land grants. "Mapa del Valle del Sacramento," a 17-by-23 ¼-inch hand-colored drawing, is considered "the first known representation of the Sacramento Valley," according to the late map historian Carl I. Wheat. This map was the model for one of the earliest Gold Rush region maps and would be used in the District Court of Northern California to examine land claims.
– "A Pageant of Tradition," a spectacular 1927 mural by Maynard Dixon, which at 69 feet wide and 14 feet high, dominates a wall of the library's largest reading room. Each side of the painting depicts figures and events that influenced California's history, including Spanish colonizers and priests, the Gold Rush and the Industrial Revolution.
Asked if they miss when the library was in full swing with tours and lectures, both Vassar and Knox-Jensen say it will fully reopen soon.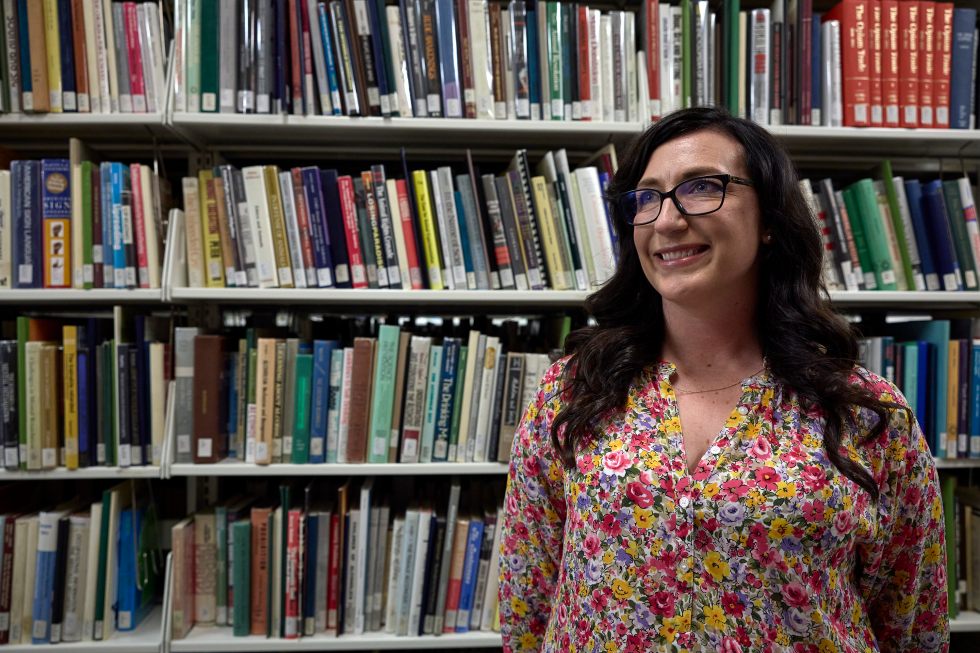 "I love when the halls and rooms are filled with people doing research or just reading for pleasure," says Knox-Jensen. Vassar says the only visitors he feels "a little leery about are when we have, like, 200 third graders come at the same time." He laughs. "Their attention spans aren't all you'd hope for. But it's a wonderful experience for them and as they grow up, they'll always know their state library's nearby and it's free. And it really is theirs."
PLAN YOUR VISIT
– While the California State Library has been semi-closed due to the pandemic, you can book an appointment to visit in person by phone at (916) 323-9843 or go online to libraryca.libcal.com.
– In addition to downtown Sacramento, the state library has a branch in San Francisco: the Sutro Library, located on the 5th and 6th floors of the J. Paul Leonard Library at San Francisco State University. It contains more than 90,000 rare books — as well as one of the largest genealogy collections west of Salt Lake City.
– Along with serious researchers and history buffs, the library regularly sees attorneys and paralegals make use of its extensive lawbook "stacks" (collection).
–
Do you know of any unique history, events, people or places for us to share in The Back Story? Email us at editorial@comstocksmag.com.