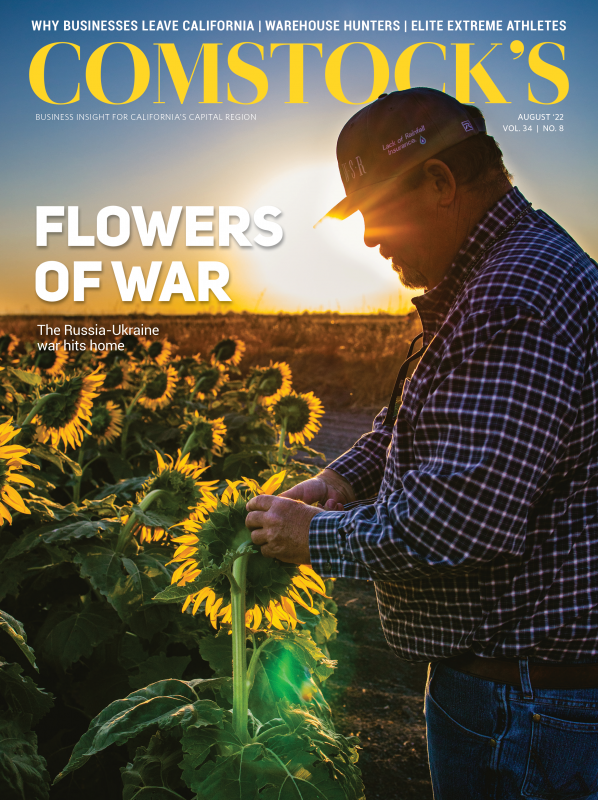 This story is part of our August 2022 print issue. To subscribe, click here.
If you think that TV news anchors, U.S. presidents and even the person running your company's Zoom call have an amazing ability to memorize news stories, policy decisions and new HR rules, think again. Most of them aren't reciting anything by rote: They're reading it verbatim off a teleprompter.
A 1948 invention that's been updated more times than even the "breaking news" it often heralds, the teleprompter allows people on camera to seem as though they're looking directly at you, the viewer, when they're actually reading vertically scrolling words that they can see but you can't.
While the teleprompter's first celebrity user after its invention more than 70 years ago was former President Herbert Hoover (who was worried about flubbing his lines on national television at the upcoming Republican convention), one of the device's newest iterations has Capital Region roots.
PresenterTek, a Nevada City manufacturer of electro-mechanical speaking products, created the TeleStepper just six years ago: It's an automatically-adjustable robotic teleprompter invented by company CEO Thom Tanner and fellow engineer Steve McNerney. PresenterTek has a partnership with the White House Communications Agency in Washington, D.C., as the exclusive supplier of teleprompting equipment for U.S. presidents for their speeches and news conferences. In fact, says Tanner, "The agency has TeleSteppers in the White House Green Room, Oval Office, Rose Garden, on Air Force One and Air Force Two and in the president's helicopter. You never know where and when he's going to have to speak and he'd spend far too much time memorizing everything every time."
Tanner says what he's "proudest of, besides the success of the TeleStepper, is that it's been designed and manufactured in Nevada City." Tanner, who drives to his office each morning from Loomis — he's pretty insistent on most of his employees working on-site rather than at home — had been in the medical device business before getting "a desperate call" from his brother, Neil. He operated teleprompters for, among other boldface names, former first lady, United States senator and 2016 presidential candidate Hillary Rodham Clinton, and owned a film production company. He was producing a live event at George Lucas's Skywalker Ranch at which two successively scheduled speakers would be using the same teleprompter — but had a serious height difference.
"The man was about 6'5 and the woman barely five feet tall," Thom Tanner says, chuckling at the memory — but not at the order to immediately create a teleprompter that could "almost intuitively adjust its height" to accommodate each presenter. The TeleStepper was born — and noticed by media industry tech pros, who made calls and contacts on behalf of the product and its inventors.
"This is when the White House came calling," Tanner says. "They ordered 100 of them." Tanner's main competitor, a British software manufacturer called Autocue, had a similar product but was far more expensive. "Theirs went for $23,500," he says, "whereas ours retailed for $6,995." Even so, he adds with a smile, "This was the White House we were selling to. We gave them a deal."
Asked to assess the leap he's made from creating medical devices to being in show business, Tanner says (in what happens to be a perfect radio newscaster voice, should he ever want to make another leap), "I actually don't see the industries as that unalike. As engineers, we were always fixated on and devoted to quality. This seems to be a natural progression."
The original teleprompter represented a major leap from three-ring binder notebooks, pocket index cards and poster-size cue cards to make it seem as though those famous talking heads — whether newscasters, politicos or managing partners — were speaking to you and only you. In fact, the teleprompter was so magical that for years, news anchors kept visible spiral notebooks on their anchor desks, glancing down at them from time to time and turning the pages of the scripts they contained to offset the notion that they'd memorized the stories they were reporting.
Teleprompters also allow game-show hosts to tape a week's worth of programs in about a day and a half and soap opera actors to be able to get through pages of often complicated story exposition on a daily basis.
Tanner's product adjusts for a speaker's height and can also be folded up and put away rapidly so that the two TeleSteppers that flank the speaker — they look like see-through music stands — aren't a visual impediment for the camera operators. "When the written-speech part is over and the president takes questions, he doesn't need to be scripted," Tanner says.
The TeleStepper is now being used in several countries, according to its co-inventor — including New Zealand, Australia and throughout Europe. "The G-7 nations are a target for us," Tanner says. He says it pleases him that the British Parliament has recently asked him for a quote as well, since the aforementioned Autocue is an English company.
Coming up next is TelePresenter's patented TeloMic, an adjustable podium-planted microphone and MicMover, an audio enhancer that can move up and down 24 inches, depending on the speaker's height or performance needs.
Tanner says he half regrets one aspect of the TeleStepper deal with the White House. When he went to sell newer models, "They told me they really liked the ones they had, that they were holding up just great, that the quality was just what they needed and that they planned to use them for at least the next 10 years." He laughs. "I guess we really shot ourselves in the foot on that deal."
TELEPROMPTER FACTS
-While former President Herbert Hoover is believed to have been the first president to use a teleprompter (in 1952), Dwight D. Eisenhower was the first president to use a teleprompter for a State of the Union address in 1954.
-You too can buy a teleprompter for your next on-camera reunion, partners meeting or sermon! Prices range from about $100 for kits (but you'll need to use your own smartphone or tablet) to many thousands of dollars for pro models with their own large built-in screens.
-You can also buy an app called The Virtual Teleprompter, which facilitates your reading copy while you appear to look directly into the camera. While the app will automatically scroll through your text, you'd still better practice, making sure you don't scroll too quickly or too slowly.
-And no, in answer to a surprisingly common inquiry, when the newscasters stare through teleprompters into the camera, they can't see you.
–
Do you know of any unique history, events, people or places for us to share in The Back Story? Email us at editorial@comstocksmag.com.