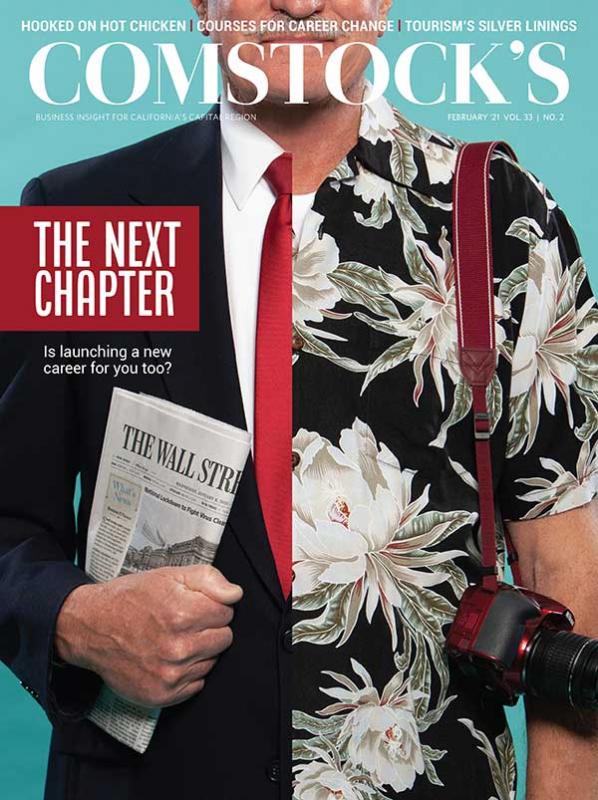 This story is part of our February 2021 issue. To subscribe, click here.
To borrow an overused sports reference, the Sacramento Municipal Utility District, which has served the community for nearly 75 years, has become a true utility player. It proved it again a little more than two years ago by also becoming a social services organization.
SMUD, approved by voters in 1923 and launched in 1946, was created because "Sacramento voters decided they didn't want their energy future decided by a private company," says Arlen Orchard, SMUD's recently retired CEO. But even though the initiative passed definitively, Pacific Gas and Electric's lawyers managed to tie it up in litigation for decades. "The issue made it all the way to California's Supreme Court," Orchard says. "The utility remains independent, though it started under the auspices of the state."
The utility hasn't always been as beloved as it is today, with its reputation for reliable, inexpensive rates and a strong safety record. Forty years ago, SMUD's image was dramatically different due to the inconsistent performance of Rancho Seco, the nuclear power plant it opened in 1971 that was shuttered by voters in 1989. As Orchard says, SMUD was "despised worldwide, because of the very existence of Rancho Seco."
Fast forward 30 years, the company has few detractors, especially when compared to its privately owned rival, PG&E, which has been held liable for numerous wildfires that caused deaths and sometimes shuts power to entire communities during high-wind events. Since SMUD's service territory is minimally rural, its operations are rarely affected. And since it's not part of the power grid that oversees about 80 percent of the state's electricity flow, SMUD's customers weren't affected by the shut-offs.
SMUD by the Numbers
1923:
Sacramento County residents vote to create a public utility
1946:
SMUD begins operations after political and legal battles
1.5 million:
Population of service area
900 square miles:
Size of service area
10,912:
Miles of power lines
640,000:
Approximate number of customers
2,260:
Number of employees
SMUD enhanced its reputation even more when it launched Sustainable Communities Nov. 16, 2018, in response to a 10-year study of Sacramento by the Brookings Institution, a highly regarded nonprofit policy group, that found our region was, despite its evolving metropolis status (in terms of size and amenities), among the worst for "inclusion" — bringing together diverse and disparate groups and individuals to help chart the area's future and simultaneously improve its residents' lives.
The program, one of the seemingly least technological initiatives in SMUD's history, aims to better comprehend and respond to the needs of the various communities it's served for decades, pinpointing, through a remarkably layered (and, OK, somewhat high-tech) map of its own invention, a way to identify and turn inside out the pockets of hardship among the ZIP codes it serves. There was an emphasis on education, financial literacy and the too often overlooked disbursement of genuine compassion.
The weight of the program was hoisted onto the athletic shoulders of Jose Bodipo-Memba, SMUD's director of sustainable communities, who had firsthand experience with underserved communities, having worked as a teacher and basketball coach in what he calls "a pretty rough section" of Oakland. By the time Bodipo-Memba joined SMUD 11 years ago, his resume included several years as an environmental consultant and his current stint as chair of the advisory board of the Urban Land Institute's Sacramento chapter.
"The Brookings (Institution) study made us question how we could create true value in this community. … So we looked at what some Silicon Valley companies were doing under the umbrella of what they called social impact investing."

Arlen Orchard Former CEO, SMUD
Taking on urban issues was "a moral imperative," says Orchard, when asked an indelicately phrased question about whether the new program represented a "side hustle" for the utility, whose main job had always been to keep the lights on.
"The Brookings study made us question how we could create true value in this community," says Orchard, who was SMUD's general counsel for 13 years before becoming CEO seven years ago. "Most of what we did was directed to the region's middle class. So we looked at what some Silicon Valley companies were doing under the umbrella of what they called social impact investing. That became a model for us, starting with programs that offer 60 scholarships a year and 100 internships. The internships had a wonderful dual purpose: Many of the college students we chose, who came and come from definitely nonaffluent surroundings, are treated as entry-level engineers, and many have become SMUD employees."
Orchard says SMUD also offers about $400,000 in community-based grants a year. "We have the communities largely design them," he says. "We ask, 'How can you make your neighborhood or nonprofit better?'" In addition to having neighborhoods and organizations custom tailor their own solutions, SMUD has also busied itself writing curricula for high school teachers "to help them instruct (on) contemporary science matters like climate change and renewable energy."
The future seems especially well-lit. Bodipo-Memba, the Sustainable Communities czar, points to the company's 20-year naming-rights sponsorship of the SMUD Museum of Science and Curiosity, due to open late this year, as an electrifying example of the company's commitment to generations to come.
"We want to have kids from underserved communities like the southeastern portion of Sacramento County and all over the region to know that a publicly owned electric company really does belong to them," he says. "Sustainable Communities now has about 1,000 partnerships with local groups and formalized multiyear agreements with 150 nonprofit organizations to provide educational and financial support and participate in cooperative projects. We want to provide power in many, many ways."
–
Stay up to date on business in the Capital Region: Subscribe to the Comstock's newsletter today.