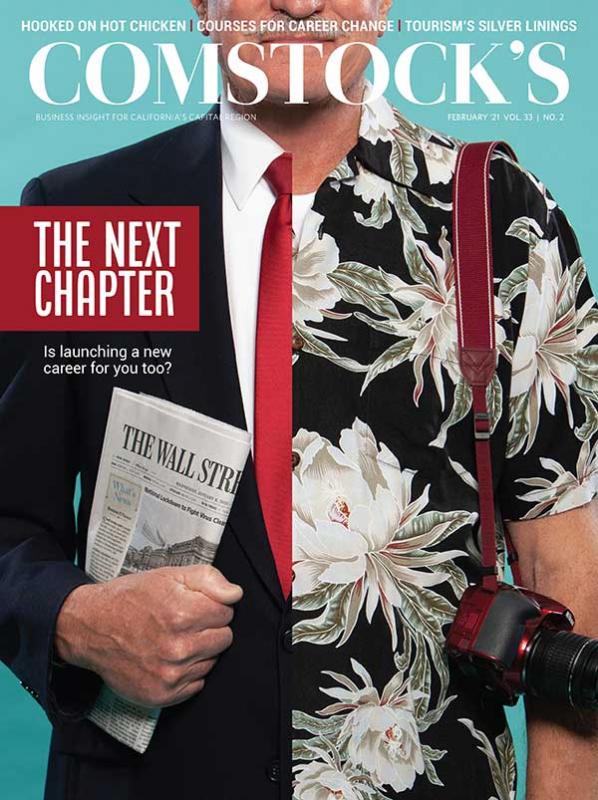 This story is part of our February 2021 issue. To subscribe, click here.
Paul Lau became CEO and general manager of the Sacramento Municipal Utility District in October 2020, replacing former CEO Arlen Orchard, who retired that month after three decades with the utility. Lau, another veteran employee, joined SMUD as an electrical engineering student intern in 1982 and has been a member of the executive team since 2008. Comstock's spoke to Lau about leading the country's sixth-largest community-owned electric utility and about his plan to reach zero carbon emissions within 10 years.
What are some of your top priorities for your first year as CEO of SMUD?
Some of the top priorities are making sure that we're keeping employees safe during this whole COVID pandemic and making sure that we're doing everything we can to also assist the community in getting through it.
The second priority is our board passed a climate emergency declaration back in July and wanted me to develop an action plan for SMUD to get to zero carbon for our energy supply by 2030, and I'm expected to deliver action plans to them by March 2021.
Another significant thing that we're working on is new rates for solar. … We want to make sure that the rate actually reflects the benefit of rooftop solar for all our customers and not just those people who put on rooftop solar at their homes or businesses. So those are the three big ones that are on top of my mind right now.
How has it been to come into this role during a pandemic and a recession, and how have these crises affected day-to-day operations?
We have 1,400 of our employees out of 2,200 that are working remotely since March (2020). … It's quite a challenge to become a new CEO during these pandemic times, and at the same time also being understanding of the impact COVID has on family life. It's been really challenging, especially for young families.
Then you also have a good chunk of your customer base that is heavily impacted by COVID. Our low-income customers went from about 70,000 to 100,000. Their incomes are being impacted by COVID. And then also, you have small businesses being shut down, shut down for good or shut down temporarily. That had a big impact on our revenue. We also had a non-disconnect (policy) for nonpayments for our customers.
But, fortunately, I've been with the company for 38 years. … I think that makes it a little easier, because I do know most of the folks already. I had the good fortune of probably leading — out of 2,200 employees — about 1,800 of them.
SMUD is a community-owned utility that is not part of the California Independent System Operator. How does that independence benefit customers?
We're a nonprofit organization, so we don't make a guaranteed rate of return on our capital investments. … Our board of directors are elected officials … so they look at how we spend our budget. It's really local decision-making.
During the energy crisis (2000-01), SMUD was forced to take part in the rotating outages because we're part of the California grid, and because of that decision, SMUD decided to form our own balancing authority. … We actually formed, in some regard, a publicly owned ISO that we operate all the way to the California-Oregon border, and so we act like a small CAISO within the public utilities in Northern California. We buy and trade power on our own, we use our transmission just like CAISO does, and then we manage the whole grid operations like CAISO does. … We are kind of a master of our own destiny.
Now, to be fair, we trade with CAISO, and we also trade with the Northwest. We arbitrage both markets. And so SMUD is in a very good position … with the ability of bringing some very favorable, low-cost power to the region of Sacramento.
What are some of the main points of the clean energy plan you helped develop?
Back in 2018, we developed something we call the Integrated Resource Plan for 2040, which is really about how SMUD is planning to get to what we call net zero carbon (when greenhouse gas emissions are balanced by removal) by 2040. … We were planning to spend about $6.7 billion (on electrification, renewable energy infrastructure, carbon offsets and other measures) doing so. … The 2040 energy plan was one of the most aggressive carbon reduction plans of any utility in the country, but, unfortunately, that wasn't enough. … We've seen all the devastating effects of climate change: the wildfires here in California, the flooding and hurricanes (on the East and Gulf Coasts).
But it's much more than that, because we actually live in one of the dirtiest air basins in the nation. Childhood asthma rates are off the charts. The American Lung Association consistently recognizes Sacramento for all the wrong reasons. In the association's 2020 "State of the Air" report, Sacramento was the fifth most (ozone-polluted) city in the nation, with a grade of F. So if we don't attack this issue aggressively, Sacramento will continue to rank among the 10 worst regions in the nation for air quality, and the childhood asthma rate will continue to be a blight of our region.
My vision is that I really want SMUD to pursue an aggressive carbon reduction goal to get to zero carbon emissions by 2030 without compromising our world-class reliability or affordable rates.
So what happened was that our board back in July said, you know what, getting to net zero by 2040 was not good enough. They actually passed a climate emergency declaration to get to carbon neutrality by 2030. … My vision is that I really want SMUD to pursue an aggressive carbon reduction goal to get to zero carbon emissions by 2030 without compromising our world-class reliability or affordable rates. …
This bold vision is really a big invitation to others here in Sacramento, nationally and internationally to partner with us to tackle carbon reductions and do great things for the region, and we really need to leverage Sacramento's reputation for innovation through leadership and progressive environmental policies to become a test bed for the most innovative technologies that can lead the way in carbon reduction.
It's important to point out that SMUD's approach to carbon reduction has always been to benefit our region in an inclusive way. We prioritize local investment to drive inclusive economic development, create jobs, spawn innovation, and improve environmental conditions for all the communities and neighborhoods that we serve.
First, we're going to look at proven clean technologies like wind, solar, geothermal, hydro, biomass, short-duration batteries, energy efficiency and demand response. These are the technologies and energy resources that we already have in our pathway to decarbonize our energy supply. … Secondly, we're going to look at new technology, new business models, because without those, we can't get there. … And then the third thing is that we have five gas-fired plants in our service territory that we need to take a look at. How do you either retire or withdraw those gas plants that can burn on alternative fuel, like hydrogen?
To get to our 2030 clean energy vision, there's not going to be a silver bullet that will solve all of it. It's going to be a silver buckshot. … But I fully envision that this will be a very robust, transparent public process as we go through this.
Solar energy seems like a double-edged sword, since it might result in less revenue for utility providers. How does SMUD encourage more distributed, efficient energy while still generating revenue?
SMUD has been a big supporter of the solar industry. … We installed the first utility-scale solar in the U.S. over at Rancho Seco (in 1984). … Going forward, I think we're going to need both utility-scale solar and batteries. … Storage is a great way for us to store the energy when the grid is needed and then dispatch it when there's actually the highest value to the grid. And so we'd be looking at what incentives we'd be creating in terms of … distributing the batteries on customers' homes or businesses and then also looking at something like critical peak pricing rates that would give you additional incentives, by using rate structures, just for you not to use your energy during that time period.
We also are planning to really accelerate our efforts on electrification. … We'll be incentivizing our customers to electrify their buildings and switch over from gasoline vehicles to electric vehicles so that we'll have beneficial load growth. … We plan to spend about $1.7 billion in the next 20 years to accelerate electrification efforts, which is what we call in the industry beneficial electrification — not just for the environment, but also to utilize the grid in a way that's better for everyone.
Is there anything else you'd like to share?
I just want to touch on that, really, Sacramento is my home. … I was born in Hong Kong, and then I moved to Nigeria, Africa, when I was 9 1/2 … and then came to Sacramento when I was 14 1/2, and I've been here ever since. … I see SMUD really as a community asset, and to be a steward of such an asset is such an honor.
Edited for length and clarity.
–
Stay up to date on the effects of the coronavirus on people and business in the Capital Region: Subscribe to the Comstock's newsletter today.