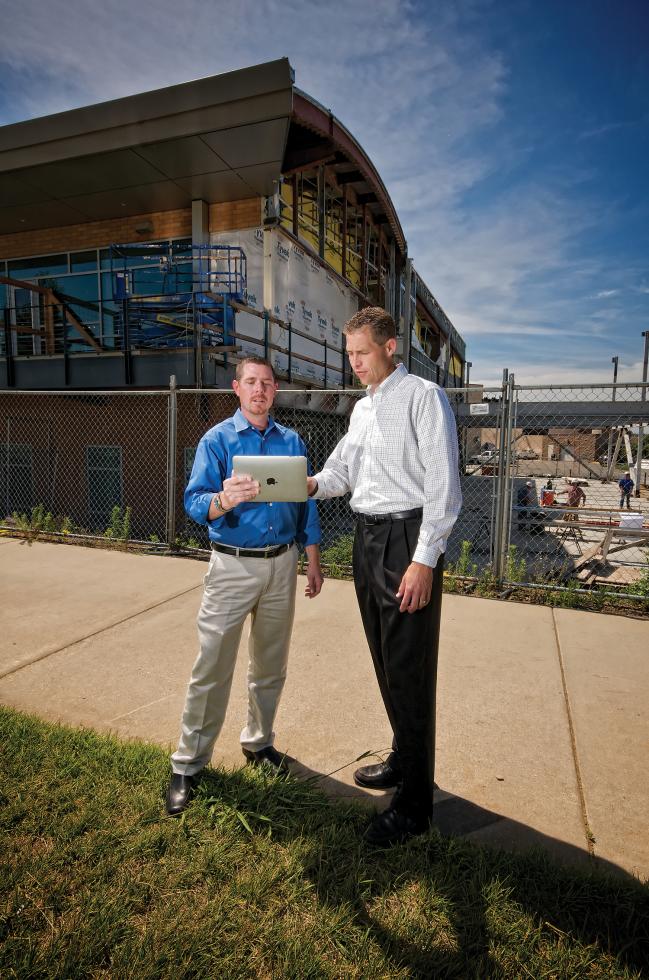 Construction projects aren't known for their efficiencies and streamlined processes. Coordinating dozens of contractors and subcontractors, constant changes to schematics and plans, materials, heavy equipment, schedules and timelines is akin to running a circus. Planners say it's organized chaos, at best, and electrical contractor Chris Ross was getting tired of the runaround.
"It's become a mess," says Ross, CEO of Construction Connect Inc., a Folsom startup. The overzealous use of telecommunications by dozens of members of a construction team means, "you get overloaded. The thing that's critical to you is buried somewhere because everyone is emailing everything instead of just emailing the one thing that one person needs," he says.
Working on dozens of construction projects at once, Ross was buried under hundreds of emails with nonsensical subject titles, dozens of attachments that didn't apply to him, PDFs with labels such as "A201_D2," outdated plans and useless forwards. Somewhere in the quagmire were the half-dozen emails he needed.
"We saw it as an opportunity to create a platform to solve communication issues," he says.
So, 18 months ago Ross partnered with civil engineer and market strategist Marcus Linden to form Construction Connect and launch two collaborative products that they hope will revolutionize the way construction projects are organized and managed.
The parent product, Build it Live, is an electronic bulletin board and schedule management system on the Web. Everything that contractors and architects would put on paper — drawings, specifications and change orders — can be uploaded and organized in the system.
"So instead of emailing all these attachments, everyone can find what they need here," Linden says. It's not just convenient; it also cuts down on the frequency of error. Ross says mistakes made from working on the wrong version of a project happen "on every level at every job," resulting in wasted time, money and materials.
In 2008, the construction industry's contribution to U.S. gross domestic product was $582 billion, and the value of the construction put in place was more than $1.07 trillion. But there remain concerns over the perceived decline in construction productivity, according to the National Institute of Standards and Technology Building and Fire Research Laboratory, which pegs the cost of inadequate interoperability in the industry at $15.6 billion per year.
"As the demand rises for increasingly complex facilities, and the traditional sources of skilled labor shrinks, many construction firms are looking for design and technology innovations to improve their products and services and reduce their costs," says an NIST report about construction industry productivity. "Industry efforts aimed at the seamless flow of information in an interoperable design and construction environment," can help to better manage construction teams, saving time and money.
In the Build it Live system, project blueprints and plans are organized by trade, so the electrical engineers don't have to sort through all the plumbing, roofing and structural plans to find what they need, for example. There is no limit to the storage capacity, users can load up to 50 megabits at once, and simultaneous uploads and downloads allow users to delete an outdated blueprint as the most recent version is uploaded.
"There are $30,000 software applications that can solve some of these problems, but for the 600,000 small and medium contractors in the U.S., that price tag isn't an option," Linden says.
Access to the site costs just $35 a month per project — not per user. Dozens of participants can collaborate at once, there are no licensing fees and no user profiles to manage.
"It seems like so much of the innovative computer stuff is difficult to use," says John Eldeen, a project manager at Perryman Mechanical Inc. who is using Build it Live for a construction project at Aerojet. "This is very user-friendly. You can get in and out quick without a whole lot of training. I met with Chris and learned in about a half-hour."
Eldeen says he can access the program from anywhere because it's not a software system tied to one computer.
The biggest perk to using Build it Live is the cost savings, says Marc Jasso, CEO of Millennium Real Estate Services Inc., a development company in Sacramento. Jasso is using Build it Live for three projects. He says the product paid for itself in one use based on the amount saved on printing and shipping blueprints alone.
"We're never going to get away from paper" entirely, but the cost savings from cutting back is tremendous, Ross says. "Those big rolls of blueprints cost $2 to $3 per page to print. For a 100-page project to be printed 120 times (which is not unusual) costs $12,000, not including the reprints needed every time there's a version change."
For now, Ross and Linden are trying to get their Internet product onto the screens of as many local users as possible. They're presenting the business to Sacramento Angels and venture capital firms in an effort to bring in the remaining $500,000 needed for a successful market entry.
Ross financed the first $100,000 in startup costs and raised an additional $400,000 by selling shares of Construction Connect to family and friends.
To complement the Build it Live platform, Construction Connect recently launched the complementing iPad App, Mobile PlanRoom, which allows users to view their digital blueprints from an iPad.
"The iPad is pretty cool. And wouldn't it be powerful if we could get drawings into it? It has a screen big enough … and the ability to zoom that makes it [valuable]," Linden says.
The application was approved by the Apple store in June and is now for sale.
The final stages of construction at a trend-setting apartment project in San Francisco's SoMa neighborhood, known by its address at 38 Harriett St., largely resembled a life-sized game of Tetris.
The construction site was nearly immaculate. There were no free-standing ladders, power cords were coiled neatly and only a stray nail, crushed cup and small pile of sawdust littered the floor. The 91,000-square-foot factory was full of skylights with chartreuse buttresses and turquoise shelving, creating a bright, showroom feel.