The Great Recession has cast a long shadow over the Capital Region. The economy has been static. Recovery has been slow. But in the hard-hit hospitality business, the pause has spurred opportunity for reinvention. Here are five businesses that have recently begun or completed major renovations to stay fresh in a changed market.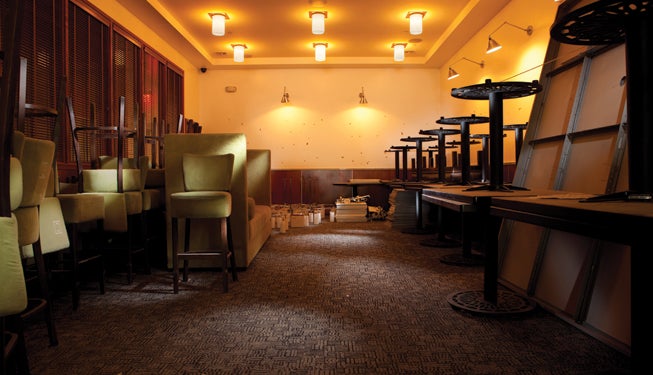 Cafe Bernardo
Photo: Jayson Carpenter
Architect: Darryl Chinn Architects, Sacramento
Contractor: Capitol Painting & Construction, Sacramento
Sometimes the key to a successful vision is change. That's what restaurateur Randy Paragary is experiencing as he oversees the transformation of the formerly swanky Cosmo Cafe in downtown Sacramento into the comfy, down-to-earth Cafe Bernardo.
The $400,000 makeover should be complete by March 1.
It's quite a change for an upscale restaurant that served cocktails and appetizers to patrons of California Musical Theatre. The vision, Paragary says, turned out to be a little too high-end for young, urban patrons drawn to nearby bars and clubs.
Besides, the market for high-end dining in the area was already saturated, and then came the recession.
"Cosmo Cafe was perceived as upscale and relatively expensive," Paragary says. "There are a lot of restaurants on that K Street corner that are in that price range."
The solution?
Convert Cosmo Cafe to the more affordable Cafe Bernardo. Offer breakfast, lunch and dinner, and add a bar for good measure.
"We will also have a 2,000 square foot bar that is edgier, cooler and hipper," Paragary says. This combo, "we think, in retrospect, is more fitting for that neighborhood."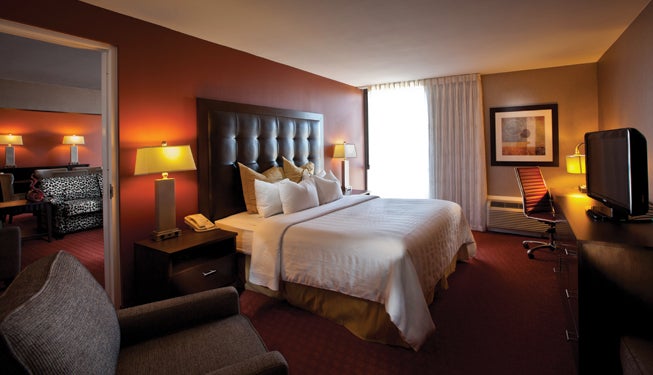 Crowne Plaza Hotel Sacramento Northeast
Photo: Jayson Carpenter
Architect/Designer: Andria Design, Houston, Texas
"Stripped to the bone." That's how Thomas Hagreen, general manager of the Crowne Plaza Hotel in northeast Sacramento, described the recent multi-million-dollar redesign of the six-story property. A change in ownership prompted a change in brands as well; the property was formerly a Holiday Inn.
"There is nothing we didn't touch in the rooms," Hagreen says. "Essentially, we stripped the rooms and took them down to the cinder block walls."
Guests of the 230-room hotel will be pleased with new amenities. The lobby is now much more welcoming and intimate with lower ceilings. Gone is the front desk. Instead, pod-like stations allow desk attendants to come out and greet guests. In each bedroom, guests will find flat screen TVs and modern bedding. The hotel's mixture of plum, earthy and cream hues create a relaxing ambience.
The hotel's restaurant has been opened up too, so it now has lobby exposure. The fitness center, which was once rather small, has been expanded.
The changes, Hagreen says, have led to the recovery of some business lost to the recession. The Crowne Plaza offers 16,000 square feet of meeting space and 8,000 square feet of ballroom space. It's about 14 miles from both the airport and downtown. The recent upgrades were finished in the fall of 2011, and Hagreen says they will be crucial to alluring business travelers.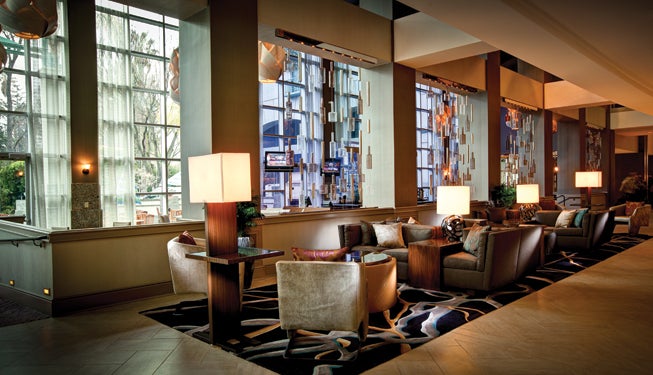 Hyatt Regency Sacramento
Photo: Jayson Carpenter
Interior Designer: Looney & Associates, Dallas, Texas
This landmark downtown hotel completed a $3.5 million renovation of its restaurant, lobby lounge and second floor meeting space in 2011. The renovation came on the heels of a $15 million remodel to the Hyatt's 503 rooms in 2009. The lobby is spacious and welcoming, mixing contemporary furniture with ornate ironwork depicting nature.
The Amourath 1819 lobby lounge is airy and the perfect spot to linger over drinks. "It just feels like a very slick bar; something you would see maybe in New York City," says Scott Vandenberg, the hotel's general manager.
The theme of the redesign was city of trees, mixing the region's scenic beauty with its modern, urban vibe. While leaning, smoked-glass mirrors at Vines Café reflect natural light, the second-floor meeting space is accented with deep plums, warm grays and nature scenes.
"The hotel has always been successful," Vandenberg says. "But what we have noticed is the guests really feel that it's much more modern and a little bit less intimidating."
Red Lion Inn Sacramento Rancho Cordova
Photo: Jayson Carpenter
Architect: ATM Engineering, Sacramento
In the hotel business, reinvention is often spurred by rebranding. That's the case for the Red Lion Inn Rancho Cordova, which completed a $1.1 million renovation last fall.
Originally built as a Fairfield Inn & Suites, the hotel became a Vagabond Inn about four years ago. But that was a brand that proved too leisurely, says Dean Chapman, the hotel's general manager. With the new Red Lion branding, the hotel is looking to hook business and leisure travelers alike.
Guests will find rooms warm and comfortable. The walls are accented with pastels and earth tones. All 105 rooms, spread over three stories, have flat-screen televisions and high-definition programming. Online reviews have been positive, noting the high-quality of the rooms with great value and affordability.
The restaurant, which serves a full buffet, is modern and spacious, and has been popular with guests, Chapman says.
"The economy hasn't been strong in a number of years, and I think it's just been a tough market," he says. "The response has been good. People love it. People like it a lot. But the traction, or the lift, has been slower in coming than hoped."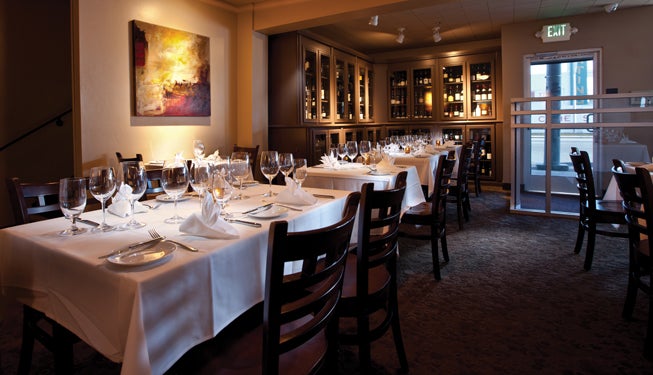 Enotria Restaurant Wine Bar
Photo: Jayson Carpenter
Architect: Arktegraf Inc., Sacramento
Contractor: Rod Read & Sons Inc., Sacramento
Enotria is leading the way for an urban revival on Del Paso Boulevard. Once a small, homey restaurant, Enotria added a wine bar in 2010 and completed a makeover in early 2011. The renovation cost about $1.5 million and transformed the corner bistro into a hip, urban oasis.
The courtyard was expanded to host large, outdoor events in a warm setting rich with pastels and hints of gold.
"The changes in the courtyard are probably the biggest and best," says general manager Michael Coyne Jr. "That's enabled us to provide a really gorgeous outside dining space when the weather is nice."
Inside, guests can enjoy Enotria's 600-bottle wine bar. The auxiliary dining room now has vast windows that add space and movement, and the expo kitchen gives guests a peak at Enotria's seasonal cuisine. It is all tied together with an Art Deco style.
"Our business has definitely increased," Coyne says. "Year over year, we are definitely trending up."
Burke Fathy isn't sure whether the building that housed Sacramento's first Police Department will be converted to offices or apartments, but, as the managing partner of Sutter Capitol Group, he is sure the original architectural elements will stay.
Fine art collections serve as on-site museums for some of Sacramento's culture-loving companies.