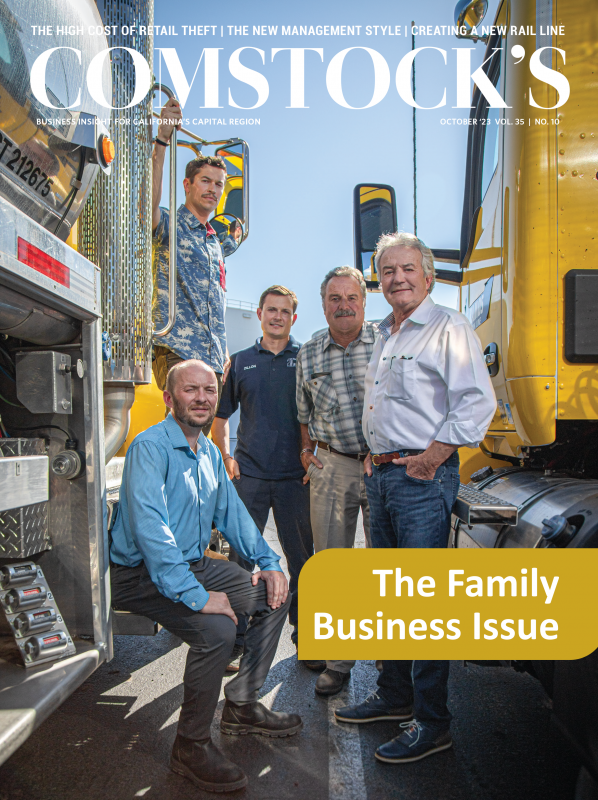 This story is part of our October 2023 print issue. To subscribe, click here.
Sandy Bishop stands just a few feet from the site of the food stand that was essentially Bishop's Pumpkin Farm in Wheatland when it first opened to the public more than 50 years ago.
"We had a little stand right here that blew over in the first windstorm that November," says Sandy, as visitors mingled around her at the 244-acre Yuba County farm on Sept. 9 for the opening day of its 51st season.
Sandy, a former schoolteacher, founded the Halloween and pumpkin-themed attraction with her late husband, Bill, in 1973 to help her students learn about farm life. She expressed amazement at how huge a draw the pumpkin farm has become.
"We just tried to add new things every year," says Sandy, who is retired but remains a part owner. "When we started, we had one goat for the petting zoo, we had the hayride, and we had ponies that parents could just put their kids on, and they would lead them around. And that was it."
Sandy's son, Wayne, claims the farm is the largest pick-your-own pumpkin patch in the world. It remains a true family-run business, with Wayne, his wife Ann, his sons Lee and Austin, and his daughter-in-law Courtney leading the 16 full-time employees and hundreds of seasonal workers. They oversee what is a pumpkin amusement park filled with rides and other interactive attractions, staying true to its first teaching mission.
"My husband, being a farmer, didn't think too much of the idea because he thought farming should be all work," Sandy says of opening the park to the public. "Then he saw the people coming out and having a good time."
Located behind Wheatland High School, the farm produces crops all year, including walnuts and other forage crops, in addition to pumpkins. The farm is open to the public every day until Nov. 5. Admission is free, though numerous other attractions and rides across the expansive property have a cost.
Bishop's includes several on-site restaurants, bakeries, and places to sip hard cider, beer and wine. The eight-car, diesel locomotive train is a popular attraction, circling the property throughout the day. The operation is so vast, Wayne says, they hire around 800 seasonal workers each year, drawing heavily from local residents and 10 area high schools.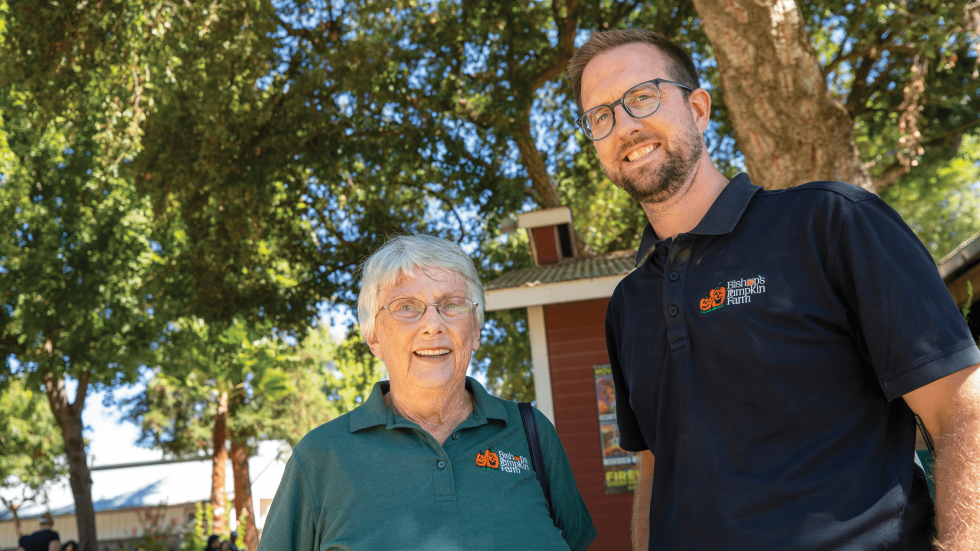 Lincoln resident Keenan Murphy grew up in Wheatland and used to be one of those seasonals, eventually working full time at the farm. On opening day, he was there with Julia Bayless picking out his first pumpkin of the season.
"I've been coming here for 20 years, since I was a kid," says Murphy, who worked at Bishop's for five years while he was in high school. "It's kind of cool to see how this place evolved over the last number of decades. It's a great place for kids and families."
Sandy, whose husband died in 2021, says she usually doesn't make it out on opening day. "But today I just had to come and check it out," she says, noting that she saw more visitors than usual looking at the entrance site map, indicating to her more new attendees than past years.
In addition to the restaurants and rides and other attractions, there are, of course, pumpkins, with wheelbarrows waiting at the front entrance for visitors to use. Wayne says pumpkins comprise approximately 90 acres — 50 acres of their own land and another 40 rented acres outside the farm so they can rotate fields. He says the farm moves about 1.5 million pounds of pumpkins a year, with an average pumpkin weighing 10 to 15 pounds. He estimates 60 percent of their pumpkins are picked in the field by guests, and the other 40 percent are picked by farm staff.
"I really don't believe that anybody else in the world retails as many pumpkins as we do," he says.
Wayne says he's proud of how Bishop's Pumpkin Farm still gets 20,000 kids on field trips in the fall and another 10,000 in the spring, and of how it has become an economic engine for Yuba County.
"We used to be just a Yuba and Sutter County destination," he says. "Then we became more of a destination for the whole Sacramento area. Now we see lots of people from the Bay Area and from the Reno area, and even farther south in California. We're in Yuba County, and we're not the most prosperous county in the Sacramento region, so we're kind of proud that we play a little role in helping drive the economy here."
Stay up to date on business in the Capital Region: Subscribe to the Comstock's newsletter today.