Food isn't something that communicates directly, like a text message or a parking ticket. Food communicates through allegory and metaphor. If food were a movie, it would be an obscure French arthouse film from the 1960s. But some food communicates better than others, or at least to more people.Take nachos: They speak of a big event, of being out on the town and they hint at gluttony. They talk about our history and our present, of our Mexican heritage and its assimilation. And they're just delicious.
Unfortunately, somewhere amid the conversion from food production to food manufacturing, nachos lost their way. When we think of nachos nowadays, especially at an arena, we think of nuclear-orange goop that, while salty and somehow satisfying, is simultaneously revolting and guilt-ridden. We think of canned jalapeños, with their single sharp acid note and their artificially preserved color of damp moss. Enter, Chef Michael Tuohy.
Tuohy is a familiar name in Sacramento. We spoke with him months ago, not long after he'd just gotten business cards with his new title: Executive Chef/General Manager of the Golden 1 Center. Tuohy was hired by Legends Hospitality, a multinational concessions company started by the unlikely duo of Dallas Cowboys owner Jerry Jones and the Steinbrenner family of the Yankees. Tuohy was approached by Legends' management to help them pitch their vision of the arena's new way of doing things to the Kings: hyperlocal, fully integrated, super complicated but ultimately worth it.
"I had done hotels and things like that, but never at this scale," Tuohy said late last year of his initial conversations with Legends (he had moved to Sacramento to open the Grange in 2008). "They said, 'That's probably a good thing.'" The drive to do things differently has been a part of the arena's pitch and culture from the beginning.
The Golden 1 Center, when it opens in October, will be grid neutral, as well as LEED-gold certified, with a 60-foot window that opens toward the Sacramento River to capture the evening Delta Breeze. Much of the stone was locally quarried. From concept to concrete to kitchen, seamless integration was the driving philosophy behind the project.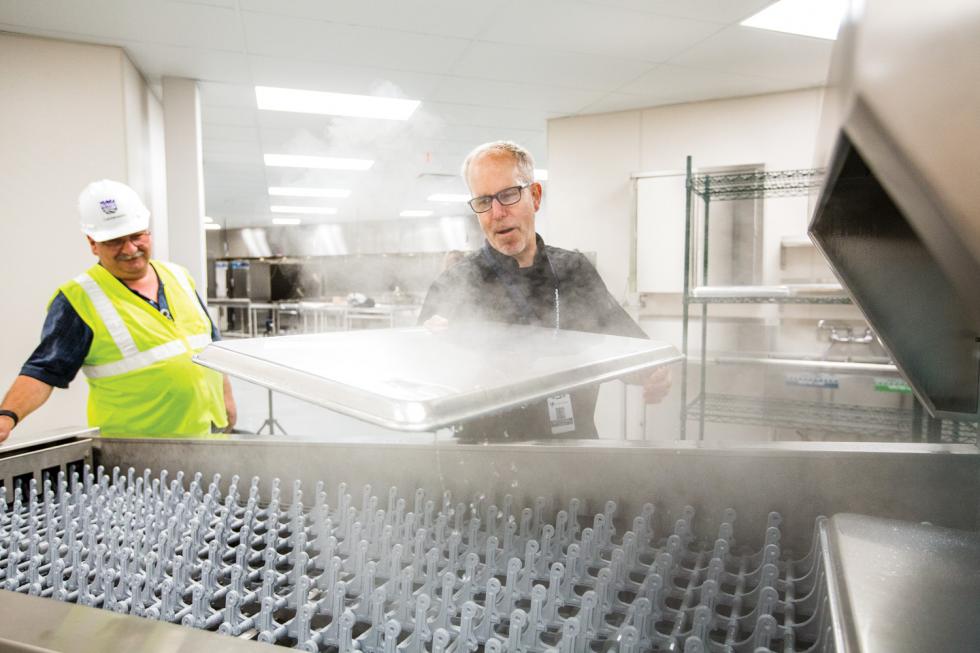 Of course, it is still a stadium. It is a giant, monolithic glass and metal structure with an imposing shadow in the middle of a tree-lined downtown. The loading dock was designed to accommodate the 27 semi-trucks of a Taylor Swift show; mom-and-pop merchants will have to work with local distributors if they want to sell to the arena.
Jim Mills, longtime manager of Produce Express, the arena's produce supplier, and a former farm-to-fork chef himself ("Back when that wasn't even a thing!"), isn't intimidated. Walking through his multi-million dollar refrigerated warehouse in south Sacramento, past pallet after pallet of fruits and vegetables from local vendors, he says, "Everything in here will be gone within three days. Unless you think the stadium is gonna order a million dollars a day, we don't have a problem here."
Produce Express isn't an ordinary produce company. "The difference between us and everyone else is simple: All of our farmers pick for ripeness. Other guys — if you go to Safeway — pick for transportability. One of these peaches, put it on your counter for two days, it will be the best thing you've ever eaten," Mills says. "That Safeway peach will never get as delicious as one from Riverdog Farm [in Guinda], no matter how long you let it sit." For Mills, seasonality is the best determinant of quality, but he notes, "Most people at the arena aren't going to be eating peaches. They'll be eating nachos and hot dogs or whatever."
Produce Express will also be handling the cheese for Tuohy's nacho cheese sauce. The sauce will be made from scratch using four kinds of cheese from Petaluma Creamery, whose Jersey cows graze on bucolic coastal pasture west of Petaluma, about 75 miles from the arena. Cheese sauce from scratch for 17,500 people isn't easy.
The main 16,000-square-foot kitchen is equipped with 30-gallon devices called tilt skillets, a mainstay of the hotel and catering industries that allows for batches impossible to do safely with normal pots and pans. The cheese will be delivered in one-ton pallets. A typical recipe for nacho cheese sauce is 40 percent water, and a serving will be four ounces. That means 960 servings per batch, with about 12 batches per ton of cheese. The sauce will be served on nachos and with hot dogs from Schwarz and sausages from LowBrau (both co-packed by Engelhardt Gourmet Foods in Fairfield). While scaling to large crowds certainly reduces cost pressures, it is considerably more expensive to make, say, the 4,000 servings –– five batches, each weighing two-hundred and fifty pounds –– every night than it is to drop 10 pound vacuum bags with a squirt nozzle into some hot water, as it is with the erstwhile sauce used elsewhere.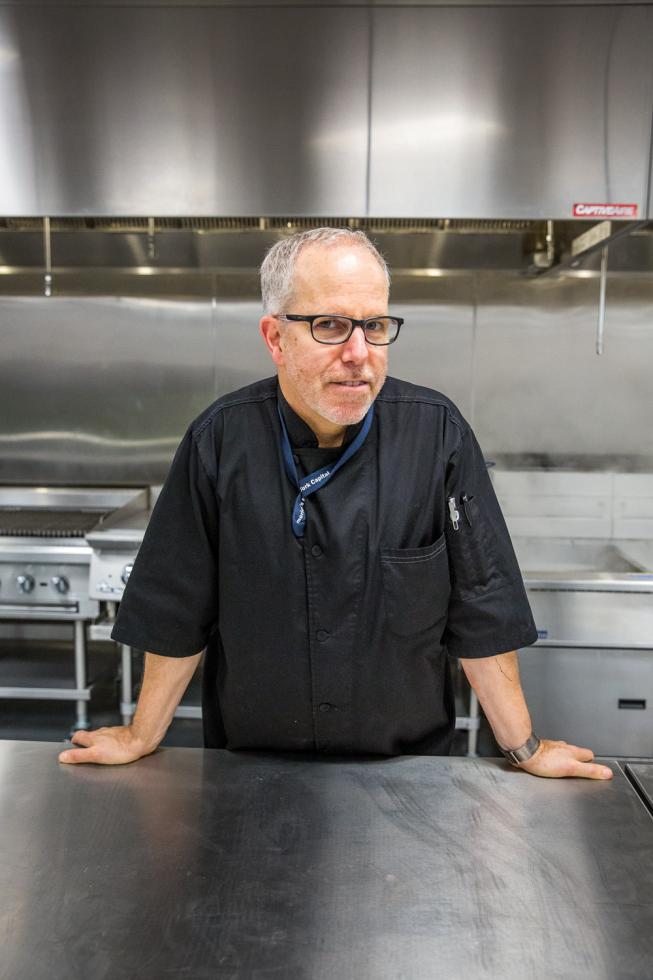 The complexity only increases from there, to logistics between kitchens. The cheese sauce will be served at 10 locations in the venue, as well through premium menus, which can be delivered to your seat or luxury box via an app that is still in development. As the orders come in, the 1,500-square-foot satellite kitchens, set up much like any modern restaurant kitchen, and 32 kiosks, serving things like hot dogs and kettle corn, will communicate via walkie talkie to restock unfinished items –– like hotel pans of hot cheese sauce –– from the main kitchen on the lower level, which can be hundreds of yards away.
Each of the satellite kitchens, many representing well-known local brands, like Paragary Group (tacos, burgers and shakes, and pizza) Mulvaney's B&L (pulled pork) and LowBrau (sausage), will have uniquely paired selections of local wines and craft brews from up to 54 local breweries to match the season. They will also have the widest selection of Sierra Nevada Brewing Company beers — the arena's official beverage partner — available anywhere outside of Chico.
Taken as a whole, the Golden 1 Center begins to look like a sort of culinary behemoth rarely seen in the world, a hulking beast whose veins run thick with hops and nachos. The 700 hospitality staff working packed-house events will work tirelessly behind the scenes to make it all look effortless. In the end, if the food is hot and delicious, their effort should all be worth it. As far as measuring early successes, Tuohy looks genuinely to local producers. "They're so passionate about our project and working to create an unmatched farm-to-fan dining program," he says. "They're thrilled to join us as we continue to change the concept of what arena food is. And by involving them, it helps us meet a core goal of our overall mission — elevate and highlight what makes Sacramento special, while impacting the regional economy."
For all of the buzzwords and the outgoing political hyperbole pushing the funding effort, the Kings and Legends Hospitality are vehemently trying to tell us, through their food, that make no mistake, the hype was justified.