Brad Dahl
Operations Manager, Altec Industries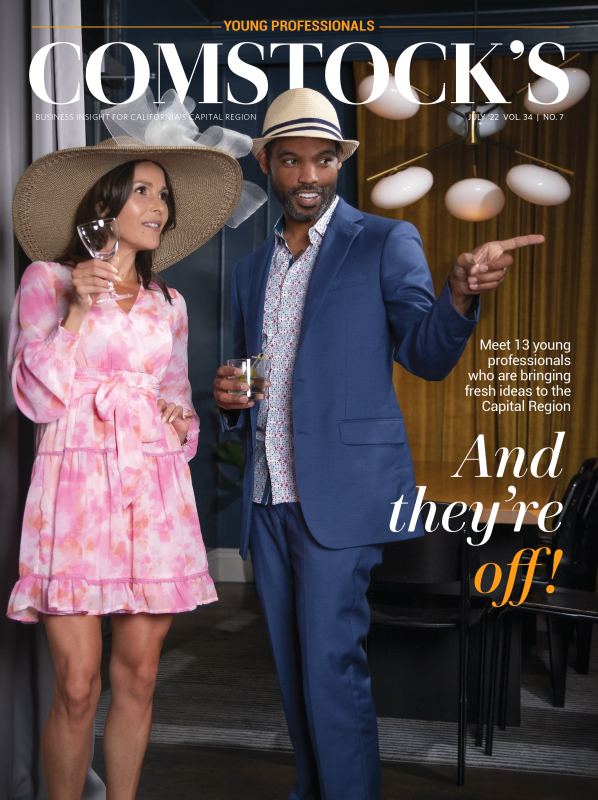 This story is part of our July 2022 Young Professionals print issue. To subscribe, click here.
Nine years ago, Brad Dahl moved to Sacramento from Kentucky. It didn't take him long to embrace the California lifestyle. "The weather here makes it easy to be outdoors a lot," he says. The mechanical engineer, who grew up primarily in the Midwest, accepted a promotion with Altec Industries — a leading provider of products and services for the power, telecommunications, tree care, lights, signs and contractor markets — to oversee a final assembly plant in nearby Dixon. Since the move, he's taken up running and hiking and can't get enough of the local cuisine. One of his favorite things to do is to bike with his wife from their Elmhurst neighborhood to nearby restaurants in East Sacramento. They also run together with their 4-year-old son in tow.
The 40-year-old Dahl, who has been with Altec for all 17 years of his professional career, got his first post with the company through a career fair at Iowa State University, where he earned an undergraduate degree in mechanical engineering. He also holds degrees in physics from Augustana College and an MBA from Northwest Missouri State University. Dahl credits his dad, a mining engineer, for his interest and passion in the industry.
The operations manager started his career at Altec as a quality engineer and was hired right out of college by current Altec procurement manager Wade Wetlaufer. He says Wetlaufer has been a lifelong mentor and pushed him out of his comfort zone, forcing him to get comfortable with public speaking and meeting with customers. They still regularly collaborate and are currently on a team together addressing the critical supply chain issue, a problem that started during the pandemic. "We are built to deal with supply chain issues because that's a reality in manufacturing," he says. "They're just a little larger right now than they've ever been."
Equipment and systems are both engineered and built at the Dixon facility, where Altec custom designs truck bodies to fit client-specific needs. The manufacturer sells direct to PG&E, SoCal Edison, Nevada Energy and others. It primarily procures parts from its own internal suppliers to minimize the disruption in production. "We keep the lights on and the internet going," Dahl laughs. His current responsibilities include visiting various Altec facilities to help streamline production and create opportunities for continuous improvements. In addition to the plant in Dixon, Dahl has international responsibilities for plants in Melbourne, Australia and Shanghai, China, which gives him the opportunity to travel and ensure continuity in overseas operations.
"For a kid who grew up mostly in the Midwest, this job has given me the chance to see many different parts of the world."

Brad Dahl, Operations Manager, Altec Industries
"For a kid who grew up mostly in the Midwest, this job has given me the chance to see many different parts of the world," he says. He demurs when talking about his own success, repeatedly pointing to the team he works with, but admits that he has a good work ethic, arriving at the plant at 6 a.m. to start his day.
Outside of work, Dahl was tapped to be part of the Travis Air Force Base honorary commander program, which pairs one community leader with one base commander to foster a link between the base and the public. "It was an outstanding experience," he says, "to really show the local community who the Air Force is."
With his willingness to relocate and take on new responsibilities, Dahl has parlayed his interest in manufacturing to a career with unlimited growth potential, something he is passionate about sharing with others, especially students. "Manufacturing is unique in that it never ends," he says. "At Altec we can provide good jobs for people and a comfortable place to work. And I think we can grow skills that are really tangible in today's work environment."
–
Get all the profiles in our Young Professionals issue delivered to your inbox: Subscribe to the Comstock's newsletter today!