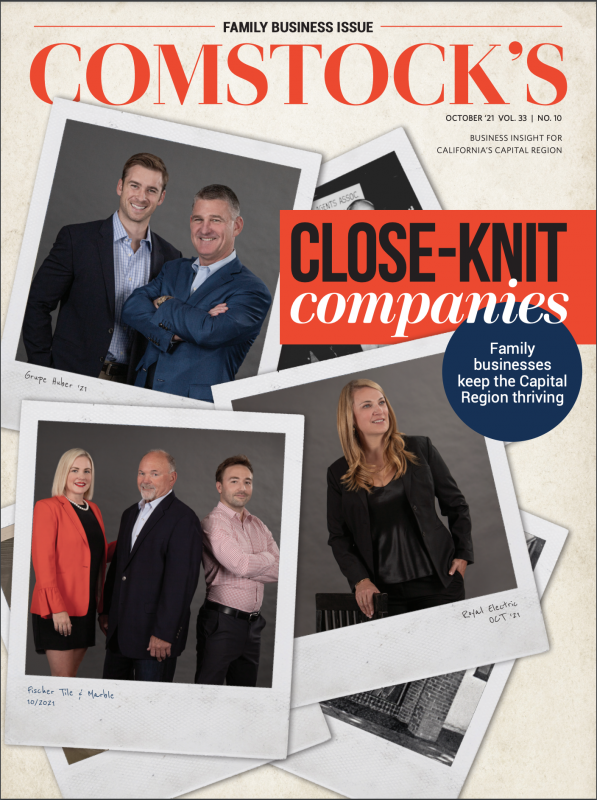 This story is part of our October 2021 Family Business issue. To subscribe, click here.
Charlie and Michael Havill, the husband-and-wife founders of Bella Grace Vineyards in Amador County, wanted to be what they call "gentlemen farmers." By the early 2000s, the couple had reached the zeniths of their corporate careers: He was the president of a tech company in Seattle, she headed the East Bay office of New York Life. They dreamed of buying a piece of land and farming it for pleasure rather than profit, like some of the more romantic Rockefellers and Roosevelts.
But the 54 acres of land the Havills purchased in Plymouth in 2004 demanded more attention than expected. Though they hadn't planned to retire immediately, the couple left their corporate jobs (he in 2005, she in 2016) and transitioned from hobby farming to full-time winemaking. Charlie devoted himself to viticulture and nurtured the 20-acre vineyard on the property back to life through sustainable farming. Michael, who developed a taste for fine wine while running New York Life team-building events in Napa and Sonoma, became the head winemaker.
Bella Grace Vineyards produced its first vintage in 2006 — 300 cases of syrah and 350 of zinfandel. They gradually replaced some of the old vines that came with the property with grape varieties that are less common in the region, including vermentino, roussanne, grenache and mourvedre.
Some of these grapes join blends such as "3 Graces Noir," a take on the classic grenache-syrah-mourvedre blends of the southern Rhone Valley in France: a dark, velvety pour with the complexity of a jazz chord. The winery now produces more than 10,000 cases annually.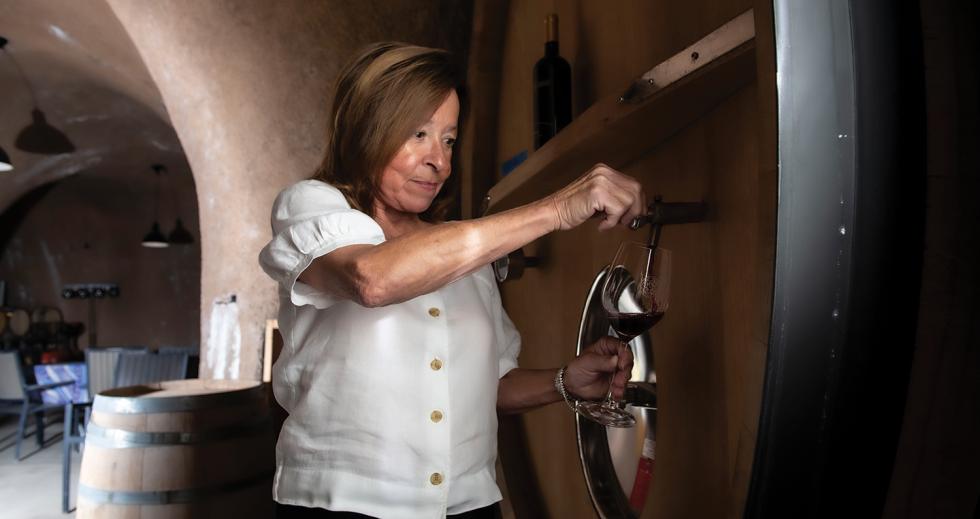 Jess Havill, one of Charlie and Michael's three sons and the current general manager of operations, says Bella Grace "really started to become a full business" in 2011 after years of experimentation. That year, the Havills built a wine cave on the Plymouth property and opened a tasting room in a stately Victorian home on Sutter Creek's Main Street.
"It's really awesome that we have that female approach from Michael being a female winemaker all the way to the name of the company."

Jess Havill, general manager of operations, Bella Grace Vineyards
The tasting room, filled with local art and invitingly worn-in armchairs, still feels more like a home than a business, especially when the Havills and their friendly dogs are there to welcome guests. For special events, their son and winemaking assistant Robert Havill may be around to pair food with the pours, such as baby back ribs with barbera or ratatouille with vermentino.
Though the Capital Region has no shortage of family-owned wineries — Sutter Creek's Main Street alone is lined with them — it is still rare to see a female winemaker who co-owns her land and business. Fifteen years after she became Bella Grace's sole winemaker, all decisions still come down to Michael's palate. "For us, it's really awesome that we have that female approach from Michael being a female winemaker all the way to the name of the company," says Jess.
The name Bella Grace is an homage to two of the Havills' female ancestors. Michael's grandmother Bella was born in Colorado, married a man from Mexico and had 14 children in California, and Charlie's grandmother Grace was a Scottish immigrant who raised her family in Michigan.
Today, Michael and Charlie are grandparents themselves: Their son Steve Havill, who manages the wine club and sales at Bella Grace, has a 5-year-old daughter named Peyton Grace. Steve says Peyton Grace already loves spending time at the winery, riding on the tractor with her grandfather and helping her father sell wine. "She told me she doesn't want to be a winemaker, but she's happy to cook at the winery," he says. "We'll see what she decides on over the next few years."
Until Peyton Grace makes her decision, the three brothers are transitioning into running the business. Their goal, Jess says, is to "take what the family has already established and continue to build upon that into greater successes as we move forward. … We're trying to take that to the next generation and beyond."
—
Stay up to date on business in the Capital Region: Subscribe to the Comstock's newsletter today.