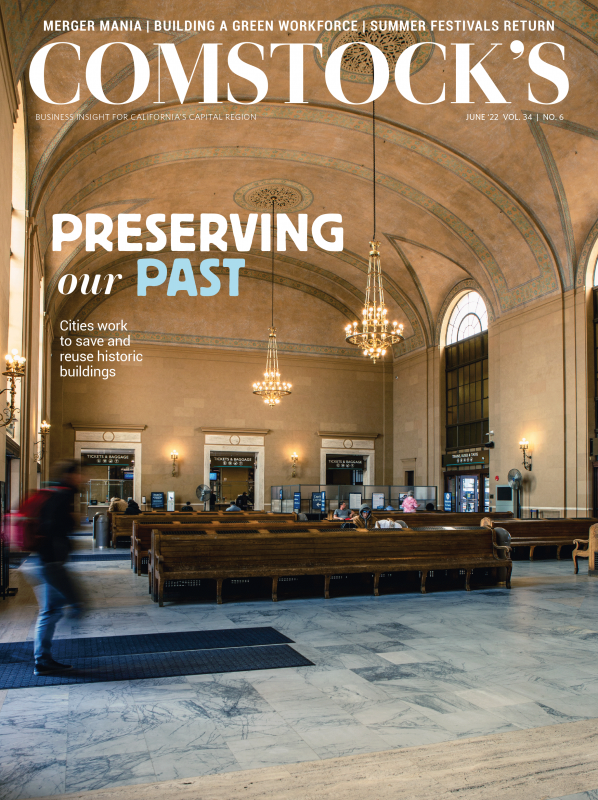 This story is part of our June 2022 print issue. To subscribe, click here.
Former Sacramento County Sheriff John McGinness doesn't skip so much as a heartbeat when asked if he thinks he may have been born out of his time. "Oh, yes," he says, dead earnest. His eyes narrow for an instant, as though he's gazing out on a fondly remembered Wild West horizon. "Yes, I do," he repeats softly.
Make no mistake, this is a firmly contemporary man: a regional radio star, national security and crisis management consultant, sought-after litigation expert witness, college lecturer and devoted community resource who's on the emeritus board of the Volunteers of America's Northern California and Northern Nevada affiliate. He's also a supporter of Cristo Rey High School, which offers work study and college prep for kids from underrepresented communities.
He happens to enjoy old Western series — dismissed as "horse operas" and "oaters" by their detractors — such as "Gunsmoke" (set in Dodge City, Kansas in the 1870s) and "The Big Valley" (set on a Stockton ranch in the same time period). McGinniss is also a prolific reader. His current favorite author, Michael Connelly, writes detective novels that feature a Los Angeles police department detective named Hieronymus "Harry" Bosch and Mickey Haller, a criminal defense attorney.
"I like shows and books that feature people coping with important issues in their world," McGinniss says. He doesn't appear to care whether the stories take place in frontier days or the nuclear age. "They just have to have believable people in them," he says.
This is a man who turns 65 this coming September and spent 31 years in law enforcement from which he retired rather than seek reelection as county sheriff. He worked at the department during the search for the Golden State Killer and was on scene during the 1991 Good Guys hostage crisis, when four young men took store workers and shoppers hostage. (Three gunmen and three hostages were killed.) McGinniss is now so busy with his various private sector enterprises and nonprofits that he thrives on three to five hours of sleep per night. "It never makes me grumpy," he says, "but I do admit that every few weeks or so I have one night where I sleep like the dead." (A deceptive remark because he also likes echoing a line from the film "Road House," delivered matter-of-factly by actor Sam Elliott: "I'll sleep when I'm dead.")
When McGinness arrives for a lunch interview at the Sutter Club, he glides into the downtown landmark's restaurant, his speed and grace defying his formidable height and build. He reminds one of the late film actor Brian Dennehy, another large but surprisingly limber man who, not incidentally, had one of his most memorable roles playing a sheriff — a compelling but decidedly amoral one — in the Old West throwback "Silverado." When asked if he minded the comparison, McGinnis smiles and says: "Not at all. I like that actor and liked that movie."
McGinness decided to become a cop when he was 8 years old and his dad was pulled over for speeding. "One thing that was great is they didn't give my dad a ticket," he says. "But what I loved was how kind these guys were — guys who, to me, looked 7 feet tall. Their boots were shined so much they practically sparkled and their uniforms were perfectly pressed. Their motorcycles were beautiful. I was just impressed by their professionalism and compassion. I really knew at that moment that this was the life I wanted to have someday."
McGinness did put in some kidney-rattling years as a motorcycle officer. In fact, during his three-plus decades with the sheriff's department, he managed to work in every one of the agency's service areas. It's this experience that has made him a sought-after expert on the criminal justice system.
He laments the Passage of Proposition 47 in 2014, which decriminalized some drug and gun crimes. He believes the name of the proposition, "Safe Neighborhoods and Schools Act," deceived voters into thinking they were voting for community safety. Instead, McGinness says, he believes Proposition 47 was the beginning of a skyrocketing crime trend, and a significant contributor to the homelessness crisis.
"My firm belief is that voters were not aware … (the) ballot measure would call for the decriminalization of possession of methamphetamine, heroin and the so-called date rape drug nor that it reduced the consequences of theft of a firearm from a felony to a misdemeanor," he says.
John Bites: Some off-air quotes by John McGinness
- On his own prominence in local politics: "People get elected to office and begin collecting celebrities, each wanting to be seen with the other. I don't do any of that. My best friend from elementary school is my best friend today."
- Holding up his cellphone at lunch: "One of my concerns is how dominant this way of communicating has become. There are people you just want to cut off, and easily can. But they may be the very same people you should spend time with, because you could actually learn something about another person's life and dreams."
- On criticism of how police restrained friends and parents of slain victims, for hours, at the April mass shooting at 10th and K streets in downtown Sacramento: "You can't compromise a crime scene in any way, no matter how painful it is for the survivors who want to check on their loved ones and for the police who have to hold them back while they collect evidence. It's one of the toughest situations in law enforcement."
- On antagonism between cops and the news media: "This is all so wrong. I've even called the (Sacramento) Bee or Channel 3 (KCRA) when I was at a crime scene and (reporters) weren't there. In a couple of cases they didn't pick up the alert in their scanners. This is the way you form relationships that may be very helpful for the police and the public in the future."
- On departing this interview less than an hour before airtime and with zero notes in hand for the interviews he was about to conduct: "Well, gotta go make radio."
- Ed Goldman
As one might expect from a man who's devoted his life to protecting the public, McGinness is candid about the recent downtown Sacramento mass shooting that left six people dead, calling it a gang shooting initiated by people who were known to be violent.
"Their criminal records speak for themselves (since) each of the persons identified as having been in possession of a firearm on that occasion had been banned from possessing a firearm because of their violent criminal history," he says, adding one of the shooters was a part of the recently established early release program from the California Department of Corrections and Rehabilitation.
McGinness hosts, with no notes, a weekday radio talk show on KFBK. He says he finds it therapeutic after a career in which he had to make very tough choices — not just life and death but also "very hard personnel decisions, like when I had to lay off 122 officers in 2009." He shakes his head at the weight of that decision, then allows himself a small smile as he adds, "I got them all back before I retired."
On his program, McGinness comes off as tough law and order and fiscally conservative — which makes him an appropriate fit for a conservative-leaning station (it was the career birthplace of the late Rush Limbaugh and still features the conservative talk show host Tom Sullivan) — but fair. "If I had to label myself," he says, "I'd call me a libertarian with a small 'l'." He raises his eyebrow when he hears politicians talk of defunding the police and says he wishes people "knew the organization as I do. We have some amazingly smart and caring people working there." Asked about the ongoing complaints about the Sacramento County Jail's alleged mistreatment of prisoners, he sighs.
"Here's the problem," he says. "Almost nobody wants to be there. It's not like a retail store where you're going to be treated like a preferred customer and be urged to come back again. If you're arrested we don't want you to come back."
He pauses. "We want people to get their lives in order," sounding very much like a man born at the right time.
Editor's note: As we went to press, the school shooting took place in Uvalde, Texas that killed 19 children and two adults. John McGinness made these comments on KFBK: "I feel conflicted. I do believe media, especially excess media, leads to the duplication of this happening someplace else." McGinness also pointed to social media, but said he was hopeful rational people working together can come up with a solution to prevent future incidents.
–
Stay up to date on business in the Capital Region: Subscribe to the Comstock's newsletter today.