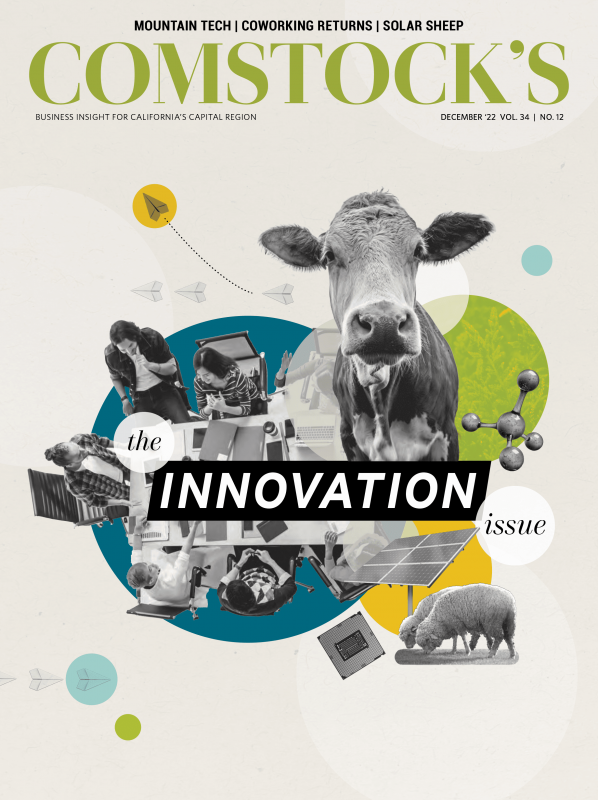 This story is part of our December 2022 Innovation print issue. To subscribe, click here.
The changeover happens quickly for stores like Grass Valley's Foothill Mercantile, especially with the final two months of the year lurking. Halloween ends and the pumpkin, witch, ghost and goblin displays are dismantled, giving way to Thanksgiving and Christmas holiday decorations.
"We're actually doing a toy window today," owner Susan Amick says a few days before Halloween. "We have an ornament wall in the back we've already started."
Foothill has had plenty of practice transitioning between holidays, says Amick. Her parents Ray and Georgia Amick bought the business, then called Henderson Hardware, and its 1940s-era building on Mill Street in September 1976.
"Wow, so that's 46 years last September," says Amick, who along with her two sisters, moved to Grass Valley after their parents, who ran Placer Street and Machine Works in Nevada City from 1965 to 1974, purchased the hardware store. "In any case, we've been here a long time."
With its inventory of more than 23,000 items, Foothill Mercantile in 2022 is probably best known for its unique toy and stuffed animal collection, Amick says. The store has delighted visitors through several generations while also featuring a wide selection of greeting cards, puzzles, candy, gifts and houseware items.
"I've been here so long, people who came in as kids now come in with their little kids," Amick says. "And I say, 'Oh my gosh, you're 30. Now I feel really old.'"
"I've been here so long, people who came in as kids now come in with their little kids. And I say, 'Oh my gosh, you're 30. Now I feel really old."'

Susan Amick, owner, Foothill Mercantile
One of three hardware stores on the block in the mid '70s, the Amicks renamed the store Foothill Hardware, and the name remained until 1985, when the business went in a different direction. It was becoming harder to compete with the other hardware stores in the area, and when another nearby shop specializing in candy and gift items closed, the Amicks switched business models. Ray Amick, a steel fabricator, added mezzanine shelves to accommodate more toys and gift items. A candy counter was built and the store became Foothill Mercantile.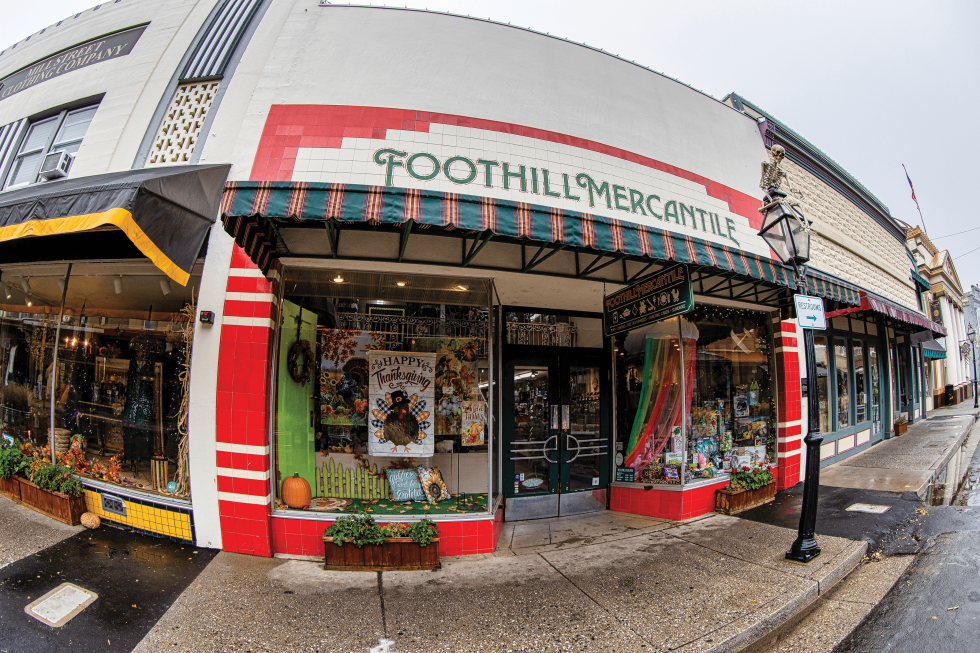 Amick, the oldest of three daughters, bought the business from her parents in 1988 and now runs it along with a staff of seven full-time and five part-time employees that includes relatives — her sister Dee Davis and niece Ellen Davis — and longtime staff members including 25-year employee Dana McClary, "the toy guru," and her daughter Nadine McClary.
When COVID-19 closed down Grass Valley businesses in the spring of 2020, Ellen Davis' social media skills came to the rescue. The first few months "we were barely here," mostly offering curbside pickup, Amick says, until Davis suggested they create a new website to start selling online for the first time.
"The first thing we sold was a Breyer horse, which is a model horse line that we carry, to a lady in Ontario, Canada," Amick says. "We've sold things to people in Germany and to people in the Netherlands."
Mill Street, which is located a block off Main Street, was temporarily closed by the city in July 2020 to facilitate outdoor dining at a time restaurants were facing restrictions indoors. The move was considered a success, and today, after using $2.4 million in federal American Rescue Plan funds, the street has been converted into a non-vehicle pedestrian plaza.
For the fifth year in a row, Amick says, Foothill Mercantile designed and will sell a Christmas tree brass ornament — this year depicting the recently restored Holbrook Hotel — that is part of a Downtown Grass Valley Association program started in 2005.
"We try and find a building in downtown that represents Grass Valley," Amick says of the ornament designed by Foothill Mercantile staff.
Davis says while being online has helped increase their bottom line, the majority of sales is still with walk-in customers. "We have things that people aren't going to find at Target or Walmart," she says.
Having a bigger internet presence, however, also helps drive customers to the store website when searching for items online, Davis says. "The online sales adds a little bit extra every month," she says. "However, it really elevates our online presence overall."
The result, Davis says, has been a return to pre-pandemic sales numbers. "We have had the best two years ever with the combined online and in-store sales," Davis says. "We pushed shopping local pretty hard and people responded."
–
Stay up to date on business in the Capital Region: Subscribe to the Comstock's newsletter today.