For the record: I'm an opportunivore. I subsist on what's available and economical, whether it's Costco samples of chicken dumplings or the nut burger from Mother, a vegetarian restaurant in Sacramento. I primarily prepare vegetarian dishes and rarely buy meat. But when I do, it's bacon to crumble over a veggie soup or wrap around Brussels sprouts.
Recently, I found myself dining at vegetarian places like Mother, Veg, Andy Nguyen's and Sunflower Drive-In — not because I was intentionally trying out this regimen, but because health-minded friends invited me. I discovered exquisite tastes, and instead of feeling bloated and slowed down afterward, I was satiated and energized, like I could take on the world. These places appeared busy, albeit some were slower, newer businesses, but all were filling a niche for conscious consumers.
Sacramento once had limited vegetarian and vegan dining options. Andy Nguyen's has been a staple since the mid-1980s, and Fair Oaks' Sunflower Drive-In was established in the late-1970s. There was once even a short-lived vegetarian take-out window adjacent to the old Sacramento Natural Foods Co-op building (which opened as a vegetarian grocery store in the early 1970s and caused a stir among vegetarian members when a fresh meat counter was added in 2003).
Today, Sacramento is home to nearly a dozen vegetarian and vegan restaurants, a shift that's reflective of evolving dietary trends nationwide. While statistics haven't budged much since 1999 — 5 percent of Americans consider themselves vegetarian and 2 percent vegan, according to Gallup — what was once considered "trendy" veg-centric cuisine is becoming normalized, according to the National Restaurant Association.
"When we opened this place, we had a feeling it would work, but in the back of our heads we wondered, 'What if people don't want vegetarian?'" Ryan Donahue, partner, Mother
"They are not going anywhere, though, as they are gaining momentum as permanent features on restaurant menus," the association states. "Simultaneously, veggie-centric cuisine continues to heat up, indicating that plant-focused diets are increasingly embraced by both chefs and consumers."
In light of these developments, many local eateries are finding success. For Mother's Ryan Donahue, one of five partners of the downtown Sacramento eatery, business is fueled by vegetarians, vegans and those who just love good food. When it opened in January 2013, the idea was to fill a demand for vegetarian cuisine in downtown without being too extreme — as in, overly hippie or high-end.
"This is more a diner without meat," says Donahue, who owes much of Mother's success to its ambiance — although not formal, you could enjoy a romantic evening here — and the inherent customer interaction with chefs through the space's open kitchen setting.
Like any new business venture, there was some initial anxiety that no one would show up, Donahue recalls. "When we opened this place, we had a feeling it would work, but in the back of our heads we wondered, 'What if people don't want vegetarian?'"
Three years and countless menus later, Chef (and partner) Mike Thiemann says Mother is the best it's been, with a growing sense of confidence and consistency. He laughs when stating his New Year's resolution is to "stick with the plan" and create a menu that people can rely on. As far as the challenges of not serving meat, Thiemann sees none, but notes the capacity for creativity when working with local farms that deliver large quantities of produce needing to be used soon. "Almost on every dish there's a minimum of 10 ingredients," he says.
Donahue notes that when the farm-to-fork branding took off in Sacramento, there was more focus on celebrity chefs than the brick-and-mortar establishments. "What's evolved is people are hunkering down more and focusing on restaurants rather than celebrity chefs," he says.
One of Sacramento's newest vegan restaurants — Veg, which is owned by Thai Basil's Chef Suleka Sun-Lindley — recently celebrated its first year in business and is hoping to capitalize on a warm, casual environment and restorative food. Front House Manager Paul Carmazzi says the goal is to provide a quality experience from the moment a customer walks in, so that "you feel at peace, at home and will get food that won't weigh you down or clog your arteries, but will go straight to your heart with goodness."
Carmazzi says Veg isn't doing anything different than the rest of the world, much of which is already vegetarian out of economic necessity and belief. "A lot can't afford meat, or don't eat it due to religion," he says. "The most progressive thing we can do as a society is to move toward something that's less impactful on Earth, and more impactful at an individual level."
Education and stereotype-breaking are among the biggest obstacles, Carmazzi says. People often don't realize a lot of what they're already eating is animal free, he says, but are intimidated by the idea of vegetarianism or veganism. "We have to start changing our perspective a bit," Carmazzi says. "And it's not about making the switch at once — maybe once a week eat vegetarian. Start small."
Cafe Colonial on Stockton Boulevard, an all-ages music venue with bar bites, serves vegan options in addition to burgers and fries. This was partly sparked by musician demand, owner Matt Marrujo says. Today, the kitchen makes vegan onion rings and aioli sauce, and serves a veggie burger courtesy of the Sacramento Natural Foods Co-op. "I think people like that they can come here and there's a little something for everyone," Marrujo says, adding that options for all lifestyles "allows everyone to feel comfortable."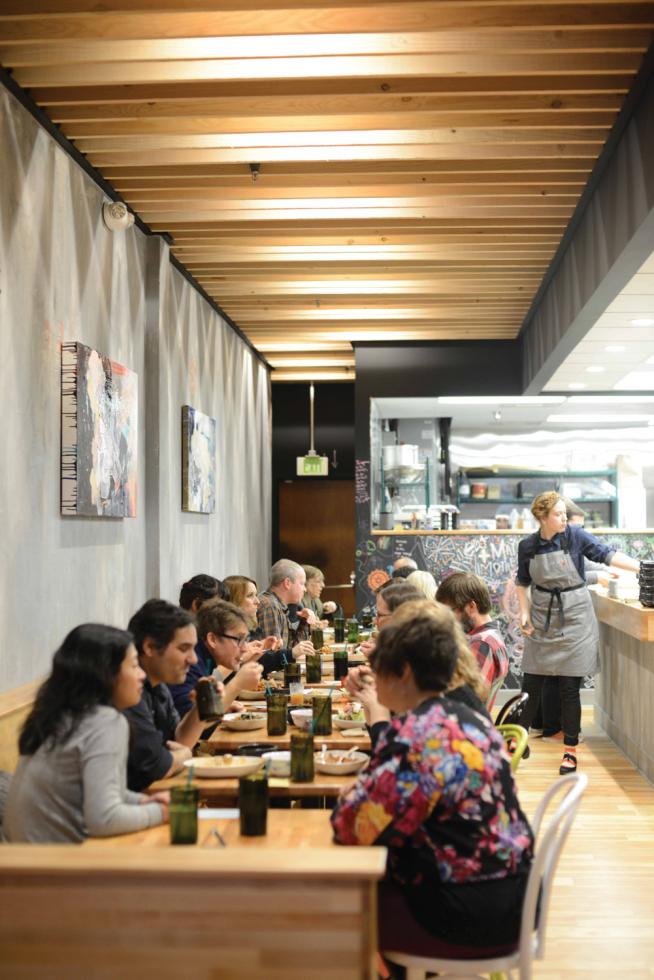 Mary Rodgers, of the Sacramento Vegetarian Society, remembers the days when "Do you eat fish?" was a common question servers asked when handling vegetarian requests. The past president (and current secretary) of the group moved here in 1979 and has witnessed the area's culinary evolution.
"I recall conversations discussing the best way to remind people, in a courteous way of course, that fish — and shellfish — aren't plants," Rodgers recalls. Today, most restaurant staff understand the intricacies of vegetarian and vegan lifestyles, "to the point that it almost feels mainstream, and it's rare to encounter eye rolls or impatience."
Now the old standby vegetarian offerings, such as a salad or pasta with marinara sauce, just don't cut it, Rodgers says. Customers are looking for creative chefs and restaurants. "That means more options for vegans [or] vegetarians, and additional business for the restaurants that cater to them. Next in Sacramento's "Farm to Fork" evolution is whole-food, plant-based options made from fresh, unprocessed, vegan ingredients without added oil, she says.
Rodgers contributes Sacramento's veg-friendly culinary community to several factors, including heightened awareness of adverse health effects from eating animal products, instances of animal cruelty and environmental effects of agricultural practices being publicized, more chefs experimenting with such cuisines, and the celebritization of veganism and vegetarianism among groups like the Sacramento Vegetarian Society.
"It's rare to find restaurants that don't have at least one or two vegan or vegetarian options," she notes. "Others, like El Papagayo and Capitol Garage, have separate vegan menus, making it much easier these days to find a restaurant that can satisfy everyone in a group of diverse eaters."
What's your favorite vegetarian restaurant in Sacramento? Tweet us @COMSTOCKSMAG.