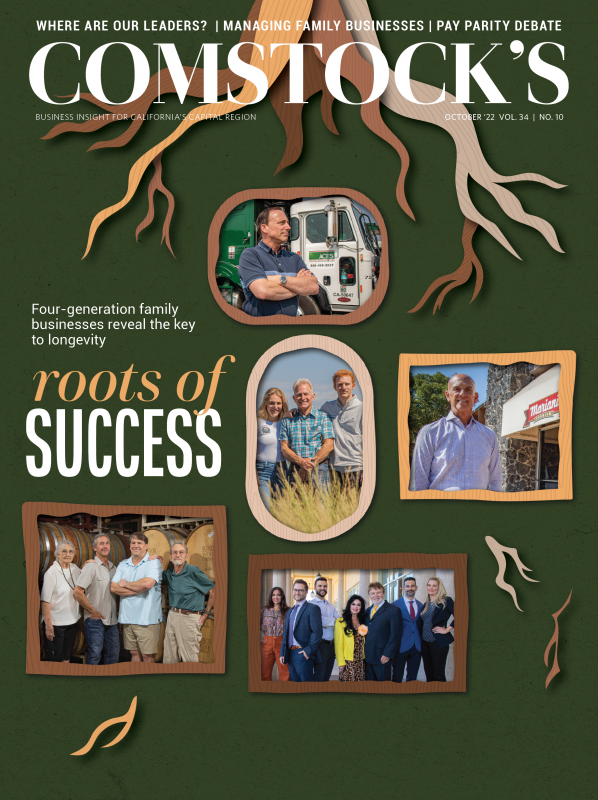 This story is part of our October 2022 Family Business print issue. To subscribe, click here.
It was a busy September afternoon at Sobon Estate and Shenandoah Vineyards. The wine harvest was in full swing in Amador County and the Sobon family had been up since 5 a.m., working in the vineyards. By late afternoon, there was lots of bustling in the family office. Trucks were coming and going outside and co-owner Robert Sobon was busily walking around the rooms, checking on things.
"It's fun. Chaos a lot," Austin Sobon, one of the winemakers, says about harvest time. "It's a lot of hard work, and a lot of sweat and labor goes into wine."
Austin, 25, the youngest Sobon family member, was sitting at the long wooden kitchen table, surrounded by thick history books from the 1800s, hand-written letters from decades ago and books on the history of wine. He had something to prove: that Sobon Estate was the oldest winery in California.
The history of Sobon Estate starts in 1856 when Adam Uhlinger, a Swiss immigrant, planted wine grapes and started the first winery in Amador County. After he died, Uhlinger's sons took over until the vineyard was bought by Enrico D'Agostini in 1911. His sons later ran it until it was sold to Armagan Odziker in 1984, who then sold it back to the D'Agostini family. They then sold it to Leon Sobon, the patriarch and founder of Sobon, in 1989. By Austin's account, that's seven generations and four families who have owned the lush, rolling vineyards.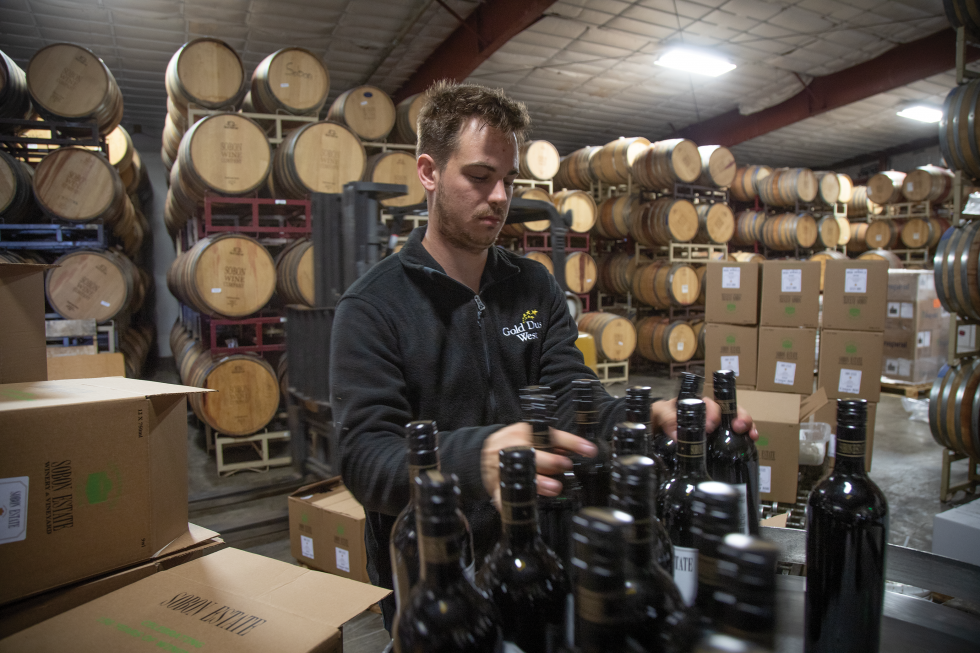 The Sobon family first arrived in Amador County in 1977, when Leon, a senior scientist with Lockheed Research Lab, moved his wife and six children from Los Altos to Plymouth. He planted zinfandel grapes and started making wine in the basement. As his wine became popular, he started buying grapes from the surrounding vineyards. By 1989, Leon wanted to focus on making deeper, darker reds so he bought the oldest estate in the valley from the D'Agostini family. California State Historic marker 762 sits outside Sobon Estate, declaring it the oldest continuously operating winery in California.
The Sobon family owns Sobon Estate and their other label, Shenandoah Vineyards, a mile down the country road. Leon and his wife, Shirley, are the owners along with their sons Robert, Austin's father; and Paul, another winemaker. Three other family members also work for the wineries. Sobon produces about 60,000 cases of wine a year. The output depends on how the grapes are affected by heat, drought, frost and the mercurial weather of climate change.
Austin, who's considered the family historian, didn't plan to join the family business. He volunteered at an orphanage and taught English in Japan before deciding to enroll in the UC Davis' Wine Executive Program. In blending each year's vintage, he tries to remain consistent with the blends that are popular with customers.
"We all want the business to succeed and we all want the family namesake to continue and to succeed."

Austin Sobon, winemaker, Sobon Estate and Shenandoah Vineyards
Sobon Wines are distributed through the United States and other countries, including Japan, Korea, Canada and Hong Kong. Automation has helped streamline the process. The Sobons recently bought a new bottling machine that quickly fills and corks wine bottles. Workers went from labeling bottles by hand to having a machine do 2,000 cases in one hour. They also use mechanical pickers to harvest the newer grapes grown in wider rows. The Sobons also have a dedication to green technology, employing solar panels and charging stations.
But those historic 1800s roots are still evident at Sobon Estate. There's the original home, tasting room and wine cellar made from rock from the nearby hills. There's also vintage farm equipment and a bell dated 1855 from Adam Uhlinger's wagon that brought him to the region. There's even a small plot of the original Mission grapes planted more than 150 years ago. Now it's three generations of Sobons involved in the wineries, and they're respectful of their winery's history and heritage and their 88-year-old father's legacy.
"We all want the business to succeed and we all want the family namesake to continue and to succeed," Austin says. "We all feel proud about the product. Having our end goal be the same I think helps us going forward."
—
Stay up to date on business in the Capital Region: Subscribe to the Comstock's newsletter today.