On a warm afternoon, soft spring winds are blowing across the campus at UC Davis. In a building on the university's west corner, Cindy Garcia is hosing pools of blood down a drain. She places a pig skull on an inspection table, washes her hands and steps into the sunlight just as the parking lot is beginning to fill with shoppers toting grocery bags.
Like other campus visitors, these folks are looking for A-plus material — but not the kind found on paper. They're in search of gourmet science as practiced by Garcia and other student employees of the Meat Science Lab.
It may be one of the Northern California food world's better-kept secrets. UC Davis is home to a fully credentialed plant where students learn how to slaughter, butcher and process meat. And over the past decade, an increasing number of women have been pushing open the slaughterhouse doors and finding careers in meat.
"I came here, I took the class and I was like, 'Hey, I'm good at this!'" says Garcia, who recently finished up her studies and is looking for a job in the meat business. "Honestly, I love it. I get to talk to the people who are taking the meat home and say, 'Hey, I killed your pig.'"
Butchering is hot right now. The emphasis on farm-to-fork cuisine, urban farming and the slow food movement has rekindled interest in what had been a somewhat neglected and anonymous skill relegated to supermarket back rooms. Celebrity butchers are emerging, including the much-talked-about female duo Amelia Posada and Erika Nakamura of L.A. meat shop Lindy & Grundy, and more home chefs are learning how to break down carcasses and trim cuts.
Locally, there's no better training ground than the UC Davis Meat Lab.
The primary mission of the lab is research and education, and there's a lot of both happening on campus. Data are gathered for research on subjects such as reproductive physiology and diet. The shining equipment is state-of-the-art, and the lab even has an ultrasound machine that can be used to check the fat content on animals ready for slaughter, helping determine the best time for processing.
But no matter the enthusiasm, butchers say the first time they walked onto the kill floor is something they won't forget. Garcia's first experience was seeing a lamb slaughtered. "I remember going, 'OK. I can do this. I've seen blood,'" she says. "It was just a lot more blood than I imagined. I looked up and thought, 'What am I doing here?'"
But it wasn't long before she started learning how to skin and break down the carcass. "I got really into it," she says. Now, her favorite butchering job is breaking down the hindquarters of beef. "It's this massive chunk of meat, and you're working on it. It weighs more than I do."
Marcy Coburn, executive director of the Oakland-based Food Craft Institute, which offers a business of butchery course, has found that, in general, women are less squeamish than men on the kill floor and in the cutting room. She says women can make a place for themselves in this traditionally male field. "There might be a general perception that women have to be of larger stature to handle being a butcher, but actually physical size has nothing to do with being a good butcher. It's about physics and leverage. I have seen very tiny people be good butchers."
At the UC Davis Meat Lab, operations are overseen by manager Caleb Sehnert, who supervises five student employees (two of whom are female) and teaches classes (about 50 percent women) that draw students who run the gamut from pre-med types seeking anatomy knowledge to chefs-in- training and students who want to learn the latest techniques before taking over a family meat shop. Garcia, for instance, wound up in the meat lab during her pursuit of a veterinary career. She's just completed her degree in animal science but is now interested in managing a meat facility.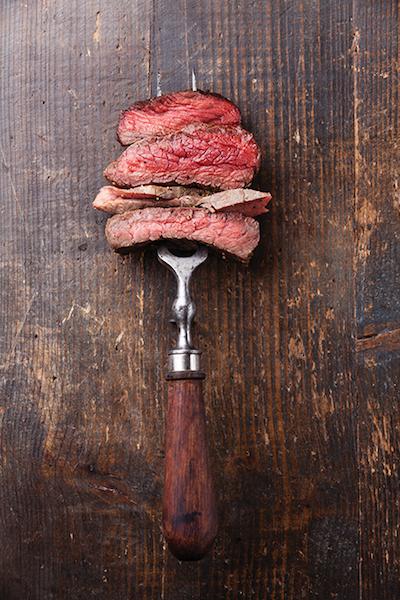 The 5,000-square-foot meat lab has a multi-species kill floor, coolers for hanging and aging meat, a cutting room and an analysis lab. Since the mid-'90s, a small on-site store has been open a few days a week, selling meat, cheese and eggs.
The meat, most of which is raised as part of the campus animal science program, is top quality. Cattle, for instance, are initially grass-fed and then finished with Davis-grown and milled grain or alfalfa. The slaughtering facilities are rigorously inspected by federal officials, and the processing plant, which falls under state jurisdiction, is also closely monitored.
Meat Lab students study the latest techniques, including a recent trend of teasing out new cuts, mostly from the part of the cow labeled chuck. Examples of new cuts meat lovers may start encountering in butcher shops: "teres major," a little-used shoulder muscle; "chuck roll" steak and the "Denver cut."
"Honestly, I love it. I get to talk to the people who are taking the meat home and say, 'Hey, I killed your pig.'"

Cindy Garcia, graduate, UC Davis
One of the latest "new cuts" is called the Vegas Strip and was patented by Oklahoma State University meat guru Tony Mata. Sehnert chuckles as he tells how he and a fellow butcher figured out what they're pretty sure is the cut in question, which comes from the chuck area, and sold it as the "Russell Blvd." in honor of Davis' main drag.
For Sehnert, it's exciting to watch students explore the world of meat. Take the economics and history major a few years back who took a class, got a job working at a beef plant and now has an internship in Italy learning how to make salami.
Having a place to learn butchering skills is a real opportunity, says Tia Harrison, who was in the vanguard of the female butcher trend. Eight years ago, she and two other women opened Avedano's Holly Park Market in San Francisco's Bernal Heights district. Though they were all experienced food professionals (Harrison is co-owner and executive chef of Sociale in San Francisco), they had to go out and find an experienced butcher to teach them how to cut meat for their shop. In 2010, Harrison cofounded The Butcher's Guild to create a support group focused on preserving the art and skill of butchery.
The guild now has about 200 members nationwide with a 3:1 male to female ratio. Meanwhile, the Food Craft Institute's Business of Butchery course, a 3-week intensive class co-presented by the Butcher's Guild that teaches aspiring entrepreneurs how to own and run a farm-sourced butcher shop, has seen female enrollment rise by about 25 percent this year compared to last.
Harrison is delighted to see other women going into the meat business and the renaissance of butchering skills in general. Learning how to butcher is about more than getting a job; it's an important link in the farm-to-table chain, she says. If you know how to butcher, the large cuts of meat sold by local farms hold no fears; you can break down the carcass and share with neighbors.
"Butchers really have a lot of power to balance local food systems because they, by extension, support local agriculture and better farming," Harrison says. "It's a skill that we should have more connection to."
Coburn agrees. Butchering, she says, "taps into something really primal in human beings. It's actually very exhilarating."
In a growing cluster of offices and labs south of downtown Davis, researchers at Novozymes Inc. are building better microbes.
A few months after the 2002 launch of Arcadia Biosciences Inc. in Phoenix, CEO Eric Rey insisted the company move to California. Not to Silicon Valley, but to Davis.
Solano County is taking steps to develop a new agricultural hub that farmers and economists hope will someday house facilities to process raw ag products into purchasable commodities.